California Is Third to Declare State Dinosaur in 2017, Setting Record for Most Dinos in One Year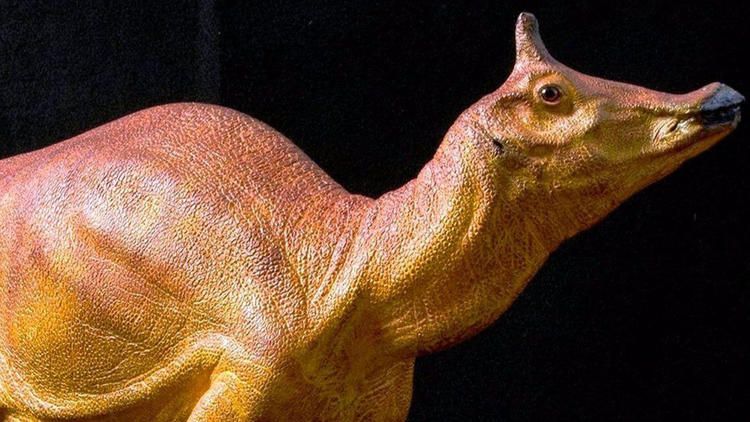 In 1982, Colorado named Stegosaurus armatus the first state dinosaur. Then, from 1991 to 2009, seven more states (and the District of Columbia) claimed official dinos. Then, no states declared a formal dinosaur mascot until this year, when three states joined the club.
Most recent to be declared a state dinosaur is Augustynolophus morrisi in California. In July, Connecticut claimed Dilophosaurus. Before that, Arkansas declared Arkansaurus theirs.
Every state has a state bird, and birds are extant dinosaurs. Also, most states and the District of Columbia have state fossils, and nine of those designations are incidentally dinosaurs. However, there are only 11 states plus D.C. that have officially declared state dinosaurs. That means 27 percent of the state dinosaurs were named this year, and it's only September.
California, the most populous state, seems to have a long list of symbols. Their state fossil is Smilodon Californicus, or the saber-toothed cat. They also have a state tall ship, a state Gold Rush ghost town, a state Silver Rush ghost town, and a state fife and drum band.
Assembly member Richard Bloom, a Democrat from Santa Monica, said that the declaration of Augistynolophus, or "Auggie," wasn't inspired by the other two states that had declared their dinosaurs this year. However, he's glad that it appears to be a trend, and hopes more states will follow suit.
"It's great to know that other states are honoring their dinosaurs because, as much fun as this bill has been to move forward, it has a serious side," said Bloom.
The serious side of honoring a duck-billed, 66-million-year-old herbivore refers to its potential to inspire a love of science. Kids are enamored with dinosaurs. And since California has so many STEM jobs, Bloom wants kids to enjoy a well-rounded STEM education, which will hopefully lead to job seekers who are skilled in the areas in which California has job vacancies, like tech.
While Bloom doesn't expect everyone who appreciates Auggie to become a paleontologist, he hopes that an interest in science can lead to careers in tech, healthcare, pharmaceuticals, or automobiles. "Even entertainment, that's changing because of tech," he hadded.
The Natural History Museum of Los Angeles County, which has an exhibit on Augistynolophus, originally suggested that it should be the state dinosaur. Then the idea followed the typical process of becoming a bill, and the bill becoming a law.
Paleontologists have only found Augistynolophis fossils in California in Fresno and San Benito counties. "It's something that Californians can take pride in, and every state wants to take pride in the things that make it special."