Chuck Lai bought a Samoyed puppy in Toronto four years ago, and most likely didn't realize he'd just made an investment that would soon pay off. Lai bought a cute, solid white, fluffy puppy named Coconut Rice Bear, who has now become the "Queen of San Francisco."
Lai began posting images of Coconut, who is now 50 pounds and 4 years old, to an Instagram account as a way to document his furry friend's life. Little did he know, Coconut would become a social media heartthrob.
Coconut and her playful posts on Instagram really hit the big time in 2017 when a meme app called 9GAG posted a a video of Coconut, which brought 50,000 new followers to her Instagram page. When she hit 200,000 followers, Coconut's owner began creating sponsored content—and that's when the money began coming in.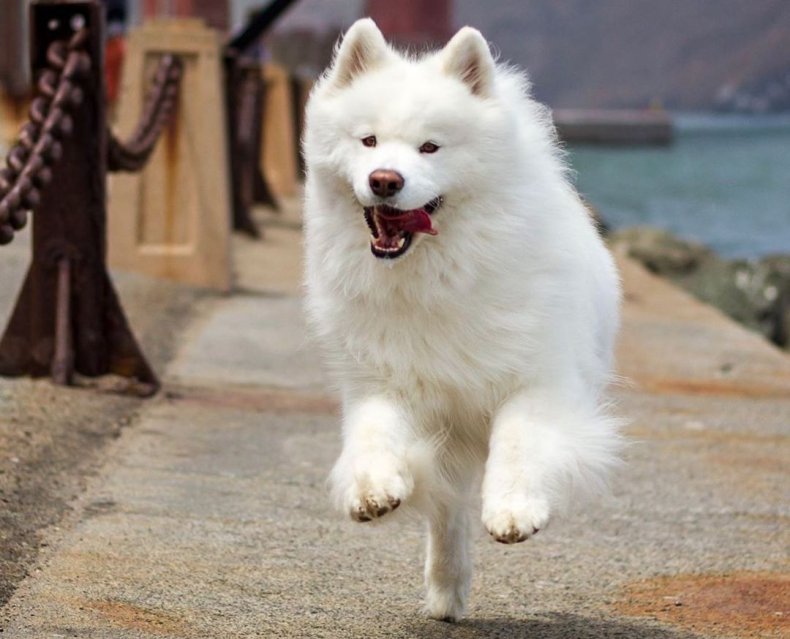 Lai said Coconut is "playful and silly, but a little dramatic," according to the San Francisco Chronicle.
"She's the queen of San Francisco," Lai said.
With sponsors came royalties. For every 10,000 followers, the man and his best friend earned "ruffly" $100. At about 358,000 followers, she makes about $3,500 per post. Even though Lai says he will try to limit the "queen" to just a couple of posts a month, that would mean Coconut could make $84,000 a year—even if she doesn't gain another follower. That total is just $12,000 less than the median household income in San Francisco per person, according to the Chronicle.
The videos were originally set at San Francisco landmarks like the Golden Gate Bridge and the Lincoln Park Stairs. Now Lai spends a sliver of each day figuring out how to portray Coconut in new and different ways.
Lai also spends time each day interacting with Coconut's followers on social media. And although Instagram is the most-lucrative medium for Lai and Coconut, she has a following on other outlets, like TikTok. Coconut has an array of social media accounts, as evidenced through her website.
She is cute, sassy and confident—especially for a pup who just turned 4 in July.
In this video, she prances and prowls up the colorful Lincoln Park Stairs, getting a treat at the halfway mark.
In another video, she shows you what happens when someone leaves their heart in San Francisco. She eats a heart-shaped treat with the city skyline in the background.
The Chronicle report goes on to state that Coconut typically feasts on a diet of ground meat with rice and vegetables with some dog food mixed in. But hey—she can afford it, so why not splurge?