California Fires: Drought Exacerbated Blazes, Fire Protection Manager Says
Recent drought conditions in California contributed to the rapid escalation of fires in the state, according to a manager of the National Fire Protection Association.
"It's all about conditions, and we've been having these drought conditions in California for about six years," Thomas Welle said Wednesday, while speaking with Hill.TV.
"Last spring they had some good rainfall, which causes a lot of growth, but once the water shuts off, everything dries out again," he continued. "We've had three years of pretty bad fires in California, and they just keep kind of escalating to where we are today."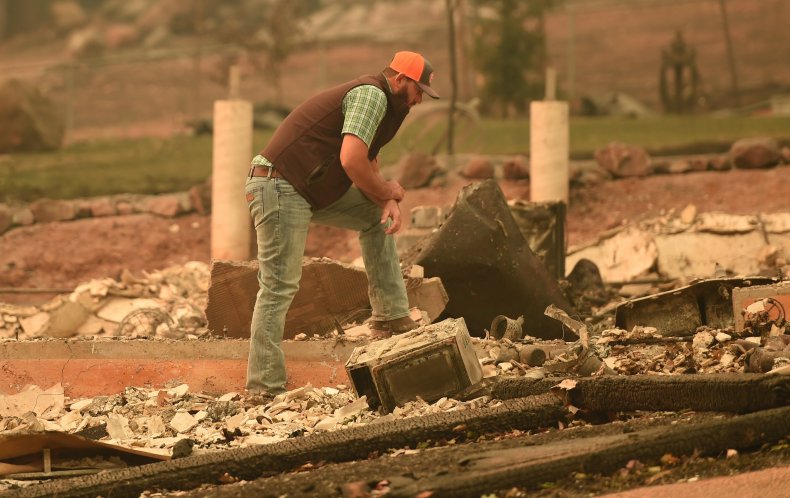 A lack of rainfall beginning in 2012 led California Governor Jerry Brown to declare a state of emergency in 2014, The Sacramento Bee reported. Brown announced in April 2017 that the state's drought was over, but dire conditions remained.
More than 23.6 million California residents live in drought areas and more than 48 percent of the state is abnormally dry, according to the National Integrated Drought Information System.
Although President Donald Trump tweeted without evidence on Saturday that "gross mismanagement of the forests" was the reason for the "massive, deadly and costly forest fires in California," experts have pointed to high winds that helped flames spread quickly, and noted the role of climate change in the dangerous fires, reported The Mercury News.
The rise in temperatures accompanying climate change leads to dead trees and vegetation, which provide fuel for fires, according to Vox.
"Of the 20 largest wildfires in California's recorded history, 15 have occurred since 2000, at a time when forests have become drier and warmer," The Guardian reported.
Four fires were burning across California on Wednesday morning.
A brush fire broke out in Fontana, located in San Bernardino County, on Tuesday night, Fox 5 San Diego reported. The Sierra Fire spread rapidly and quickly expanded to 147 acres, according to the San Bernardino County Fire Department, which moved quickly to contain the latest fire. The department said on Wednesday morning that the blaze was 75 percent contained.
While firefighters made significant progress in San Bernardino, the Camp, Woolsey and Hill fires continued their destructive tear across the state.
The Camp fire, burning in Butte County, had killed 48 people, burned 135,000 acres and destroyed more than 8,800 structures by Wednesday morning, according to reporting from The Associated Press and CBS News. It is 35 percent contained.
The Woolsey fire, which is 47 percent contained, had caused two fatalities, scorched over 97,600 acres and destroyed 435 structures, while the Hill fire, which is 94 percent contained, had burned 4,531 acres.