California Earthquake Update: Lennox, Los Angeles Hit By Small Series of Shakes
People in the Los Angeles, California, area were awoken Monday morning to a small 4.0 magnitude earthquake and a series of foreshocks and tiny aftershocks.
About 4,400 people reported feeling the magnitude 4.0 earthquake that hit Lennox, a town about 15 miles south of Los Angeles, according to the U.S. Geological Survey. The quake was preceded by magnitude 3.3 and 2.5 earthquakes that hit about 30 minutes before the larger one.
The USGS ranked the 4.0 quake as a "green alert," meaning there's a low likelihood of casualties and damages. Even in Lennox, where the earthquake was felt the strongest, people likely only felt a light shaking, according to the USGS. So far, there have not been any reports of damages.
"This morning's wake-up call was widely felt in the greater Los Angeles area," the USGS posted on Twitter. "Unusually deep at [about] 20 km. Odds are high that nothing bigger will happen, but every felt quake is a reminder that California is earthquake country."
Magnitude indicates the physical size of the earthquake and is detected with a seismometer. While most people think of the Richter Scale when they think about magnitude, the USGS noted it's not commonly used anymore. Instead, magnitude is measured with Moment Magnitude, which takes into account the area of the fault that slipped, the rigidity, which is the strength of the rock along the fault, and slip, which is the distance the fault moved.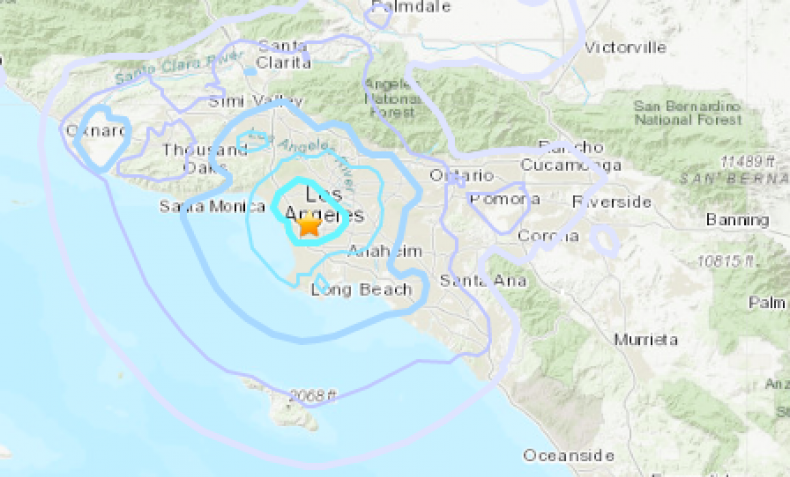 Stronger rock material, a larger area or more movement in an earthquake could all increase the magnitude of an earthquake when using Moment Magnitude.
The scale ranges from 2.5 to 8.0 or greater, and a 4.0 earthquake is considered a "light" earthquake. An earthquake enters the "moderate" classification once it reaches a 5.0 magnitude. Earthquakes aren't registered as "strong" until they reach a magnitude of 6.0.
The Southern California area has about 10,000 earthquakes a year, according to the USGS, but most are so small that people don't even feel them. Several hundred are usually a magnitude of at least 3.0 and only about 15 to 20 are greater than a magnitude of 4.0.
A ShakeAlert message was issued about five seconds after Monday's earthquake was recorded and the USGS encouraged people in the area to fill out a "did you feel it?" report on its website. The report asks people about their location, whether they felt the earthquake and what their situation was at the time. That includes whether they were in a building or in a car, if they were asleep, if other people felt it, how they responded and whether anything moved in their home during the earthquake.