California Earthquake: Viral Videos Show Chaotic Scenes, Panic as Tremor Strikes
Videos posted online captured the scary moment a 6.4 magnitude earthquake struck California on July 4, the state's largest in two decades, prompting fears that the so-called "big one" had finally arrived.
From people hiding beneath archways, to rattling homes, to smashed glass bottles strewn across a liquor store's floor, the footage shows panicked and chaotic scenes during and after the earthquake, the state's strongest since the 7.1 magnitude Hector Mine event in 1999.
The epicenter of the latest earthquake occurred in Salt Wells Valley, just outside of Ridgecrest, which is about 150 miles from Los Angeles, and was felt all across southern California, in Los Angeles, and in parts of neighboring Nevada, including Las Vegas.
Ridgecrest resident Stephen Sykes told BBC News he was in the shower when the earthquake hit. "The whole house shook violently and we both ran out into the street. This went on for about 10 to 15 seconds, we were really scared," Sykes told the BBC.
"Currently we are getting ready in case there's another one. We are moving items onto the floor and have turned off the gas supply. We will probably sleep outside tonight."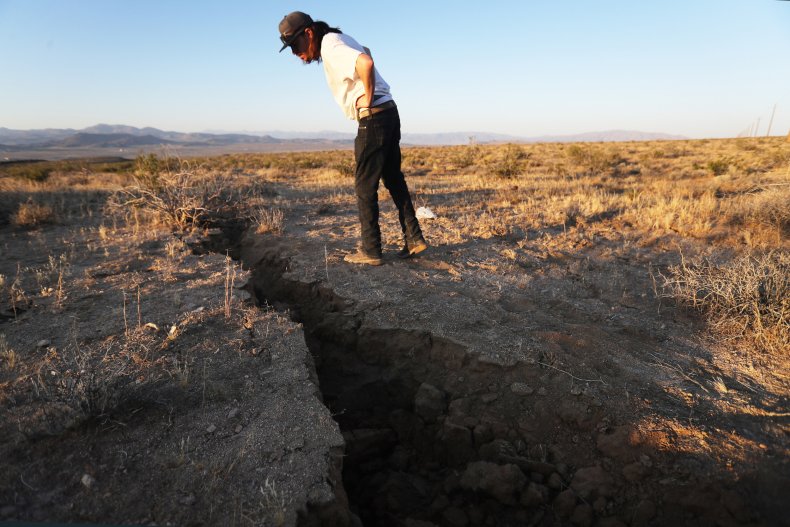 The U.S. Geological Survey (USGS) is warning of further earthquakes in the form of a number of aftershocks, giving a 3 percent chance that one is larger than 6.4 on the Richter Scale within the next week.
Officials advised "everyone to be aware of the possibility of aftershocks, especially when in or around vulnerable structures such as unreinforced masonry buildings. This earthquake could be part of a sequence. An earthquake sequence may have larger and potentially damaging earthquakes in the future, so remember to: Drop, Cover, and Hold on."
There are no reports so far of fatalities as a result of the earthquake, though a number of buildings suffered structural damage. The USGS estimated the economic losses as a result to be somewhere between $10 million and $100 million.
Southern Californians live in fear of a catastrophic earthquake along the San Andreas Fault, one that is both inevitable and likely to cause significant loss of life across Los Angeles, San Francisco, and San Bernardino as well as massive economic costs because of the destruction.
Seismologist Lucy Jones told the L.A. Times that the latest earthquake was far enough away from the San Andreas Fault that any impact on it will be minimal.
However, Jones added: "This does not make [the big one] less likely. There is about a one in 20 chance that this location will be having an even bigger earthquake in the next few days, that we have not yet seen the biggest earthquake of the sequence."
California Governor Gavin Newsom approved an emergency proclamation to unlock state resources in aiding officials to handle the aftermath of the earthquake, and what may still be to come.