Viral Video Shows California Man Racially Abusing Girl for Parking in Community Park: 'You Barely Speak English'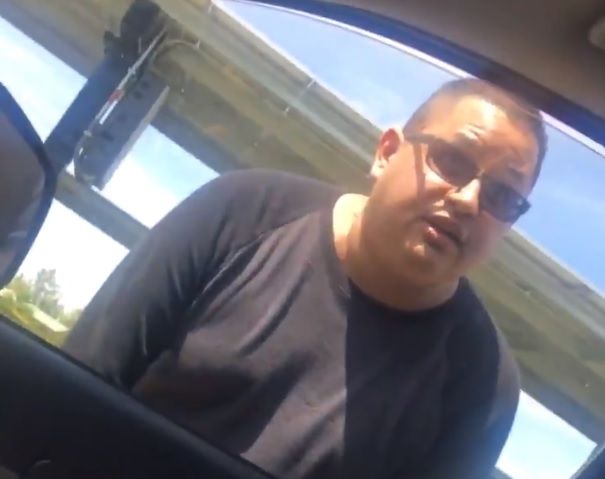 A California teenager has shared video footage of the moment she was racially harassed by a man as she sat in her car.
Ana Jaira Solis, 17, uploaded the clip onto social media, showing a man threatening to report her to Immigration and Customs Enforcement (ICE) while she parked at Laguna Community Park in Elk Grove on May 24.
During the two-minute clip, the man repeatedly berates her and warns that she needs to "take this f*****g car and get the f**k out of here," while also questioning her immigration status
"You park this car here again and I'm going to report you to ICE, you get that? Move," he adds.
"The cops are coming, I already called them… you need to move because you don't belong here. You don't live here, do you?"
Solis replies that she does lives in Elk Grove, which he does not believe. "You barely speak English," he adds.
When the teen asks him to leave her alone, he says: "No, I'm going to wait for the cops to come to take you away, because you don't belong here."
After the man informs the 17-year-old that he is also not going to leave, he tells her: "You're not going to do this to U.S. citizens anymore."
"What am I doing?" she asks. "You're f*****g taking a parking spot from a U.S. citizen," he responded.
Solis responds by telling him that she is a U.S citizen, which he also does not believe and asks her to prove it.
"Why would I need to prove it to you?" she asks. "You don't need to prove it to me, you need to prove it to the cops, to ICE," the man responds.
Solis first posted a clip on the incident onto Instagram before later uploading it to Twitter and asking social network users to "do your thing and help find him."
Speaking to the Daily Mail, Solís said she was surprised by the altercation.
"But I want people to know that this still happens and also to be able to find that man and [make sure he does] not bother more people," she added.
"I felt scared when I told him to get away from my car and he wouldn't do it."
Jason Jimenez, of the Elk Grove Police, told CBS 13: "As a parent, and someone in this community, obviously that behavior is appalling."
Jimenez said that police have dealt with the man in the video before, but did not elaborate for what.
"We would suggest to people that are in incidents like that to quickly call us," he added.