California Expected to Allow Retail Businesses With Curbside Pickup to Reopen as Early as Friday
California Gavin Newsom announced intentions to move his state into the second phase of a project four-phase reopening program on Monday, including allowing certain retail establishments to open up for curbside pickup as soon as Friday.
"On Friday, I said we were days not weeks from announcing modifications to the stay-at-home order and today we are announcing our efforts to update the stay-at-home guidelines and begin the process of moving to Stage 2," Newsom said in a Monday news briefing.
While full details on the second stage of California's reopening are not expected to be announced until Thursday, Newsom specifically named clothing retailers, bookstores, sportings good shops and florists as businesses that could be opened by Friday during the briefing.
Shopping malls, dine-in restaurants are also to remain closed. Offices should still function under work-from-home protocols.
"This is a very positive sign and it has happened for only one reason," Newsom said, "the data says it can happen."
However, Newsom acknowledged that the virus could re-emerge once more social contact between people occurs, saying that modifications would have to be made if the state does not exhibit the capacity for contact tracing and isolation of individuals who may have been exposed to coronavirus.
"Millions of Californians answered the call to stay home and thanks to them, we are in a position to begin moving into our next stage of modifying our stay at home order," Newsom said in a statement sent to Newsweek on Monday. "But make no mistake— this virus isn't gone. It's still dangerous and poses a significant public health risk. As we move into the next stage of reopening, we will do so with updated guidance to help qualifying businesses make modifications needed to lower the risk of COVID-19 exposure to customers and workers. Californians should prepare now for that second stage of reopening."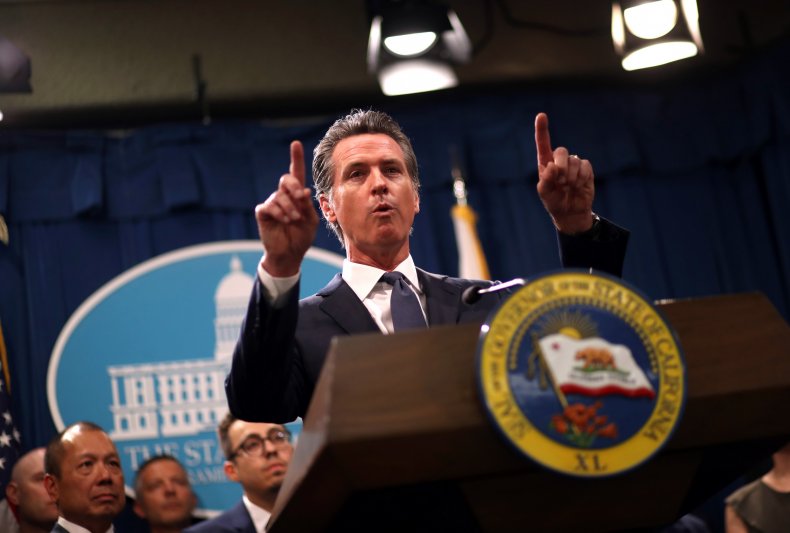 Newsom also said that some counties within the state that had not been hit as hard by coronavirus could move into stage two more quickly than some other areas. As long as mitigation guidelines are met and agreed upon by county health officials, some areas may be able to open restaurants and lodging establishments reopening "with modification."
"It has to be done in a very thoughtful and judicious way," Newsom said. "It's a health-first focus, indicators have to be maintained."
"Many of these regions, many of these counties, have done already a ton of work in this space and they're ready to go so I have great expectation that you're going to see a lot of these communities with local certification in place," Newsom added.
Newsom also said Laguna Beach and San Clemente Beach could reopen after the governor closed all beaches in Orange County on Friday. Local leaders "put together an outstanding plan to begin to reopen those beaches," Newsom said, "and we not only applauded that, we enthusiastically embraced it."
Newsom closed the county's beaches on Friday after people showed up to the shore in droves during a weekend heatwave in April. Newsom referred to photographs of crowded beaches as "disturbing."
"This virus doesn't go home because it's a beautiful, sunny day around our coasts," Newsom said about the event.
Newsom's stay-at-home orders have spurred some individuals to protest, including crowds of demonstrators who gathered at the Capitol building on Friday calling for an easing of Newsom's orders. Some called for Newsom to be removed from office.
During Friday's news briefing Governor Newsom acknowledged the protests by saying the right to hold demonstrations was "a wonderful point of privilege we have here in the United States and we should celebrate that. We should thank people for expressing themselves."
Updated 11:13 p.m. EST 05/04/2020: This story has been updated to include a statement from Governor Newsom's office.