How Did the California Wildfires Start? Kincade Fire Linked to PG&E Electrical Malfunction
This year's wildfire season in California, which began around May, has been fairly calm through September, relative to previous years. Many of these fires were reported to have been sparked by lightning.
But October has seen a series of fast-moving fires, the largest of which has been the ongoing Kincade Fire. The fire has already covered more than 74,000 acres across Sonoma County and other surrounding areas, according to a report posted on the official Twitter account of the California Department of Forestry and Fire Protection (Cal Fire).
First reported on October 23, the official cause of the Kincade Fire has yet to be determined but the Pacific Gas and Electric (PG&E) company noted in a compulsory report sent to the California Public Utilities Commission (CPUC) that one of its transmission lines failed moments before the fire broke out, The San Francisco Chronicle reported.
On Monday, PG&E also admitted that its workers had discovered a downed power pole and a broken wire near two fires that broke in Contra Costa County on Sunday and that it failed to notify around 23,000 customers (500 of whom have medical conditions) of the preventative public safety power shutoffs (PSPS) issued this month, the L.A. Times reports.
The CPUC has since launched a formal investigation this past Monday into the company's power shutoffs and whether utility companies administer shutoffs according to state regulations.
"The state cannot continue to experience PSPS events on the scope and scale Californians have experienced this month, nor should Californians be subject to the poor execution that PG&E in particular has exhibited," Marybel Batjer, the president of the CPUC, said in a statement.
Three of California's biggest utility companies (PG&E, Southern Edison and San Diego Gas & Electric) have together reported more than 2,000 fires sparked by electrical equipment in the period between June 2014 and 2017, according to the CPUC, the L.A. Times reports.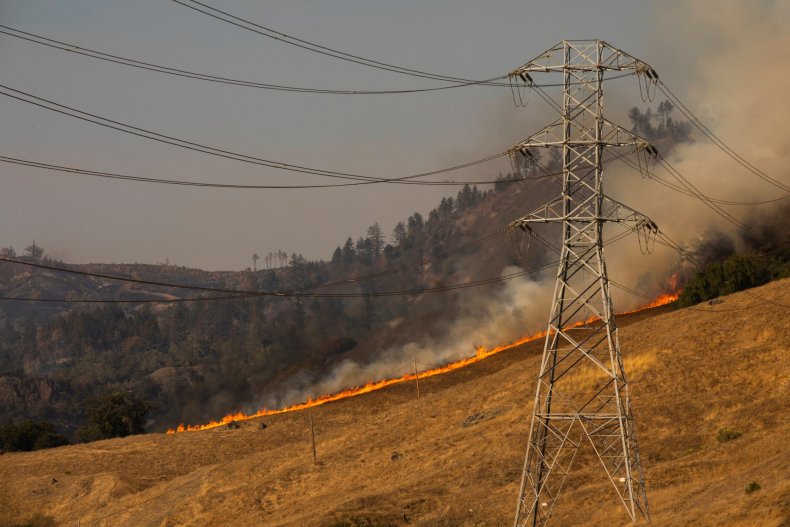 The size of these fires has varied from less than a few meters to thousands of acres, according to the CPUC.
California governor Gavin Newsom welcomed the announcement of the CPUC's investigation in a statement on the official website of the governor's office saying: "I want to see the CPUC launch a total reform of power shutoff rules and regulations. Utilities must be held accountable and be aggressively penalized for their overreliance on PSPS, and the product of this investigation must be new rules and regulations to do that.
"I also want to see customers not charged for PSPS. It seems obvious, but under the current rules, utilities can do just that. It's unacceptable and must be remedied," he added.
The cause of the Sandalwood Fire earlier this month in Riverside County of Southern California is also under investigation. The fire was reported to have been caused by burning trash that was thrown onto a road by a garbage truck, ABC7 reported.
The fire rapidly spread across a field of dry grass nearby helped by high winds, Time reported.
The Riverside County Sheriff's Office and Cal Fire were reported to be determining whether throwing burning trash on a road (which eventually led to the destruction of 76 structures in a mobile home park and the death of one person) should be considered a criminal act, The Mercury News reported.
"The fire resulted in a death. So that's why right now it's kind of like a death investigation to see if it will result in criminal charges," Sheriff Chad Bianco said at a news conference, The Mercury News reports. "We don't know that yet and we won't know that for quite some time," he added.
As of Tuesday, there are 12 active large fires burning across the country, half of which are concentrated in California so far, according to the National Interagency Fire Center.
The ongoing blaze is expected to be met by the strongest Santa Ana Winds ever seen this season from Tuesday to Thursday, with wind gusts of up to 80 miles per hour in some parts of Los Angeles and Ventura counties, according to the National Weather Service (NWS).
"Santa Ana winds (SAW) are dry, warm downslope winds that blow episodically from the Great Basin into coastal Southern California. Santa Ana season usually begins in September and ends in May, with most frequent winds in winter, particularly in December, but causing the greatest wildfire hazard in autumn," according to a report by the American Meteorological Society (AMA).
"Southern California has a Mediterranean climate with predominantly wintertime precipitation and hot dry summers. SAWs require a cold dense air mass over the elevated Great Basin. In fall, the Great Basin is cooler than southern California area but not yet very cold—so the Santa Ana winds can start at a higher temperature and thus reach sea level very hot and extremely dry after compression warming.[1] That hot dry wind blowing after a hot dry summer, produces an especially high fire hazard," the report adds.
"A combination of strong winds...very low relative humidity...long duration...and very dry fuels can contribute to dangerous fire weather conditions with extreme fire behavior. Use extreme caution with potential fire ignition sources," the NWS notes.