California Fire Leaves 1 Pilot Dead As Thousands of Firefighters Battle 23 Blazes
A pilot died while responding to California's Hills Fire earlier this week, as thousands of emergency personnel work to extinguish others burning across the state.
The pilot, who remains unidentified in official reports, became the first casualty of California's latest string of wildfires when an emergency Call When Needed helicopter crashed on Tuesday. The crash occurred during a water-dropping assignment at the site of Fresno County's 1,500-acre blaze, according to details released by the California Department of Forestry and Fire Protection.
"This morning a Call When Needed (CWN) helicopter crashed while fighting a wildfire in western Fresno County," reads a statement from the state agency, known colloquially as Cal Fire, about the pilot's death. "The Bell UH-1H helicopter was on a water dropping mission on the Hills Fire, approximately 9 miles south of the City of Coalinga. Air and ground resources responded immediately to the crash site."
The pilot was the only person on board the CWN helicopter and sole death reported as a result of Tuesday's crash, Cal Fire said in its statement. The department is assisting authorities from the National Transportation and Safety Board (NTSB) as they pursue an investigation into the incident. Newsweek reached out to the NTSB and Cal Fire for comments on but did not receive replies in time for publication.
The fire in Fresno County is one of almost two dozen currently burning throughout California, as 6,900 firefighters across the state continue to manage a particularly harsh stretch of wildfire season. Personnel were able to contain 35 percent of Fresno's Hills Fire by Tuesday evening, following an ongoing response that persisted for the better part of four days, according to Cal Fire's most recent update.
As Cal Fire officials noted during a Wednesday news conference, lightning storms and high temperatures amid an excessive heat wave sparked hundreds of concurrent flames statewide.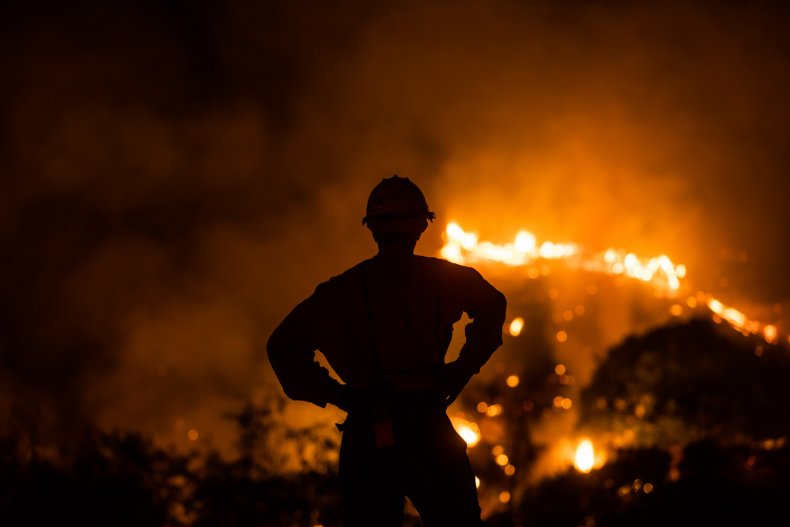 "Over the last 72 hours, the state has been besieged by a historic lightning siege that has resulted in approximately 10,849 lightning strikes across the state," said Jeremy Rahn, the LNU Lightning Complex fire's public information officer, during the 11 a.m. conference. He said the lightning strikes led to hundreds of new fires. Multiple Cal Fire officials warned of the response agency's diminishing resources in updates shared at the news conference.
Of all wildfires still reported as active late Wednesday, northern California's LNU Lightning Complex fire was the largest. The latest information released by Cal Fire just before midnight placed the wildfire's size at 124,100 acres. Zero percent of the Lightning Complex fire was contained at the time.