California Fire Map, Update as Silverado and Blue Ridge Blazes Out of Control in Orange County
Two fires in Orange County have destroyed more than 13,200 acres so far. The Silverado Fire started on Monday morning near Irvine and the Blue Ridge Fire started on later in the day near Yorba Linda. More than 100,000 people have been told to evacuate the area.
As of Monday evening containment was at zero per cent. Authorities have ordered mandatory evacuations around the Blue Ridge Fire, which is increasing in size. Orange County Sheriff's Department estimates that 4,000 properties and some 10,000 people have been evacuated.
The Brea Police Department has alerted residents in the areas of Hollydale and Olinda Village in Carbon Canyon and East of Gypsum Canyon, including Bryant Ranch Elementary. At the time of publication, the most recent evacuation orders include the city of Lake Forest east of the 241 toll road between Lake Forest Drive and El Toro Rd/Santiago Canyon Road, plus the Hidden Hills community.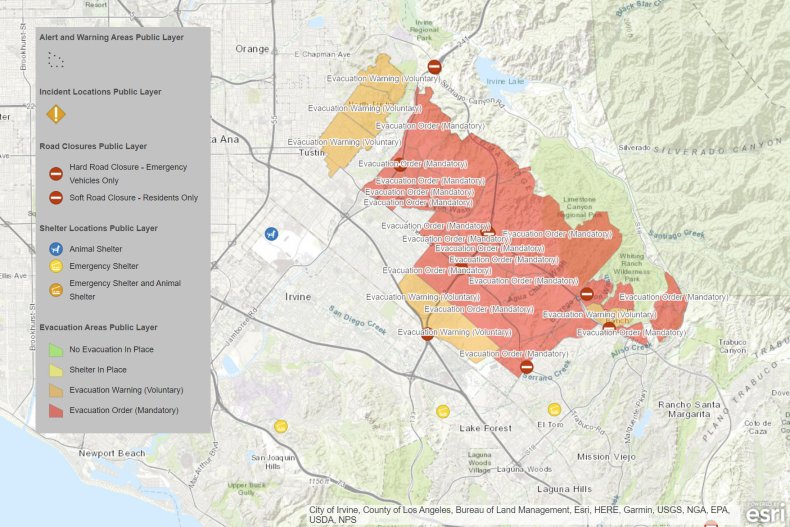 The Irvine Police Department has issued a mandatory evacuation order for residents around the Silverado Fire, between Great Park and Bake, and north of Toledo until the city limits.
More than 700 firefighters are tackling the blazes, a family home at the end of Blue Ridge Drive has been severely damaged, but crews have been successful in saving many houses in Orange County. However, two firefighters, one 26 years old and the other 36 years old, have been severely injured fighting the Silverado Fire. Orange County Fire Authority Chief Brian Fennessy revealed that they had suffered third degree burns and are intubated and unable to speak.
"We're experiencing very high winds and low humidity. Our firefighters are some of the bravest—the bravest in the world," said Fennessy in a press conference. "This is a very hazardous job. I'm just so proud of my firefighters."
According to PowerOutage.US, nearly 230,000 local residents are without power as a result of the Blue Ridge Fire and the Silverado Fire.
Evacuation during a pandemic has created a whole host of new problems, and people may have to wait "a significant amount of time" at Temporary Evacuation Points and Care and Reception Center locations. The Centers for Disease Control and Prevention has advice on going to a public shelter during a pandemic.
It includes preparing a "go kit" with personal items you cannot do without during an emergency and items for a pandemic, soap, hand sanitizer, face masks and planning a place to shelter. California residents are advised to set up weather alerts on their phones. Visit the advice page here.
October and November is typically fire season in California, but there have already been 8,600 wildfires in the state this year, scientists believe climate change has contributed to the increase in wildfires.
For a up to date maps of current evacuation warnings and orders for Orange County see here.