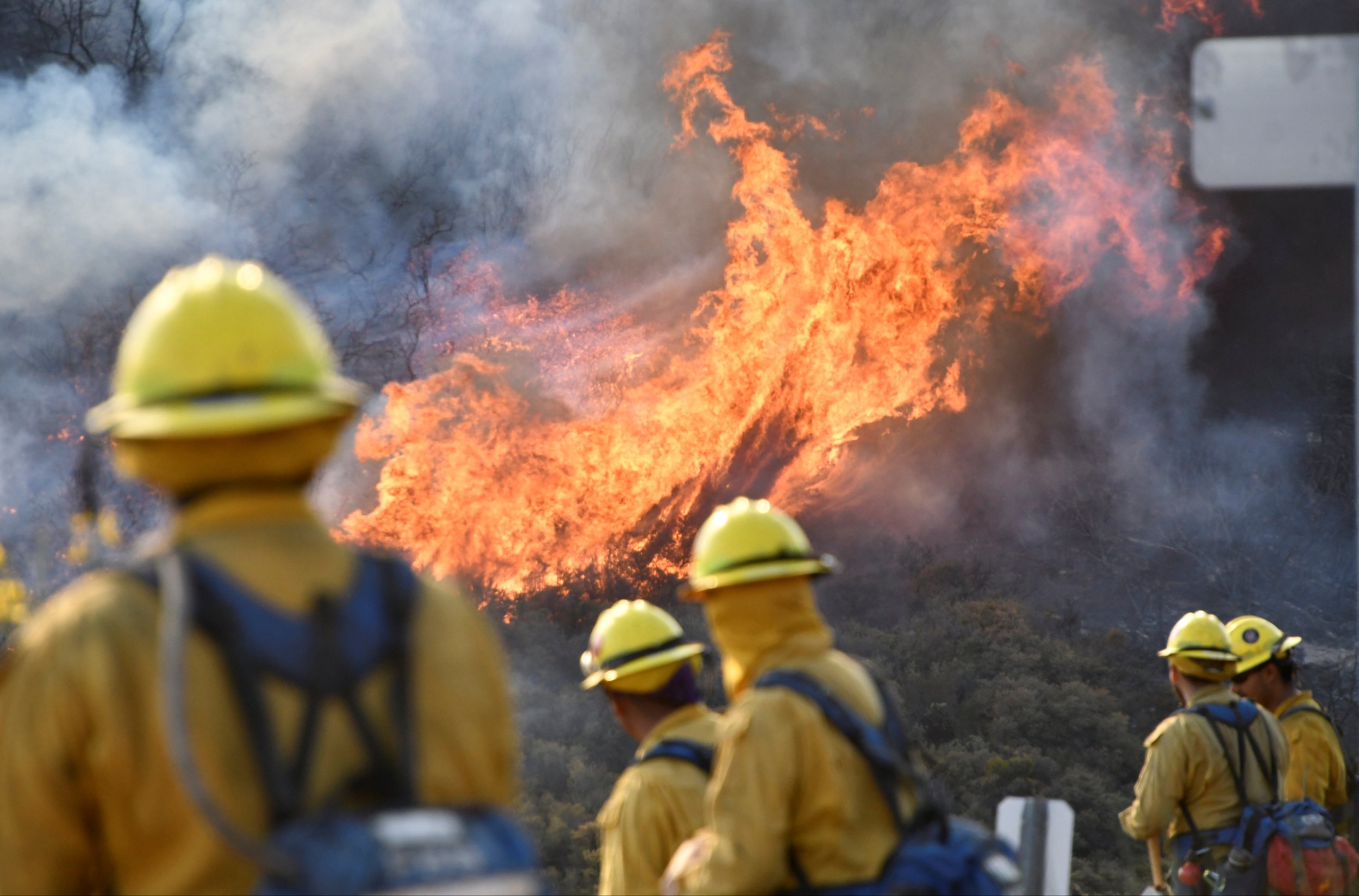 The wildfire in Southern California that kicked off a series of destructive blazes across the region remained, as of Thursday morning, the fifth-largest fire in California history, with only 30 percent containment.
The Thomas Fire originated a series of blazes across Southern California on December 4 and has since destroyed 930 buildings in the region. It spanned 238,500 acres— about 372 square miles, or roughly the size of Dallas—and continued to grow Thursday. The combined destruction from the most recent California fires rivaled that of the October blazes that burned 245,000 acres and killed 43 people near Napa Valley, but no deaths have been attributed to the December wildfires.
Related: Meet the Prisoner Firefighters Who Are Battling the Flames in Southern California
Firefighters pre-emptively burned fuel and staked out containment lines to shut down the fire's spread in its second week of terrorizing the region. Over 8,000 firefighters battled to keep the wildfire perimeter from reaching Santa Barbara and Montecito, according to the Los Angeles Times. As of Thursday, it remained the strongest blaze for firefighters to battle in Ventura and Santa Barbara counties, and officials warned that unpredictable winds could push it beyond containment.
"When the wind starts pushing it, we can throw everything we have at it and it's not going to do any good," Mark Brown, an operations section chief for the California Department of Forestry and Fire Protection, told the Los Angeles Times.
The Skirball Fire, which terrorized Bel-Air and caused the University of California, Los Angeles, to cancel classes, was 90 percent contained, officials said. It has charred less than one square mile of land and damaged at least 18 structures in Los Angeles County. The Creek Fire, which burned 24 square miles in Los Angeles County, was at 98 percent containment on Thursday morning. The Lilac Fire, which was sparked in San Diego County, was 96 percent contained after affecting more than six square miles in the region.
The multiple wildfires that have charred Southern California were slowly being extinguished, signaling a clear turning point for firefighters, who have fought blazes fueled by hurricane-level winds. On Thursday, their efforts remained centered on keeping the fires away from California's most populated regions.
Evacuation orders mandated throughout some areas were lifted Tuesday evening, allowing Californians to return to their neighborhoods and assess the wildfire damage. As Californians were cleared to return home, significant damage awaited some people. For individuals in Ventura and Santa Barbara counties, evacuation orders remained in place.