California Fire Map: Getty Fire, Kincade Fire, Calabasas Fire, Brentwood Fire Updates as Strong Winds Could Fuel Further Outbreaks
Dangerous fire weather conditions are expected to continue across most of the northern and southern parts of California through at least Tuesday, the National Weather Service (NWS) warned in a post on its official Twitter account.
"Portions of southern California were upgraded to an Extremely Critical risk for Day 2/Tuesday, October 29th," the post said.
"Critical weather conditions (dry and windy) will be a threat to parts of California again on Tuesday." stated another post by the NWS.
Getty Fire and Brentwood Fire
As of 6 p.m. (local time) last night, the Getty Fire has reached 618 acres, with 5 percent contained and with the expected full containment date unknown, according to an official report posted yesterday on the official Twitter account of the Los Angeles Fire Department (LAFD).
Several homes in Brentwood and the surrounding hillside areas were affected, with mandatory evacuation orders in place, according to several posts on Twitter documenting scenes from the fire.
More than 10,000 structures have been affected by the Getty Fire, with 8 residences destroyed and 6 damaged, LAFD confirmed on its official website.
But good progress has been made in slowing the spread of the fire, LAFD added.
"Aircraft and dozer teams are continuing to strengthen containment lines. We continue to monitor the weather with a Santa Ana wind event scheduled to begin again tomorrow [Tuesday] at 11 PM. Low relative humidity and gusty winds will once again pose a threat for firefighters Tuesday night through mid-day Thursday," the LAFD noted in the report.
The department also issued red flag parking restrictions, which restricts cars from being parked in areas with extremely high fire hazards.
"As of 8PM tomorrow, October 29, 2019, the City of Los Angeles is ACTIVATING the red flag parking restrictions. Please note, this goes into effect at 8PM and not 8AM. For the current status of the red flag parking restrictions, you may visit www.lafd.org/redflag," the LAFD said on its website.
LAPD also noted evacuation orders have been lifted for the Mountain Gate Community and is now instead within the Evacuation Warning area and warns and "those who reside in this community may return home but must be READY AND SET in the event conditions change."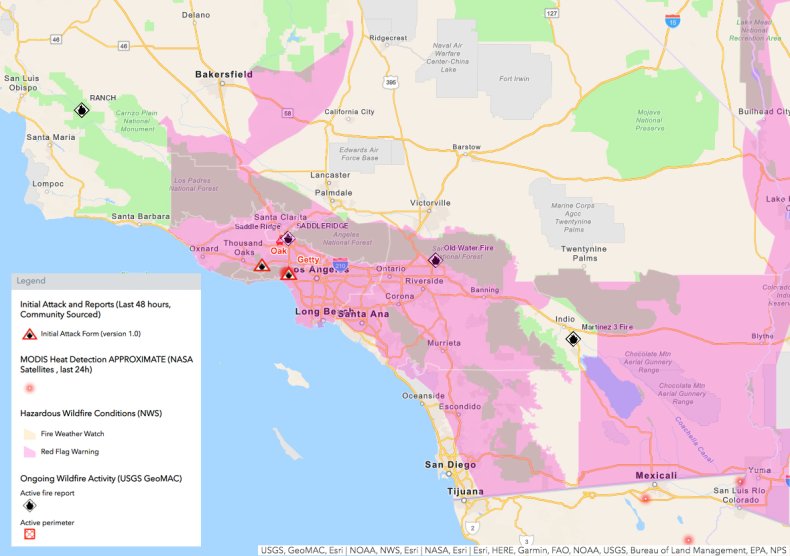 Oak Fire
The brush fire that broke Monday morning in the city of Calabasas has been contained, according to a post by the L.A. County Fire Department on its official Twitter account.
"#OakFire *UPDATE* Forward progress has been stopped due to another aggressive offensive attack from Los Angeles County Firefighters. Proud protectors of life and property!", the fire department said in the post.
A public safety power shutdown (PSPS) is in place for Wednesday "due to weather conditions that may create the potential for elevated fire risk", according to the official website of the City of Calabasas.
"PSPS Update** -- SCE [Southern California Edison] now says it may have to shut off your power starting Wednesday 10/30 from noon-3p, not 9a-6p, due to the fire threat. Area around Lost Hills near Agoura Road, north to of the 101 -- mainly Saratoga Hills and Ranch," the City of Calabasas said on its official Twitter account.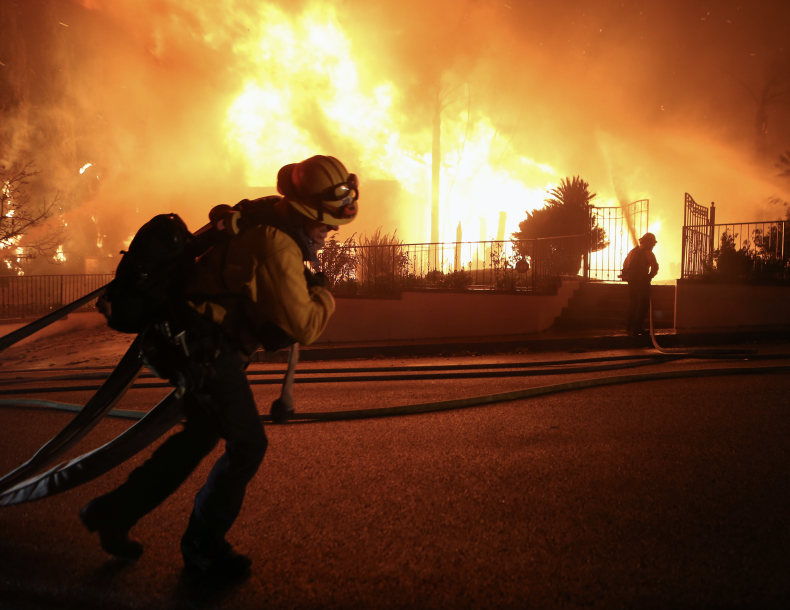 Kincade Fire
The massive Kincade Fire has spread to 74,324 acres across Sonoma County and its surrounding areas since it began on October 23, according to the latest report by the California Department of Forestry and Fire Protection (Cal Fire) posted last night on its official Twitter account.
About 15 percent of the fire has been contained and Cal Fire expect full containment by November 7. More than 90,000 structures have been affected, with 123 destroyed.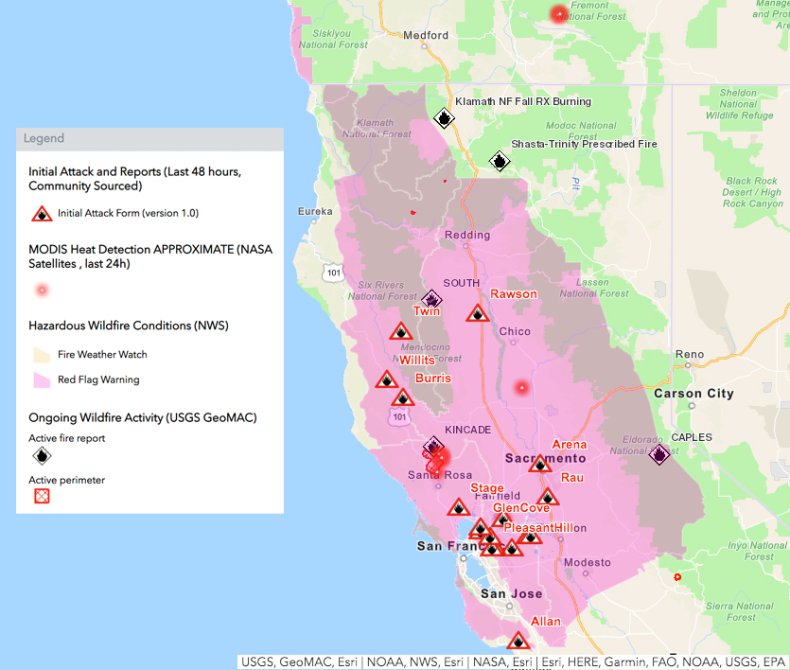 "Early weather predictions show Northeast winds arriving again on Tuesday," Cal Fire noted in the report.
Evacuation orders are in place for Zones 1-6, 8A, 9 and 10, while evacuation warnings are in place for Zones 7, 8B and 21. LAFD also issued an additional evacuation warning for parts of Lake County (Zone 31). Full details on these affected zones can be seen at the report posted on Cal Fire's official Twitter account.
Various evacuation orders in several parts of Sonoma County are still in place. See the full list at the Sonoma County Emergency Information (SoCo Emergency) official website, while "the Sonoma County Sheriff's Office is downgrading the following areas from evacuation order to evacuation warning: Zone 7: Forestville, Guerneville, Duncans Mills, Jenner, Bodega Bay, Occidental / Zone 8B: Sebastopol and Valley Ford," according to SoCo Emergency.
"A Red Flag Warning will be in effect from 8 a.m. Tuesday (10/29) to 4 p.m. Wednesday (10/30) for the North Bay including all of Santa Rosa. Confidence is high for critical fire weather with strong offshore winds and critically low relative humidity," according to a statement on the official website of the City of Santa Rosa said.
"Strong and gusty north to northeast winds are forecast Tuesday into Wednesday morning. Winds are expected to reach the lower elevations and coast Tuesday evening. Offshore winds will weaken but remain locally gusty Wednesday afternoon. Winds of 20-35 mph with gust 35-50 mph in the north bay mountains and winds 5-15 mph with gusts 20-35 mph in the valley floor are forecasted," the statement said.