California Fire Map: Getty Fire, Kincade Fire, Tick Fire, Burris Fire, Oak Fire Updates as First Ever Extreme Red Flag Warning Issued
The ongoing California fires has prompted the National Weather Service (NWS) to issue its first-ever "Extreme Red Flag Warning," with Santa Anna winds that "could be one of the strongest of recent memory" expected for much of Los Angeles and Ventura counties.
The unprecedented warning was issued from 11 p.m. (local time) Tuesday and is effective through 6 p.m. (local time) Thursday.
A Red Flag Warning is issued when warm temperatures, very low humidities, and stronger winds are expected to combine to produce an increased risk of fire danger within the next 24 hours, according to the NWS. The latest enhanced Red Flag Warning indicates an extremely elevated level of dangerous fire weather conditions.
"A strong Santa Ana wind event is expected through Thursday, and could be one of the strongest of recent memory. Damaging wind gusts between 50 and 70 mph are expected over most of Los Angeles and Ventura Counties, isolated gusts to around 80 mph likely," the NWS warned, according to post of the warning by the official U.S. Emergency Alert Twitter account.
"Although the air is cold, humidities will lower to the single digits nearly everywhere by Wednesday and Thursday, and down to 1 or 2 percent in the driest windiest locations. Overnight recoveries Wednesday night will be near zero. This all adds up to an extreme fire weather threat. Use extreme caution with any potential ignition sources, and residents in high fire risk areas should be ready and set to evacuate if emergency officials say so," the warning added.
There are currently 7 active large fires in California which have covered 97,511 acres so far, according to the National Interagency Fire Center (NIFC).
"The next round of Foehn Winds [dry, down-sloping winds] will begin to ramp up tonight [October 29] across Northern and Central California today and tonight. Expect another extended period of critical conditions in the prone areas. Dry conditions will continue across most of the West as a high pressure ridge over the eastern Pacific Ocean begins to approach the coast late in the day," NIFC warned.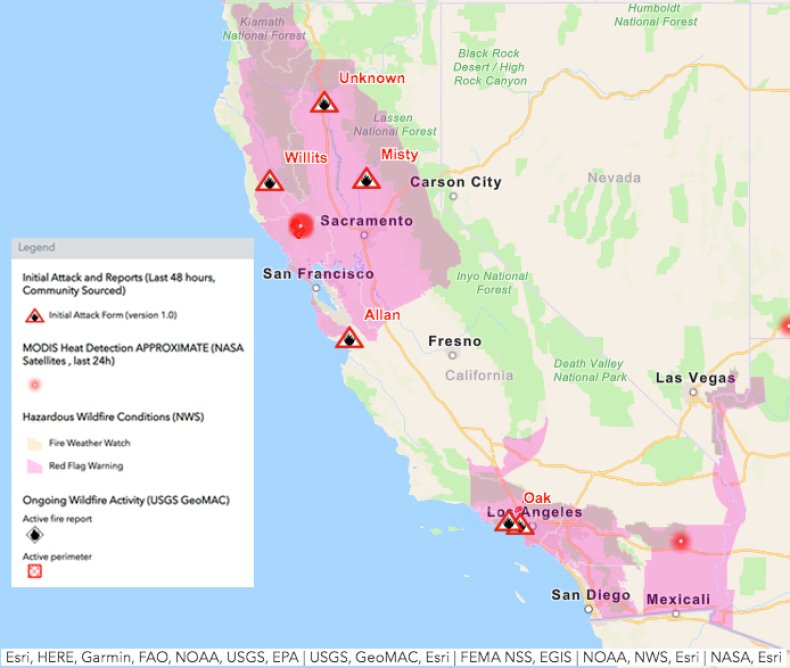 Getty Fire
As of 7 p.m. (local time) Tuesday, the blaze was at 656 acres with 15 percent contained, according to an official report by the Los Angeles County Fire Department. Winds are expected to be 30-50 mph, with wind gusts of up to 70 mph in the Santa Monica Mountains.
"But the fight isn't over, as tonight we're expecting dangerous conditions not seen in recent history — wind gusts up to 70mph & extremely low humidity," the Los Angeles Police Department (LAPD HQ) noted in a post on its official Twitter account.
Mandatory evacuation orders and evacuation warnings are in place across different parts of the area, which are outlined in more detail on this interactive evacuation map on the official LAFD website.
Road closures are in effect for Temescal Canyon northboard, which is closed at Sunset Blvd, Northbound Sepulveda Blvd closed from Moraga Dr to Skirball and Southbound Sepulveda Blvd closed form Skirball to Sunset Blvd, the LAFD notes.
Tick Fire
The fire off Tick Canyon Road and Summit Knoll Road has reached 4,615 acres, with 90 percent contained, according to post by Cal Fire on its official Twitter account.
All evacuation orders and road closures were lifted from 6 p.m. October 27. But an evacuation center remains open through November 4 at the College of the Canyons Gymnasium. An animal shelter is also available at the Castaic Animal Care Center, according to a report by the LAFD on its official Twitter account.
"Until this fire is 100 percent contained, increasing fire behavior is always a potential risk. In the event of a new ignition, very rapid fire spread, long range spotting and extreme fire behavior due to record low moisture is possible," the LAFD warned.
Kincade Fire
The fire has reached 76,138 acres, with 15 percent contained and full containment expected for November 7, according to the latest report posted on the official Twitter account of the California Department of Forestry and Fire Protection (Cal Fire).
The official Twitter account of the County of Sonoma noted: "Zone 4A and Zone 7 have been downgraded to an Evacuation Warning and residents may cautiously return. All other Zones still under Mandatory Evacuation. NOTE: Red Flag Warning still in effect through Wednesday" and "Warming and charging centers have opened in several locations for individuals to warm-up and charge electronic devices."
Full details on evacuation centers and other information at the Sonoma County Emergency (SoCo Emergency) website.
"All evacuation orders are still in place within the Santa Rosa city limits due to concerns of potential threat from the fire given the forecasted winds. If you have not evacuated from an area where evacuation orders are already in place, YOU NEED TO DO SO NOW," the official office of the City of Santa Rosa warned in an official statement on Tuesday night.
"Mandatory evacuations include approximately 60,000 Santa Rosa residents in the following areas: all areas west of Highway 101 and north of Highway 12, all areas east of Highway 101 and north of Steele Lane, Lewis Road, Chanate Road, Montecito Avenue, and Montecito Boulevard," the office said.
Burris Fire
The fire which broke around Potter Valley Road and Highway 20, east of Calpella in Mendocino County, remains at 350 acres, with 75 percent contained so far, according to the latest report posted by the official Twitter account of Cal Fire Mendocino.
"A Red Flag warning is in effect for most of Mendocino County, lasting through Wednesday at 4 p.m. [local time]," Cal Fire said in its report.
No evacuation orders are in place but evacuation warnings are in effect for Highway 20 south to Highway 175, east of the Russian River, and west of the Lake Country line and the Potter Valley area, Cal Fire also note in the report.
Oak Fire
Further progress of the fire was stopped on Tuesday, the LAFD reported in a post on its official Twitter account. The fire's reach was limited to about 10 acres.
"OAK FIRE Per @LACoFD_DivVII, the forward progress of the fire in Calabasas near 101 Fwy and Las Virgenes has stopped. The fire is holding at 10 acres. The fwy ramps at Las Virgenes are closed, however, the 101 remains open in both directions," according to a post on the official Twitter account of the California Highway Patrol (CHP).