California Fire Map: Maria Fire, Easy Fire, Hill Fire, 46 Fire, Kincade Fire Update as New Blaze Breaks Out in Ventura County
California fires continue to blaze following the latest Maria Fire that broke in Ventura County near the Santa Paula and Somis communities.
"A Red Flag Warning is in effect through 6PM for the interior Los Angeles and Ventura County Mountains, Ventura County interior alleys and the Santa Clarita Valley due to gusty northeast winds and very low humidities," the National Weather Service (NWS) announced on Thursday.
Red Flag Warnings indicate conditions are favorable for "dangerous fire growth and behavior for established fires or where new fire ignition occurs," according to the NWS.
Northeast winds are expected to reach 15 to 25 miles per hour, with gusts of up to 35 miles per hour through Friday, while relative humidity will be as low as 2 to 8 percent, with very poor to no overnight recoveries, the NWS notes.
"If fire ignition occurs, conditions will be favorable for extreme fire behavior and rapid fire spread which would threaten life and property.
"Use extreme caution with potential fire ignition sources. Residents in high fire risk areas should be ready and set to evacuate if emergency officials say so," the NWS adds.
Santa Ana winds are also expected to gradually die down through Friday, with wind gusts between 25 and 35 miles per hour across the mountains of Los Angeles and Ventura counties, Santa Clarita Valley and Ventura County Valley. Very dry air will persist through the rest of the week, with single digit minimums common and poor overnight recoveries, according to the NWS.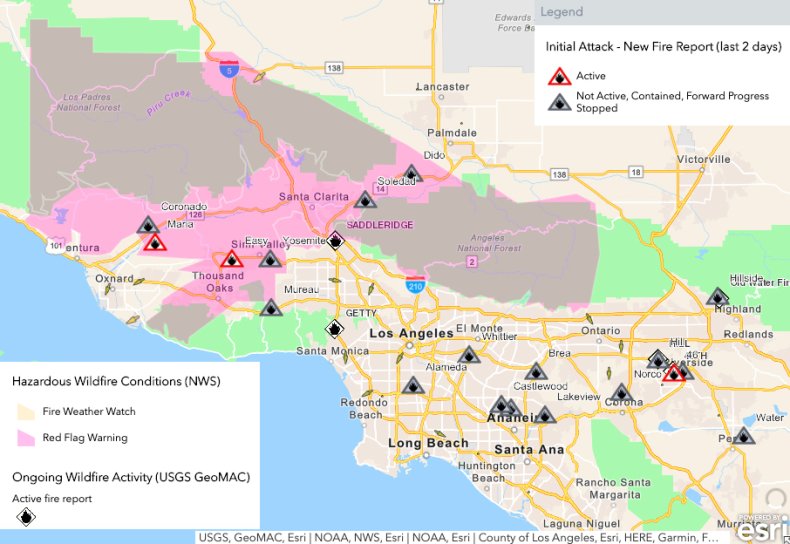 Maria Fire
The late new fire broke Thursday around the Somis and Santa Paula areas of Ventura County.
It was reported to have reached around 7,300 acres with zero percent containment as of 11 p.m. (local time), according to the official website of the Ventura County Emergency Information Source (VC Emergency).
The Maria fire was said to be moving westward towards Somis, while there was a slow rate of spread on the Santa Paula side, according to a post by the official Ventura City Fire Department Facebook account.
Mandatory evacuation orders, evacuation warnings and road closures are in place at various parts of the affected areas,the full details of which can be seen at this interactive map on the Ventura County Emergency Operations Center website.
A public safety power shutoff (PSPS) is also under consideration by Southern California Edison in some areas of its service from Friday "due to weather conditions that may create the potential for elevated fire risk", the company announced on its website. Around 10,400 customers, including more than 5,000 in the Ventura County area, are expected to be affected by the potential power outage.
Various schools closures have been announced for Friday due to the Maria Fire, which can be viewed at the official Ventura County Office of Education.
Easy Fire
Elsewhere in Ventura County, the Easy Fire was reported to have reached 1,806 acres with 60 percent contained, according to a post by the official California Department of Forestry and Fire Protection (Cal Fire) Twitter account.
All evacuations have been lifted on the Easy Fire, according to post on the Ventura County Fire Department Public Information Office (VCFD PIO) Twitter account.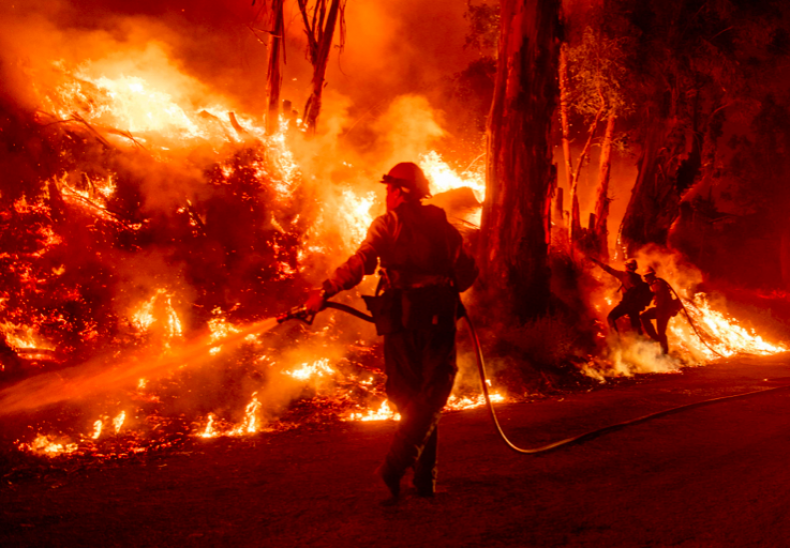 "Also all roads have been reopened with the expectation of Tierra Rejada Rd from HWY 23 to Mandan Pl is open to residents only. Please be careful as first responders are still working in the area," the post said.
"UPDATE: #Easyfire as of 6AM Freeway clean-up done. Due to spot fires, we have the following road conditions: SB SR-23 open, NB SR 23 #1 lane open, SB SR 23 from Tierra Rejada On-ramp closed, NB SR 23 to Tierra Rejada off-ramp closed, Tierra Rejada at SR 23 closed," the California Highway Patrol Moorpark (CHP Moorpark) said in a post on its official Twitter account.
46 Fire
As of 7:15 p.m. (local time) Thursday, the 46 Fire was reported to be at 300 acres, with 50 percent contained, according to Riverside County Fire Department website.
All evacuations have been lifted as of 2 p.m. Thursday, but residents are advised to, "Please use caution returning home and yield to fire equipment working in the area," the fire department said on its website. More information about the incident can be seen at this interactive map on the official website of Riverside County.
"In addition to the three residential structures and two out buildings destroyed in Riverside County jurisdiction of the 46th fire, ember casting due to high winds ignited debris which destroyed two outbuildings and caused major damage to two commerical buildings within Riverside City. Resources from Riverside City Fire Department responded to extinguish the fires in their jurisdiction," the department notes.
Hill Fire
The Hill Fire has covered 628 acres and is now 80 percent contained, according to a post on Twitter by Cal Fire. "Firefighters have mitigated all structure threat and resources will remain assigned to the incident throughout the day," Cal Fire said.
Evacuation order zones have been downgraded to an evacuation warning level "in the areas west of Lindsay Street, south of Philadelphia, north of Van Buren Boulevard, and east of Wineville Road," the Riverside County Fire Department notes.
Fullerton Fire
The fire in the Gilbert & Castlewood area of Orange County has reported to have been fully contained on Thursday, having been stopped at 11 acres, according to a report posted by the official Fullerton Police Department Public Information Office (FPD PIO).
All evacuation orders were lifted and all roads are now open as of 10:25 p.m. (local time) Thursday, the FPD PIO said.
Fullerton firefighters have been at the scene throughout Thursday "to ensure the fire is completely out, performing 'mop up' and patrolling the burn areas," the FPD PIO said.
Kincade Fire
As of 7 p.m. (local time) Thursday, the Kincade fire, which first broke on October 23, has reached 77,758 acres with 65 percent contained. and full containment expected by November 7, according to a post by the official Cal Fire Twitter account.
Evacuation warnings have been lifted in Zone 21, Zone 31, Zone 32, Zone 33 & Zone 34
Full details on the affected areas can be viewed at the official report posted by Cal Fire.
More information on road closures, evacuated areas and those under evacuation warnings can be seen at this interactive incident map for Sonoma, Napa and Lake counties provided in the official report by Cal Fire.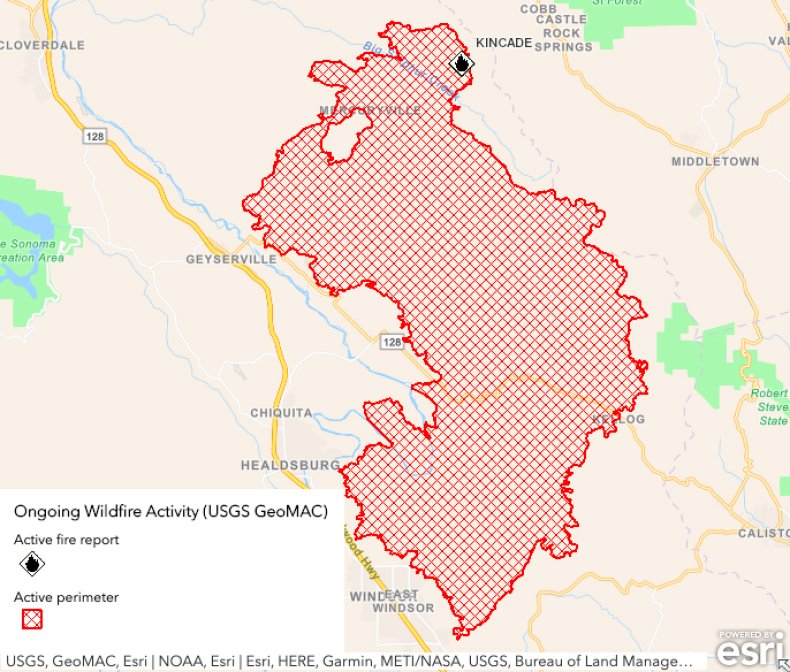 Tick Fire
As of Thursday, the Tick Fire - which first began on October 24 near Canyon County - has covered 4,615 acres and 100 percent of it has been contained, according to the official website of the Los Angeles Fire Department.
"It damaged 45 structures and destroyed 29 structures. Four firefighters were injured during the Tick Fire," the department said.
As of Friday, there are at least 9 active large fires across the country, 8 of which are uncontained, according to the Active Fire Mapping Program of the U.S. Department of Agriculture (USDA) Forest Service.