California Fire Map, Update as Mosquito Blaze Incinerates 46,000 Acres
Wildfires raging across acres of arid land in California—which have left at least two dead and destroyed homes with thousands more still at risk—are pumping out smoke so thick that the pollution is even choking a neighboring state.
The two biggest blazes were still burning Monday morning after fire crews tackled the infernos—dubbed Fairview and Mosquito after their source locations—over the weekend amid the state's heat wave.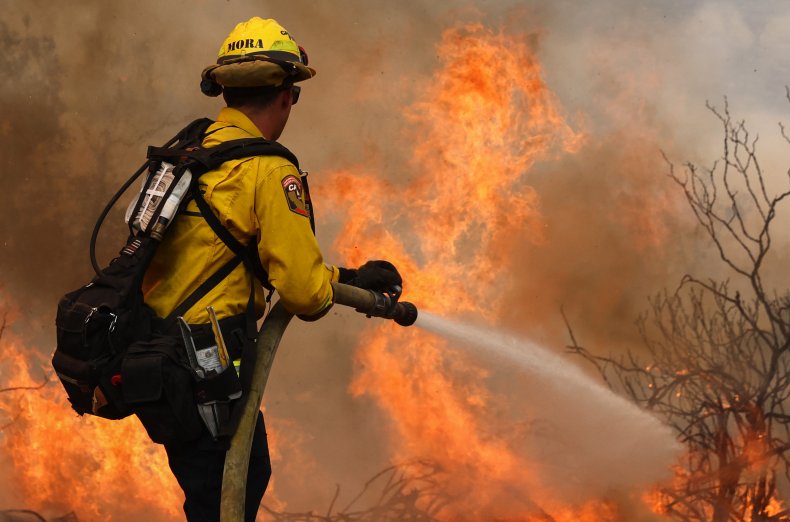 The state's firefighting agency, Cal Fire, has published maps detailing the fires' perimeters, with the Mosquito site in Northern California viewable here and Southern California's Fairview boundary here.
The Mosquito Fire, which flickered into life almost a week ago on the evening of Tuesday, September 6, near Mosquito Ridge Road, Foresthill, threatened the area and several communities across Placer and El Dorado counties, including Georgetown. Some 5,848 structures were at risk as of Sunday evening, according to Cal Fire. Scores of evacuation orders were issued across the area.
By Sunday evening, the blaze had torn through 46,587 acres. Cal Fire, which estimated 10 percent of fire was contained. And repeating those grim statistics, the Placer County Sheriff's Office tweeted that "11,260 people have been evacuated—over 5,900 alone from Placer Co. Approx 5,848 homes in both counties remain threatened due to the fire."
Local news channel KCRA 3 surveyed as much area as possible behind fire lines and reported seeing destroyed homes that had burned down on Michigan Bluff Road. But there was no word at time of writing on how many homes have been lost.
Newsweek has reached out to Cal Fire for further information.
Firefighters and meteorologists were becoming increasingly alarmed by the blaze's rapid spread and the huge plumes of smoke being created which were "creating its own weather," The New York Times reported on Thursday.
One Twitter user replying to the article noted even the neighboring state was being affected, writing: "Mosquito fire is wreaking havoc and smoke from hell on Northern California & Northern Nevada. Can't see, can't breathe."
While the real-time air pollution map Purple Air showed a number of "maroon" markers clustered in Northern California and Nevada—meaning sensors have recorded the highest level of air pollution it's possible for them to record. The site said such markers indicate "emergency conditions" which means every single person exposed to the atmosphere—the smoky air—will feel its effects within 24 hours.
Numerous images posted online, including some from shocked airplane passengers who were miles away, show the thick, black plumes blanketing the area.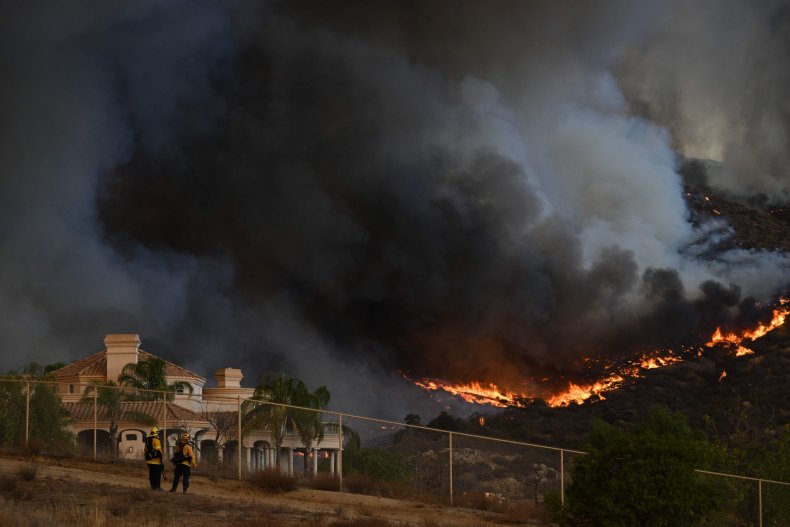 Meanwhile, the deadly Fairview fire has been 49 percent contained, according to the latest Cal Fire update shortly before 8 p.m. local time on Sunday. It had consumed 28,307 acres of land.
But the remnants of Tropical Storm Kay worked with authorities trying to get on top of the blaze—which has claimed two lives and destroyed 17 buildings.
"Fire activity has been greatly reduced due to the moisture from Tropical Storm Kay. Deep-seated heat is still present in the dense old-growth brush fields, and stump holes. Fine flashy fuels will not sustain fire or ignition,'' fire officials said.
The blaze first broke out on Monday September 5 on Fairview Avenue. Later that day, Sheriff's officials found two bodies inside a vehicle in the 42400 block of Avery Canyon Road in East Hemet, as the victims were apparently overcome by the flames or the smoke while trying to leave. Their identities have not been officially released.