California Fire Map, Update For Silverado and Blue Ridge Fires as Evacuation Orders in Place
The Silverado Fire and the Blue Ridge Fire have burned through nearly 30,000 acres so far and more than 1,800 firefighters continue to battle the fires. However, evacuation areas have reduced.
Evacuations near the fires, which are raging south of Los Angeles, led to around 80,000 people leaving their homes, but thousands have recently been told they can return.
Silverado Fire
As of yesterday, the Silverado Fire, near Irvine, was 5 per cent contained and no homes had been lost. The Irvine Police Department had issued a mandatory evacuation order for residents, but some people are now allowed to return their home.
The City of Irvine put out a notice on 27 October that mandatory evacuations for the Silverado Fire have been lifted in the the following areas:
Everything south of Portola Parkway and west of the 133 Toll Road
Everything east of the 133 Toll Road to Portola High School and everything north of Great Park Boulevard to Irvine Boulevard. This also includes the commercial area west of Bake Parkway and south of Irvine Boulevard to Toledo Way
Everything south of Portola Parkway, east of the 133, and west of Axis. Irvine Boulevard will remain closed between Axis and Alton
All other evacuation orders remain in place, see the changes to the evacuation areas in the maps, or type in your zip code here to see if your home is in a safe zone.
Previous evacuation areas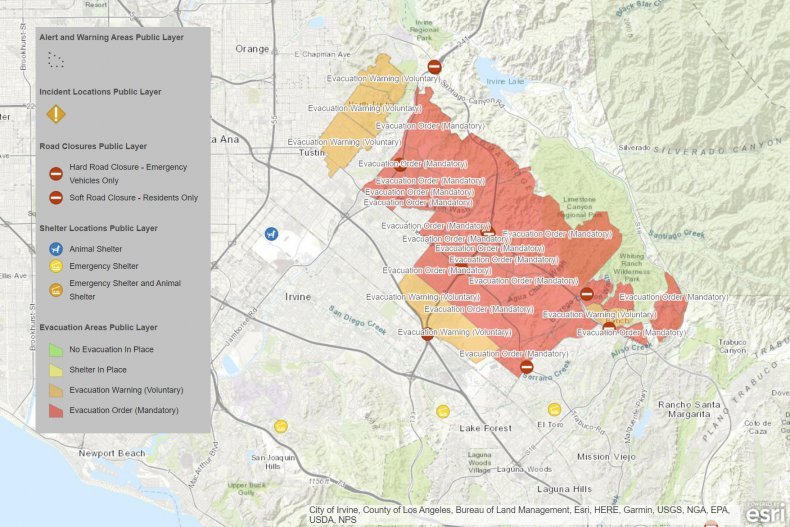 Updated evacuation areas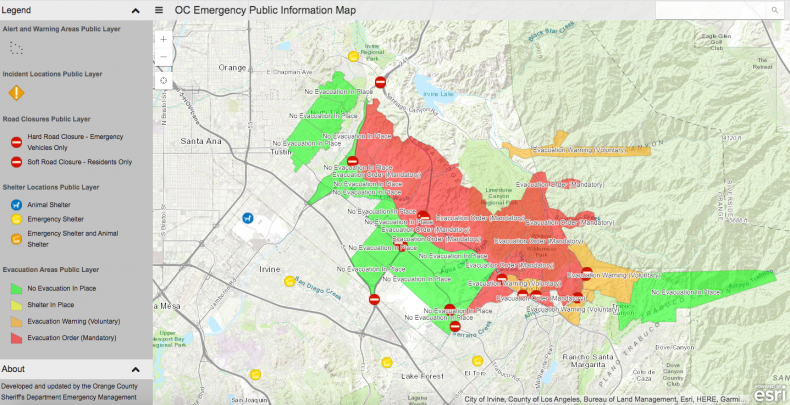 Blue Ridge Fire
Meanwhile, the Blue Ridge Fire is still zero per cent contained. Around 10 homes have been destroyed by the blaze as firefighters continue to tackle the flames.
Footage taken on Tuesday evening shows helicopters dumping water onto the Blue Ridge Fire, with flames dangerously close to residences Aquamarine Ct. in Chino Hills.
"It's a ghost town here. Looks like most people followed evac orders," wrote FoxLA reporter Bill Melugin on Twitter.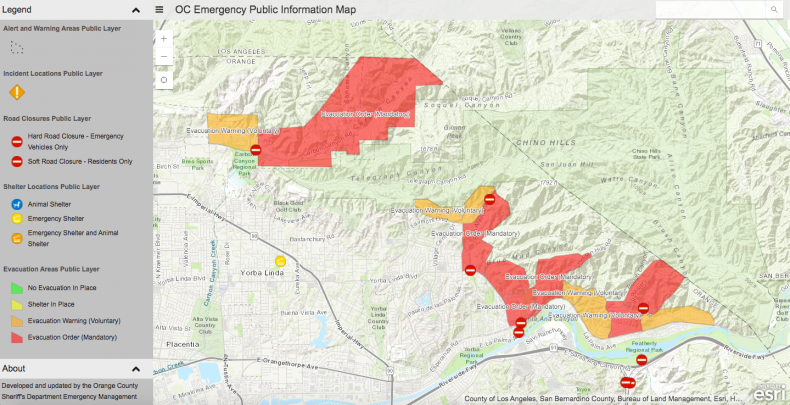 One of his recent videos shows the incredible skill the firefighters had in extinguishing the blaze on Celadon Ct. in Chino Hills above properties. "Line of flame was moving behind homes until a small night flying Cal Fire chopper with a lot of punch came and knocked most of it out to protect houses here," wrote Melugin.
Southern California Edison spokesperson has suggested that a power line may have contributed to the Silverado Fire. "...[It] appears that a lashing wire attached to a telecommunications line may have contacted SCE's power line above it, possibly starting the fire," Abel told CNN.
More than 200,000 people were left without electricity on Monday. Power has been restored for thousands of homes, and now only around 200 are still cut off, according to the power cut tracking website PowerOutage.
Injuries and Rescues
Orange County Fire Authority Chief Brian Fennessy told press that two firefighters suffered second and third degree burns while tackling the Silverado Fire near Irvine.
"We're experiencing very high winds and low humidity," Fennessy said of the recent conditions. "This is a very hazardous job. I'm just so proud of my firefighters."
Meanwhile, some have been working to rescue animals trapped in the area. One team rescued a barn owl from the scene. Alongside a video of the bird, the OCFA wrote: "He's safe and sound and currently with animal control."
At the Blue Ridge Fire teams also saved a herd of cows, by making a dramatic water drop near by.
The wider picture
California wildfires have burnt 4.1 million acres this year, and damaged or destroyed more than 10,000 structures. More than 30 people have been killed as a result of the wildfires, as of 26 October.