California Fire and Power Outage Map: Here's Where Wildfires Are Burning and Electricity Has Been Cut
The fires that burned through parts of Northern California and the Bay Area have moved south.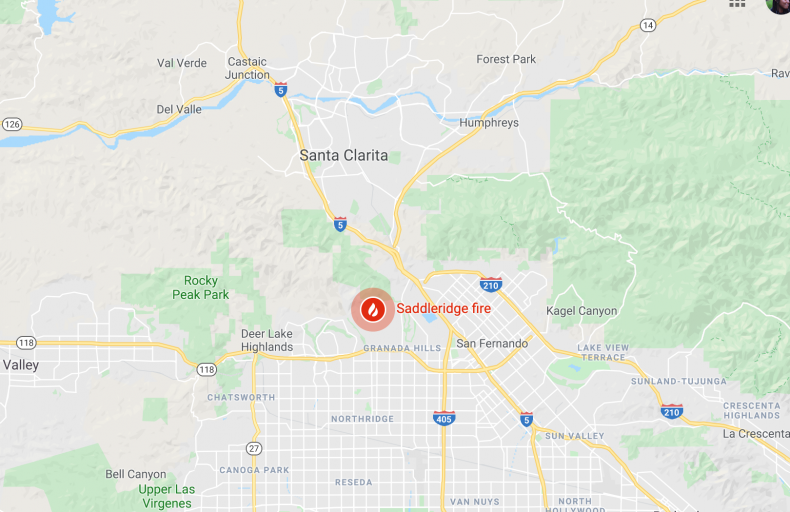 People living across Los Angeles were warned to leave the area after wildfires sparked on Thursday. Strong winds and dry conditions carried the Saddleridge Fire across the San Fernando Valley in Southern California, resulting in nearly 12,000 people having to leave their homes after officials issued mandatory evacuations in the areas depicted above. Neighborhoods within 20 miles northwest of central Los Angeles were impacted by the evacuations, which were confirmed by the city's Mayor Eric Garcetti.
The Saddleridge Fire scorched about 4,600 acres of land by Friday, destroying a number of homes and buildings in its path. However, the Saddleridge Fire is just one of many blazes currently burning through California.
Multiple fires erupted in Riverside County California on Thursday, burning about 600 acres of land there while in the Moreno Valley—nearly 20 miles away from where the Sandalwood Fire burned parts of Calimesa—the Reche Fire has burned about 400 acres, resulting in mandatory evacuations issued for both areas.
In El Cerrito, the Eagle Fire has destroyed about 30 acres of land.
The fires come amid Southern California Edison's decision to cut electricity of 20,000 homes in Los Angeles, San Bernardino and Kern counties on Thursday, but thousands more could be affected later. Due to the dry and rapid Santa Ana winds, there is concern that power lines could catch fire or current blazes could spread to other areas of the state.
Power was cut in Northern California and parts of San Fransisco on Wednesday for similar reasons. Pacific Gas & Electric shut off electricity for an estimated 2 million consumers in the San Francisco Bay Area, Central Valley and the Sierra foothills, resulting in the largest power outage Northen California has endured so far this year. Despite criticism from customers and California's Governor Gavin Newsom over the inconvenience of the electricity shut down, the utility company's fears of weather potentially sparking fires was validated.
Sumeet Singh, a vice president for the utility company, told CBS News that PG&E "found multiple cases of damage or hazards" including fallen branches that struck overhead lines due to heavy winds. "If they were energized, they could've ignited," Singh said.
Only 510,000 customers were still in the dark by Thursday, after PG&E restored power to some areas when the weather calmed. With winds expected to subside by Friday afternoon, roughly 270,000 more customers are slated to receive power before the weekend.