California's wildfire season is already the worst on record, and officials are warning that the autumn period—when the most destructive fires in the state tend to rage—is just beginning.
Fires in the state have burned more than 2.9 million acres this year, already surpassing the previous highest total of 1.9 million acres, which came in 2018.
"This is crazy," California Department of Forestry and Fire Protection (CAL FIRE) Captain Richard Cordova told CNN. "We haven't even got into the October and November fire season, and we've broken the all-time record. It concerns us because we need to get these firefighters off these lines and get them breaks from battling these wildfires."
In California, large fires do often occur in late summer—as has occurred this year. But in past years, most of the deadliest and most destructive blazes have tended to come toward the end of the dry season, in the period between September and December, Yale Climate Connections reported.
The risk of fire is heightened when strong downslope or offshore winds—with speeds in the double digits—combine with dry air conditions, Chief Data Science Officer Ilkay Altintas from the San Diego Supercomputer Center at University of California, San Diego, told Newsweek.
In Southern California, offshore "Santa Ana" winds—which tend to start blowing in September—create such conditions. In Northern California, downslope "Diablo" winds that also arrive in fall, have a similar effect.
California has a Mediterranean climate—one characterized by dry summers and wet winters. The fire risk is highest in the autumn after the long, dry, hot summer but before the first heavy rains of autumn and winter.
The main factors that contribute to the spread of wildfires are wind speed, air relative humidity, air temperature, and both live and dead fuel moisture. And according to Robert Fovell, a professor in the Department of Atmospheric and Environmental Sciences at the University at Albany, the "very worst" combination of these factors occur in the fall.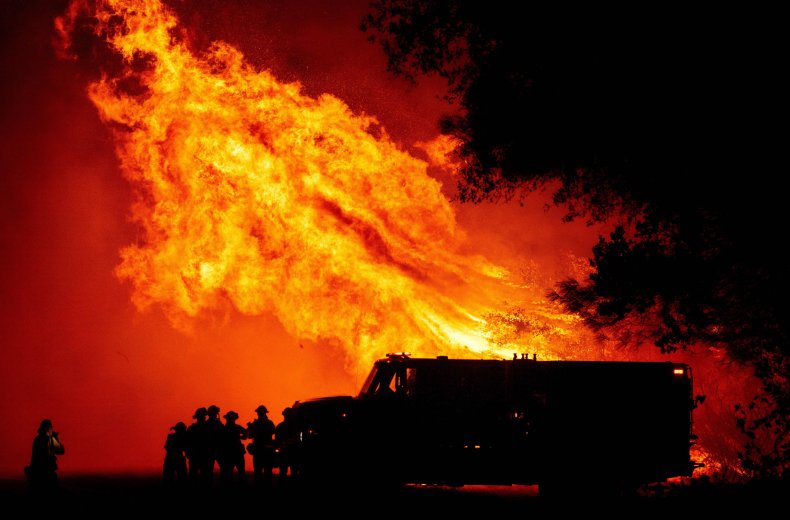 For example, Santa Ana and Diablo winds can increase fire danger at this time of year due to dry low live fuel moisture, low humidity, high temperatures and fast winds.
This year, fighting wildfires across the country has also been complicated by the COVID-19 pandemic, which has meant that some crews are short on members, AccuWeather reported.
Much of the land burnt during this year's season so far can be divided between three massive fire complexes, known as the LNU Lightning Complex, the SCU Lightning Complex and the CZU August Lightning Complex fires.
Together these blazes—which all started in mid-August as a result of lightning strikes—have burnt over 1.1 million acres, according to CAL FIRE.