California Is on Fire and Trump Hasn't Tweeted About It Once This Year
Record-setting wildfires have raged along the West Coast during the first and second weeks of September, but President Donald Trump hadn't made many public mentions of them by Thursday.
A search through the president's recent posts on Twitter revealed that he hasn't mentioned California's battle with wildfires since the state's last fire season in November 2019. While he tweeted frequently about ongoing protests in Portland, Oregon, over the summer and his desire to send federal troops into the city, he had not mentioned Oregon's historic wildfire battle on Twitter by Thursday, either.
In California, six of the 20 biggest wildfires in the state's history started in August or September of this year, according to the California Department of Forestry and Fire Protection (CAL Fire). On Thursday, CAL Fire officials said 14,000 firefighters were actively battling 29 major blazes. More than 3.1 million acres have burned since the start of 2020, resulting in at least 12 fatalities and devastating at least 3,900 structures, according to CAL Fire.
In Oregon, Democratic Governor Kate Brown said that the state's typical number of acres burned annually by wildfires—about 500,000 every year since 2010—nearly doubled this week. Between 30,000 and 40,000 Oregon residents were under evacuation orders by Thursday, the governor said.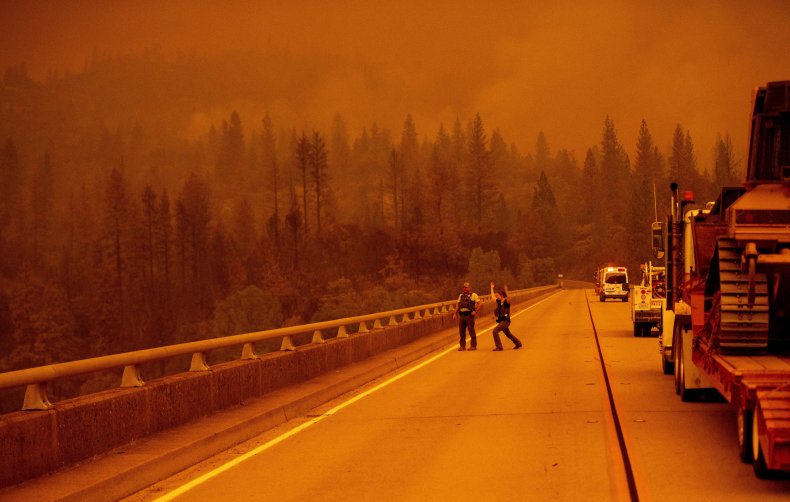 "We expect to see a great deal of loss, both in structures and in human lives," Brown said during a Wednesday news conference. "This could be the greatest loss of human lives and properties due to wildfire in our state's history."
Though Trump has not commented on the recent wildfires on Twitter, he approved California's disaster declaration due to the wildfires on August 22, freeing up federal funding for the state to use for fire recovery efforts. Two days earlier, he discussed the wildfires that triggered that disaster declaration during a campaign rally in Old Forge, Pennsylvania, and suggested that the state ignored his recommendations on how to avoid fire outbreaks.
"You've got to clean your floors, you've got to clean your forests. There are many, many years of leaves and broken trees," he said. "You touch them and it goes up. I've been telling them this now for three years, but they don't want to listen."
Trump went on to suggest that California may need to pay for wildfire recovery efforts on its own in the future. "Maybe we are just going to have to make them pay for it because they don't listen to it," he told rally attendees.
Following a spate of devastating wildfires in California last fall, Trump took to Twitter to reprimand Democratic Governor Gavin Newsom for his "terrible job of forest management." Trump threatened to withhold emergency federal funding at that time, as well.
"Every year, as the fire's rage & California burns, it is the same thing-and then he comes to the Federal Government for $$$ help. No more. Get your act together Governor," Trump tweeted last November. He made similar comments about potentially withholding federal funding for wildfire relief in January 2019.
Despite the public comments Trump has made over the last couple of years about federal assistance for California's wildfires, Newsom told the San Francisco Chronicle last month that the president has consistently responded to his requests for federal wildfire aid.
"There's not one phone call that I have made to the president where he hasn't quickly responded, and almost in every instance, he has responded favorably in addressing the emergency needs of this state," Newsom told the paper.
In a statement shared with Newsweek, the president's deputy assistant, Judd Deere, said Trump spoke with Newsom on Thursday and has been in frequent contact with the governor over the last few weeks.
"The Federal government continues to support our western neighbors who are battling raging wildfires in a locally-executed, state-managed, and federally-supported emergency response," Deere said. "President Trump is closely monitoring and continues to urge individual emergency preparedness and citizens in impacted areas to listen to the warnings of State and local officials.
"The President has approved a Presidential Major Disaster Declaration for California that began on August 14 for individual and public assistance including debris removal, and the Administration has also approved 10 Fire Management Assistance Grants and 24 for other western states, which provides 75% Federal cost share for the mitigation, management, and control of fires, and deployed more than 26,000 federal personnel and 230 helicopters to the region to fight these fires.
"The White House and FEMA have remained in constant contact with State and local officials throughout the response and will continue to do so," Deere added.
Updated 9/11/20 at 1:04 p.m. ET: This article has been updated to include a statement from Judd Deere, Trump's deputy assistant.