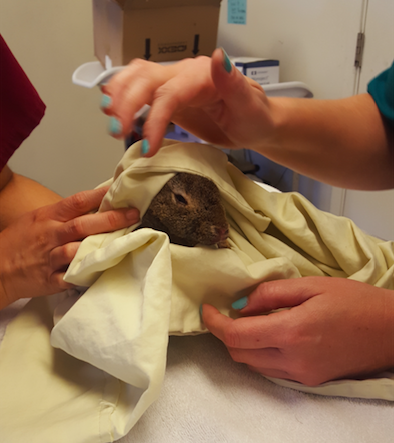 The heartwarming story, and viral video, of a California man saving a rabbit from a raging wildfire gained some intrigue this week when two men claimed to be the brave rescuer. Only one man, Caleb Wadnan, was telling the truth about being in the video, and he's the one who was reunited with his bunny pal on Inside Edition.
On Friday, when the video gained traction online, Oscar Gonzales and his girlfriend told local news that Gonzales was the one in the video. He claimed he saved a white rabbit and its entire family by transporting them across the road by hand. "I was screaming," he said, "I'm all, 'What are you doing going toward the fire?' At first, he was afraid of me because I was yelling, but then it went in my arms."
Gonzales was onto something, pointing out that the rabbit's babies were likely nearby. LiveScience made the depressing claim that the female rabbit was probably darting in and out of the flames to rescue her babies, and that removing her from the area meant those babies were left defenseless amid the fire.
Regardless, on Sunday, a second man came forward, claiming he was actually the man caught on camera saving a rabbit. Wadnan said that instead of dumping the rabbit on the other side of the road, he had brought it to the California Wildfire Center (CWC), and he followed up this claim by sending the local news photos of the singed bunny. "'In the video that everybody sees, I was going crazy at the fact that [the rabbit] was screaming," he explained.
"'I just ran out,' he said. 'I had faith… and that's when the bunny ran back towards the flames. And I was like, "No, baby bunny, I'm here. I'm going to take care of you," Wadnan added.
What's more, NBC4 used "enhanced imagery" to study the video of the rabbit-saving man, determining that it was Wadnan, not Gonzales, in the footage, as Wadnan was wearing black athletic shorts that day, and Gonzales was not. The Gonzales family insisted this was incorrect.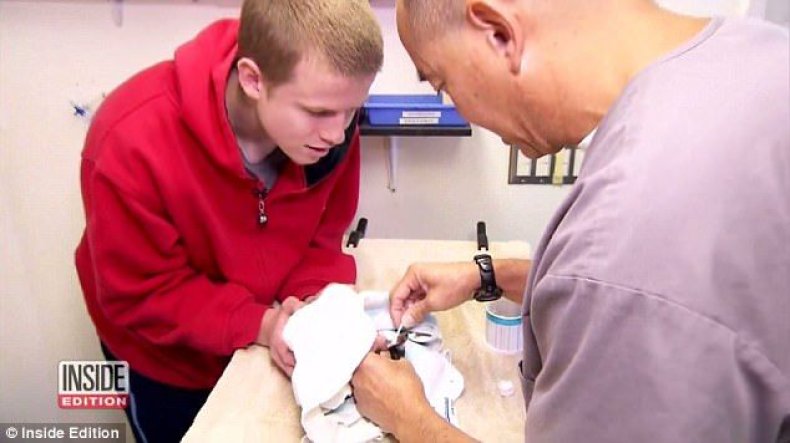 In the wake of Wadnan's rabbit video, many experts cautioned people not to save wild animals from the California fires, saying animals are just as skilled at avoiding emergencies as humans.
Wadnan may have prevented the rabbit from getting her babies out of harm's way, and if anything had gone wrong with his rescue, a firefighting team might have had to intervene to rescue him​.
Regardless of who saved her, the wild bunny is still undergoing treatment at CWC. She suffered burns to her ears and feet, and is reportedly at the beginning of a long road to recovery.