Is the Vallejo Fire Contained? Water Emergency Declared after PG&E Power Shut Off, Air Quality Alert Issued as California Fires Force Evacuations
Vallejo residents have been warned that a mandatory water conservation notice remains in effect as fires continue to blaze across California, impacting power supplies.
City officials have prohibited outdoor water use and said citizens should restrict indoor use "as much as possible" until the emergency is under control, the Vallejo Times Herald reported.
Roughly 140 acres has been burned in South Vallejo and firefighters say the fire in the region is now 90 percent contained. Residential evacuations for the region have been lifted. Others are not so lucky.
But the news comes as Pacific Gas and Electric (PG&E) has said it planned to conduct a new Public Safety Power Shutoff (PSPS) this week, warning customers about a "new potentially widespread, strong and dry wind event" that is currently being monitored, likely to impact 32 counties.
"The power shutoff impacts the city's ability to pump raw water for treatment, limiting us to what was pumped in reservoirs pre-power outage," the Vallejo city government wrote on its official Twitter account today, before appealing: "We all must do our part to extend the water supply."
Vallejo City Hall will be closed today due to power outages, officials said. City authorities said in a media release that they are working to identify a generator to support water operations.
Governor Gavin Newsom yesterday declared a state of emergency due to the "unprecedented high-wind events" that have been wreaking havoc in the region, sparking evacuations.
"The Kincade Fire in Sonoma County has burned more than 30,000 acres to date, and has led to the evacuation of almost 200,000 people and threatened hundreds of structures," the release said, adding: "Tick Fire in Southern California has also destroyed structures, threatened homes and critical infrastructure, and caused the evacuation of tens of thousands of residents."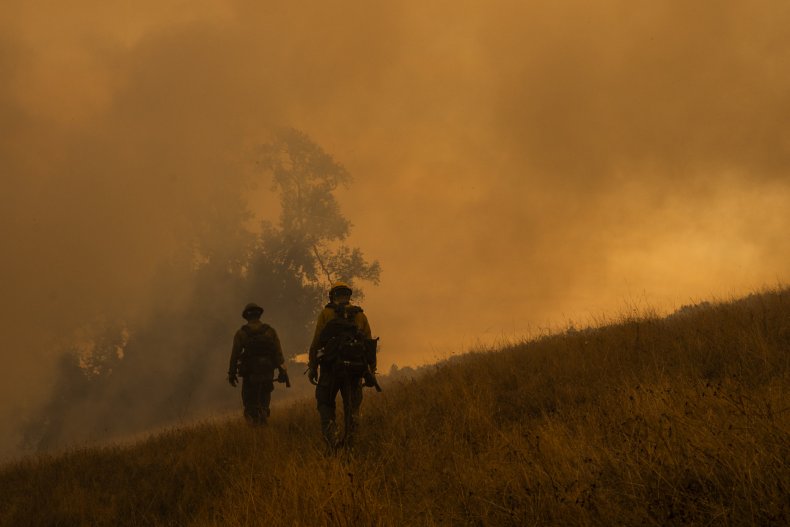 Vallejo Firefighters posted video to social media yesterday showing two fast-moving fires that caused the closure of Interstate 80 in the afternoon. The freeway has since reopened.
The unpredictable and dangerous conditions in the state are expected to continue this week, according to an advisory issued by the U.S. National Weather Service.
It said online: "The combination of strong offshore winds with very dry conditions and fuels will lead to dangerous fire weather conditions across parts of California. A number of wildfires are currently burning across the state, including the Kincade fire. Critical and extreme threats are likely to persist in north-central and southern California through midweek."
A Spare the Air red alert was issued today for the San Francisco Bay area, with officials saying that residents should "consider limiting outdoor activities" until quality improves.
PG&E started notifying its customers by text, email and phone yesterday afternoon, giving them 48 hours warning about the next round of shutdowns. Outages may last longer than two days.
The utility firm said it is turning off power supplies because forecasted conditions "increase the potential for damage and hazards to the electric infrastructure, which could cause sparks if lines are energized." More than 1 million customers have been affected by multiple outages so far, SF Gate reported. Many outages have been "proactive" and restoration has been slow.
Vallejo city manager Greg Nyhoff signed a Declaration of Emergency yesterday that means the area is able to access additional support assets as the power outages continue.
A media release said: "The Police Department will maintain increased staffing to support fire efforts, and provide additional patrols. The Fire Department will maintain increased staffing to monitor the Glen Cove fire, and respond to other emergencies. Vallejo 9-1-1 dispatchers are overwhelmed with calls. Only utilize 9-1-1 for fire and life safety emergencies."
Joanna Altman, assistant to Nyhoff, told the Vallejo Times Herald newspaper earlier this week: "It's a unique situation... this is the most severe I've seen in the seven years I've been here."