California Firefighter Has Wallet Stolen From Truck, Bank Account Emptied While Fighting Wildfire
A firefighter's wallet was stolen and his bank account emptied as he directed a personnel team's response to one of Northern California's wildfires.
Officials from the California Department of Forestry and Fire Protection's San Mateo-Santa Cruz Unit, who are working to manage the CZU Lightning Complex Fire alongside other agencies, shared details about the incident during a news briefing on Sunday morning.
"It's unfortunate, it's sickening," said Mark Brunton, a Cal Fire battalion chief, during one of numerous press conferences held to deliver updates about the wildfire's development.
The theft occurred while a Cal Fire commander directed a firefighting cruise, according to Brunton. Someone then entered his department vehicle; stole the commander's personal belongings, including his wallet; and later emptied his bank account. Authorities took eight people into custody for suspected looting offenses in the surrounding area on Sunday, local news station KGO-TV reported.
Brunton urged people to remain outside of the area's evacuation zones and redirected further questions about the incident to the Santa Cruz County Sheriff's Office during Sunday's briefing.
The CZU Lightning Complex fire was one of more than 20 wildfires still burning throughout California as of Monday morning. In its latest update, Cal Fire officials estimated its size at nearly 75,000 acres, one of the state's largest behind the nearby LNU and SCU wildfires, also burning within the designated lightning complex area. The particularly expansive fires were sparked in the middle of last week, after lightning struck the area during a heat wave.
Firefighting personnel contained 13 percent of the CZU wildfire between Sunday night and Monday morning, Cal Fire confirmed. A "red flag" warning remained in effect through Monday because of the risks of "dry lightning and gusty, erratic outflow winds over existing wildfires," the department explained.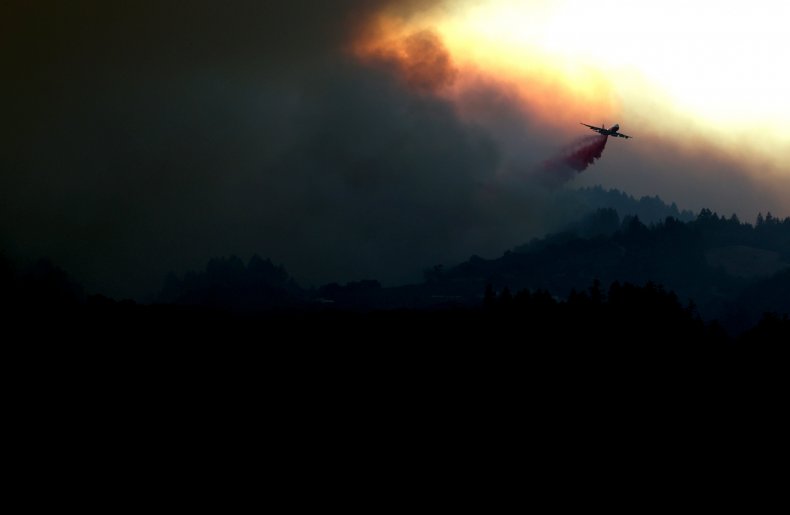 Personnel extinguished about 5 percent of the fire overnight, a feat officials commended as "very active and very progressive" in the state department's second news briefing on Monday. They said no significant firefighter injuries were reported at the time. The county sheriff's office confirmed that the first and only fatality to date was caused by the CZU wildfire on Sunday.
The wildfire originally started on August 17, prompting the evacuations of nearly 80,000 residents across California's Santa Cruz and San Mateo counties. As of Sunday evening, the CZU Lightning Complex blaze had destroyed 163 residential and commercial structures throughout the region and damaged an additional dozen. More than 1,500 firefighting personnel and 23 crews are assigned to manage the wildfire response.
Newsweek reached out to the Santa Cruz County Sheriff's Office and Cal Fire CZU for comments but did not receive replies in time for publication.