Dramatic Body Cam Video Shows California Officer Rush to Evacuate People From Wildfires
Body camera footage released by the Vacaville Police Department revealed police running door to door warning Vacaville residents in Solano County to evacuate amid the LNU Lightning Complex Fire, CBS Sacramento reported.
An officer was heard shouting: "You've got to go now, let's go now, it's right behind your house. You don't have time to carry your stuff...you've got to go now, let's go," in the video.
The officer was also seen loading a suitcase into a resident's car before driving off in a rush to warn the next home about the mandatory evacuation orders in place at the time.
The LNU complex fire, which includes the Hennessey, Walbridge and Meyers fires, has burned over 375,000 acres across parts of Napa, Sonoma and Solano counties, according to the California Department of Forestry and Fire Protection (Cal Fire).
Around 15,000 people have been evacuated due to the LNU complex fire, while more than 300 homes destroyed in Solano County alone, CBS Sacramento reported.
The Vacaville Police Department noted Sunday: "We have had an increase in drift smoke from fires around the state. It is hot and hazy outside and our dispatch center has understandably been fielding concerned calls from many community members," in a post on its official Facebook page.
"We want to reassure you that there are currently NO fires burning in Vacaville and if that changes, we will inform you. It is likely that we will continue to experience smoke in the area for the next few days and weeks. However, if you see smoke AND flames, please contact dispatch immediately by calling 911," the department added.
The LNU complex fire has reached 375,209 acres, with 91 percent contained, according to the latest report Sunday by Cal Fire.
"All evacuations within the complex have been lifted. The fire continues to have limited growth on both the Walbridge Fire and Hennessey Fire. Crews will continue to work to reinforce containment lines and fire suppression repair teams remain active throughout the area," Cal Fire noted Sunday.
The Hennessey Fire was reported to be at 317,909 acres with 91 percent contained, while the Walbridge Fire was at 54,940 acres, with 95 percent contained. The Meyers Fire reached 2,360 acres, with 100 percent contained, according to the latest Cal Fire report Sunday.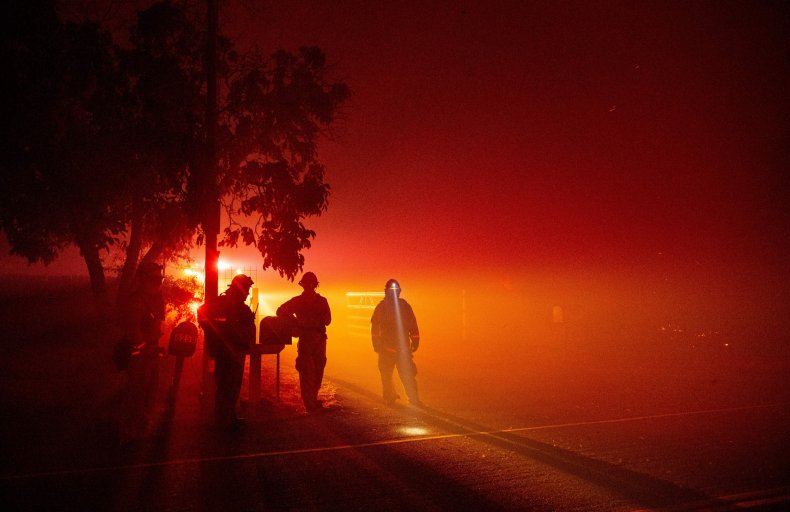 The LNU complex fire is currently the second largest wildfire in California history by total acreage, after the Mendocino Complex Fire of 2018, according to the latest figures from Cal Fire.
More than 14,800 firefighters are reported to be battling 23 major fires in California, including several other lightning complex fires.
"While firefighters continue their battle on the current major wildfires, Cal Fire and fire departments across the State remain prepared for potential more significant wildfires due to critical fire weather," Cal Fire said in its latest report Sunday.
The National Weather Service issued several Fire Weather Watches and Red Flag Warnings for the weekend and into this week "due to potential critical fire weather including strong gusty wind and low humidity," Cal Fire noted Sunday.
A Red Flag Warning was issued Sunday across the mountains of Santa Barbara to Los Angeles County and for Modoc County starting Monday.
A Fire Weather Watch across much of northern California, including the San Francisco Bay Area, and the Eastern Sierra to the Mojave Desert area, also begins Monday, Cal Fire confirmed.