A series of rapidly moving fires have covered nearly 30,000 acres of Los Angeles County and other parts of California, following the outbreak of the ferocious Sonoma County fire this week.
"Extreme fire weather threats will continue across Southern California through Friday. Decreasing winds by Friday in Northern California will provide at least a day of lower fire weather threats. However, another storm system is poised to bring increasing winds again later in the weekend for Northern California", the National Weather Service warned in a post on its official Twitter account.
"Meanwhile, an expansive high-pressure system in the western U.S. will continue to promote favorable conditions for the spreading of wildfires from northern California into southern California for one more day today," the National Weather Service's Weather Protection Center said on its official website.
"The greater threat today is expected to exist across the Transverse and Peninsular Ranges surrounding the Los Angeles and San Diego metropolitan regions with a combination of gusty winds and low relative humidities," it added.
The National Weather Service of the Bay Area also announced a fire weather watch from Saturday night through Monday morning.
"This event looks to be the strongest of this year and since the 2017 wine country fires. Strong NE winds will slowly ease later Sun and persist right through Mon morning. This will be a long duration and extreme wind event," it said in a post on its official Twitter account.
Currently, there are nine active fires throughout the state including the Kincade Fire, the Cabrillo Fire, Nelson Fire and Muir Fire in Northern California and the Saddle Ridge Fire, Tick Fire, Old Water Fire, Oak Fire and Palisades Fire in Southern California—all of which are still burning, CNN reports.
The Tick Fire in Los Angeles County has spread to around 4,000 acres and 5 percent has been contained so far, according to an official notification by the L.A. County Sheriff's Department. There have been no reported fatalities or injuries so far. There are around 10,000 structures under threat, with the amount of damage and destruction still to be determined, according to a post on the official Twitter account of the Los Angeles City Fire Department.
The fire department said around 500 firefighters were at the scene from yesterday and they're expected to be fighting the fire throughout tonight to make the most of the favorable evening weather conditions, according to a post by the official Twitter account of the Los Angeles County Sheriff's Department.
The firefighters are expected to face strong Santa Ana winds into Friday and will be "monitoring the winds throughout the evening as they may increase or change direction and intensify this fire and destroy more homes," the fire department noted in a post on Twitter last night.
Mandatory evacuations were issued for nearly 40,000 residents from Soledad Canyon Rd. to Shadow Pines Blvd along the 14 Freeway in Canyon Country, according to the L.A. County Sheriff's Department.
"We ask that the residents located to the north of the 14 freeway, south of Vasquez Canyon, East of Whites and Plum Canyon, and west of Agua Dulce, to leave your homes. We ask that the residents south of the 14 freeway, north of Placerita Canyon, west of Sand Canyon and all communities around the Robinson Ranch Golf Course, to leave your homes," the fire department said on its official website.
"If you live in the area of east of Haskett Rd between Davenport Rd and the 14 freeway, you can repopulate. Please have Identification with you," the sheriff's department noted on its official Twitter feed. The fire department and sheriff's department are continuing to work together to identify other areas where residents can be repopulated safely.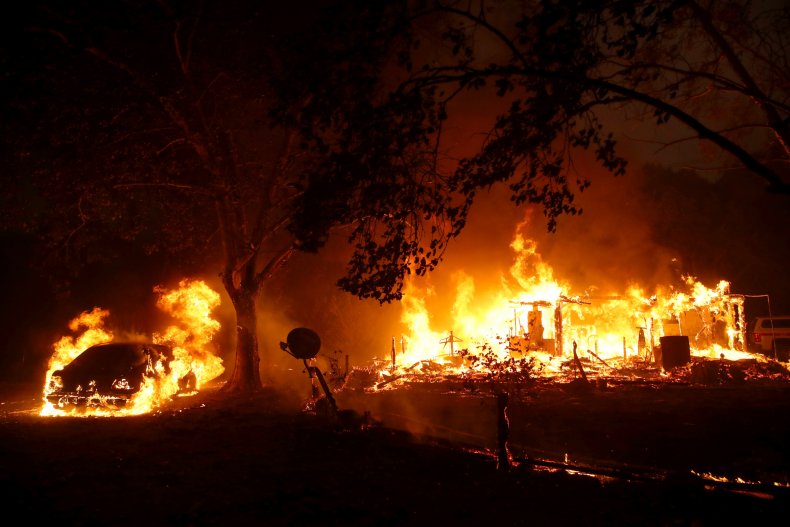 An evacuation center operated by the Red Cross is open for residents at the College of the Canyons, Valencia Campus located at 26455 Rockwell Canyon Road in Santa Clarita, while small animals can also be brought to the Castaic Animal Center at 31044 Charlie Canyon in Castaic. The Pierce College Animal Evacuation Center is now closed, the fire department noted on Twitter, while the Newhall Community Center has also been closed, according to the sheriff's department.
Evacuees were asked to limit their belongings to the six P's: Plastic (identification, credit cards, or cash), Prescriptions, Papers or any important documents you might have or need (birth certificates, marriage certificates, etc.), Pets, Pictures and irreplaceable memorabilia and Personal computer or flash drives, the website of the sheriff's department said.
There were also several road closures including Bouquet Canyon Road, Vasquez Canyon Road, Sierra Canyon Road, Sand Canyon Road, Soledad Canyon Road, Los Canyon Road and Shadow Pines, the fire department announced on its official Twitter account last night.
The ongoing Kincade Fire near Geyserville in Sonoma County has now covered nearly 16,000 acres, with 5 percent reported to be contained, according to a post on the official Twitter account of the California Department of Forestry and Fire Protection (Cal Fire).
Nearly 2,000 residents are under evacuation orders as of last night, while "unincorporated areas of north Healdsburg are under evacuation warning as of noon Oct. 24. This means they should prepare to be ready to evacuate at a moment's notice," the Sonoma County Emergency (SoCo Emergency) website states.
"The community of Geyserville, and the area to the east, is under evacuation order. The Kincade Fire has crossed Highway 128 near Moody Lane and is heading west. If you're in Geyserville, leave now," the SoCo Emergency website said.
Around 1,300 firefighters have been at the scene throughout last night, with no reported fatalities or missing persons, whole 49 structures have been destroyed as of last night, according to Cal Fire, SoCo Emergency website reports.
A fire weather watch was issued for North Bay valleys for the evening of Saturday night through Monday morning, with extreme fire behavior expected, helped by gusty and potentially strong north to northeast winds and low humidity, according to the SoCo Emergency website.
Several evacuation centers, which are all animal-friendly, are available at Healdsburg Community Center—1557 Healdsburg Avenue, Healdsburg (Currently accepting evacuees, parking is available for livestock trailers), Santa Rosa Veterans Memorial Building—1351 Maple Ave, Santa Rosa, CA (Currently on standby, please go to Healdsburg Community Center if possible) and the Sonoma County Fairgrounds—1350 Bennett Valley Rd, Santa Rosa (this is currently open to large animals only), the SoCo Emergency states.
All evacuation centers and evacuation orders can be viewed on this interactive incident map.
The fire has seen several closures, the latest of which are listed at the Sonoma County Office of Education, as well as road closures listed here at the Sonoma County website. "Please stay off the closed roads unless necessary, to allow access for public safety. If you need to drive, please proceed with caution. If you experience signal light outages, please proceed as a four-way stop," SoCo Emergency advises.
Sonoma County Transit has restored services, depending on road conditions and the latest information can be seen at their official website.
Sonoma County Department of Health Services has also issued a smoke health advisory last night following the developing Kincade Fire.
"Due to the Kincade Fire, there may be parts of northern Sonoma County where air quality conditions are UNHEALTHY. Changing wind patterns and pending fire conditions are making air quality unpredictable. We are hopeful that air quality conditions will improve after the weather changes. This health advisory will remain in effect, until the air quality significantly and consistently improves," the department said.
Pacific Gas and Electric Company (PG&E) issued a public safety power shutoff in Santa Rosa and throughout Sonoma County but has now received the clear to start inspections for restoring power. "PG&E is projecting 100% power restoration to areas of Sonoma County impacted by the power shutoff by Friday, October 25 at 7 p.m., though many areas may have their power restored sooner. Due to damage and needed repairs, particularly in and around the footprint of the Kincade Fire, some areas of the County will experience delays in restoration," the official website of the Santa Rosa Fire Department states.
Evacuation orders were in place following the Old Water Fire in San Bernardino County last night, which covered 75 acres with 30 percent contained. The evacuation orders were lifted while "Hwy 18 remains closed up to the 138, with red flag warning remains in effect," according to a post on the official Twitter account of the San Bernadino Fire Department.
But "residents in the area, however, should be prepared in case the situation changes. 40 St. between Waterman Ave. and Del Rosa Ave. is closed," it added.
As of 8 p.m. last night, all evacuation areas were due to re-open to residents only with proper identification. Firefighters and law enforcement have been working in the area throughout the night. "Please exercise caution when returning. Red Flag Warning conditions still exist" it noted.
Two fires also broke out in San Mateo County. Cal Fire also confirmed the Mines Fire off Mines Rd and Del Valle Rd, southeast of Livermore in Alameda County has covered 35 acres, while the Cabrillo Fire off Highway 1 and Gazos Creek Rd, south of Pescadero, has reached 95 acres, with 25 percent contained, the fire department confirmed on its official Twitter feed.
Speaking to Newsweek, Jennifer M. Roth, a public information officer at the Los Angeles County Emergency Operations Center, confirmed: "There have not been any reports of fatalities or injuries. The extent of structural damage is unknown at this time. Information regarding evacuation orders and closures, animal shelters and evacuation centers, and any other notices are updated at lacounty.gov/emergency.
"Additionally, Los Angeles County Fire Incident Commanders will conduct a press briefing at 9:30 a.m. [local time] at the Central Park command post, located at 27150 Bouquet Canyon Road in the city of Santa Clarita," she added.
Newsweek has also contacted the Sonoma County Department of Health Services, the Santa Rosa Fire Department and the San Bernardino County Office for further updates on this developing situation.
This article has been updated with a comment from the Los Angeles County Emergency Operations Center.