California Fires Map, Update as Getty Fire, Kincade Fire, Tick Fire, Vallejo Fire Devastate Parts of Los Angeles, Bay Area
Fires will continue to rage in California this week as winds fuel the spread of the flames, sparking evacuations, power outages and perilous conditions in the state.
The U.S. National Weather Service says a cocktail of strong offshore wind and dry conditions are set to play a role in the situation, which was officially declared a "statewide emergency" over the weekend by governor Gavin Newsom. The forecast is constantly evolving.
Maps from the weather agency show a Red Flag warning remains in effect across the North Bay, East Bay and Santa Cruz Mountains. "Active fires continue to threaten lives and property. If told to evacuate, don't wait! Fires may spread rapidly in these areas," the NWS noted today.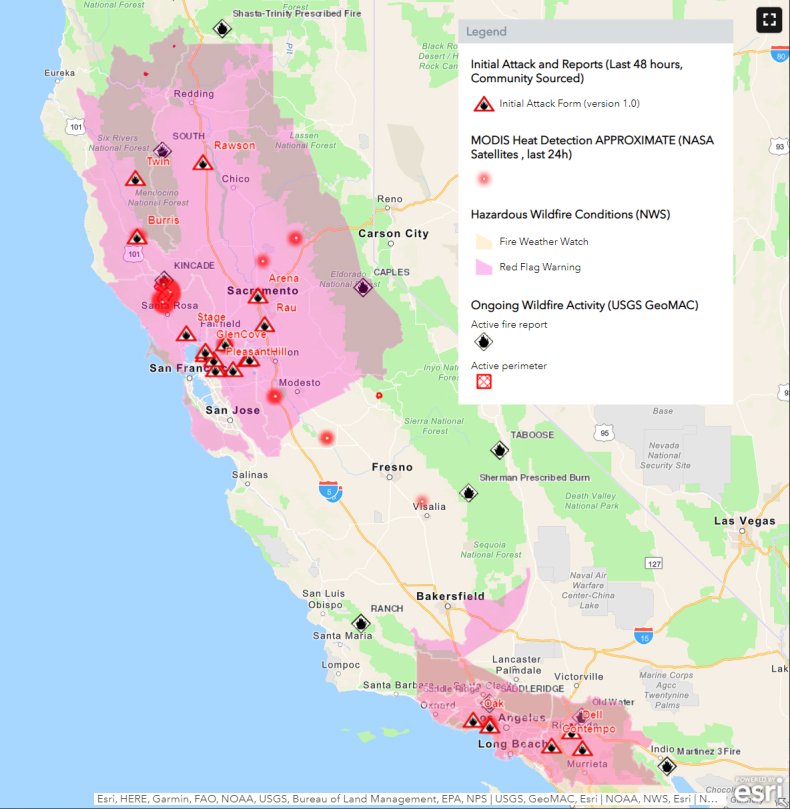 Getty Fire: The Los Angeles Fire Department has announced a mandatory evacuation today, saying the Getty Fire has stretched across 500 acres. More than 10,000 structures, both homes and shops, remain in the at-risk zone.
There is no specific property damage assessment yet, but fire officials said during a press conference this morning, streamed to Facebook, that at least five homes are believed to have been destroyed. Unfortunately, that number is likely to rise, chiefs said.
"If you have the evacuation notice...and you are still in your home, leave," Los Angeles mayor Eric Garcetti appealed. "The only thing you cannot replace is you and your family."
Videos posted online taken by motorists showed huge flames covering hillsides as residents fled the region close to the Getty Center museum, which remains safe at the time of writing. "Our thoughts are with neighbors and first responders," its Twitter account wrote today.
Kincade Fire: According to the California governor's office, the Kincade Fire has burned tens of thousands of acres to date and has led to the evacuation of around 200,000 people. The most recent notice from the California Department of Forestry and Fire Protection (Cal Fire) said the fire was only five percent contained and destruction will likely rage until November 7.
Cal Fire officials recorded that one first responder has been injured to date, while more than 90 structures have been destroyed. Tens of thousands of buildings remain at risk.
"Evacuations orders from Zones 1 – 10 in Sonoma County remain in place," local authorities said. "Residents under evacuation orders should leave the area immediately if they have not done so." The full list of mandatory evacuation zones is currently being updated online.
All 40 Sonoma County public school districts will be closed today and tomorrow.
A statement today said 40-50 miles per hour wind gusts are "still a possibility" and noted that "narrow roads and steep terrain are making access to the fire areas very difficult." The fact sheet said the blaze is believed to have started on October 23. The cause is unknown.
Tick Fire: In its most-recent update, the L.A. County Fire Department said the Tick Fire was 78 percent contained, having burned through more than 4,000 acres of land. Hundreds of firefighters responded to the scene and are performing spot checks to "prevent any chance of rekindle with a change in the weather." All evacuations have been lifted in the area.
Glen Cove Fire: As reported today, the fire impacting Vallejo city burned about 140 acres but was approximately 90 percent contained by yesterday evening. However, residents are yet to celebrate, as Pacific Gas and Electric (PG&E) power outages are still planned for the coming week due to the weather, and a mandatory water conservation notice remains in effect today.
California weather forecasts are constantly being updated. Real-time information can be found via the National Weather service website and the Cal Fire Twitter account. Officials post data to the NWS Weather Prediction Center and the National Interagency Fire Center.
"Breezy north winds continue this morning although somewhat weaker than Sunday," reads an advisory posted today. "Humidity values remain quite low, however, so fire weather candidness will remain elevated through the morning hours. By late morning, wind speeds should become fairly light and remain light through the rest of the day and tonight. Another windy system is likely Tuesday and Wednesday bringing another round of elevated fire danger."
The graphic below, provided by Statista, illustrates the growing cost of fighting the wildfires over the years.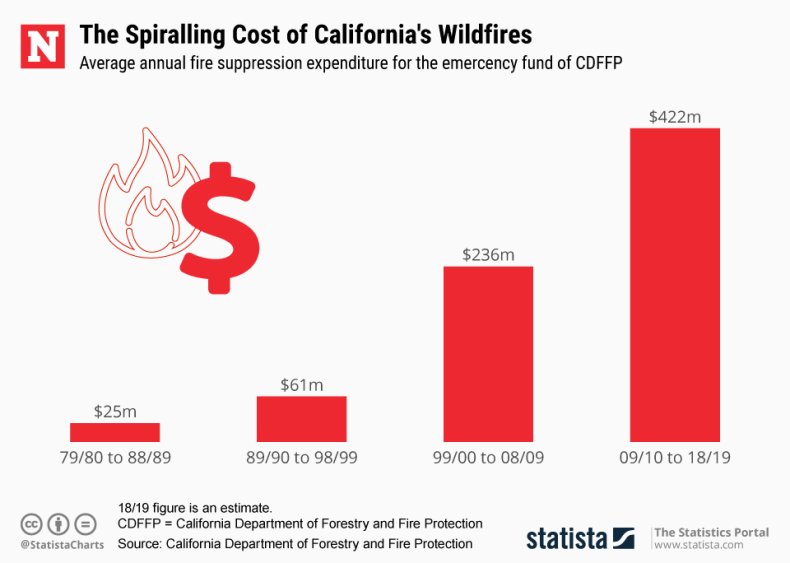 This article was updated to include an infographic.