California Fire Map: Maria Fire, Ranch Fire, Kincade Fire, Easy Fire, Getty Fire, Burris Fire, 46 Fire Update as Blazes Continue to Rage
Several fires in California were reported to have been fully contained over the weekend. But there are currently 8 large fires burning across the state, 6 of which have yet to be contained, according to the latest data from the Active Fire Mapping Program of the U.S. Department of Agriculture (USDA) Forest Service.
"We're looking at the potential for drier and warmer than normal conditions extending into mid November for interior NorCal. #cawx," the National Weather Service Sacramento (NWS Sacramento) said on its official Twitter account.
Residents of Southern California are being warned to remain alert this week, with dry weather continuing to pose a high risk of wildfires, NWS meteorologist Kathy Hoxsie told the Los Angles Times.
While Santa Ana Winds may remain stable for a few days, strong wind gusts are expected to return to Southern California next weekend, she noted, and "The fire conditions are still in place," she added.
An Air Quality Alert is in effect until 2 p.m. (local time) Monday for San Luis Obispo County in Southern California "due to PM10 particulate pollution and PM2.5 wildfire smoke being transported into San Luis Obispo County," the National Weather Service (NWS) states on its website.
"Exposure to particulate pollution can cause serious health problems, aggravate lung disease, cause asthma attacks and acute bronchitis, and increase risk of respiratory infections.
"Residents are advised to use caution as conditions warrant. People with heart or lung disease should follow their doctors advice for dealing with an increase in particulate pollution.
"Additionally, older adults and children should avoid prolonged exposure, strenuous activity or heavy exertion, as conditions dictate," the NWS warns.
The areas under alert include the Central Coast, the Interior Valley, the San Luis Obispo County Mountains and the cities of San Luis Obispo, Pismo Beach, Morro Bay, Cambria, San Simeon, Paso Robles, Atascadero, and Black Mountain, the NWS notes.
Those affected should follow the San Luis Obispo County Air Pollution Control District website for the latest air quality forecasts or to call 805 781 4390 for a recorded air quality forecast, the NWS advises.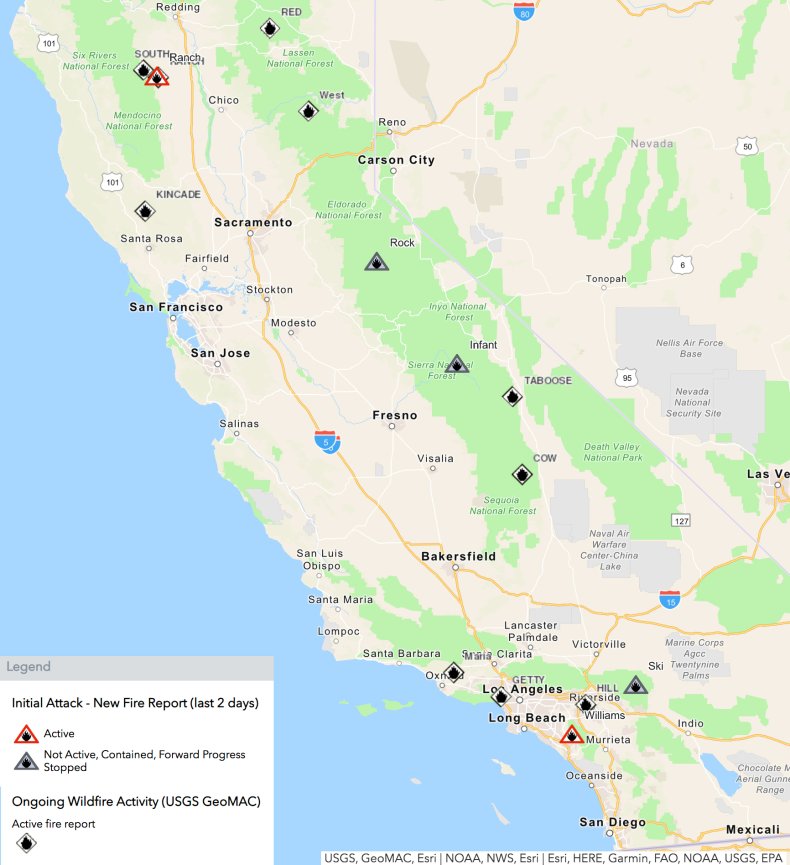 Ranch Fire
The new fire, which broke on Sunday in Tehama County, was reported to be at 476 acres, according to a post by the official California Department of Forestry and Fire Protection (Cal Fire) Twitter account.
Voluntary evacuation warnings were reported to have been issued following the Ranch Fire, which sparked near the edge of Mendocino National Forest, about 30 miles southwest of the city of Red Bluff, the Los Angeles Times reports.
Maria Fire
The Maria Fire, which broke near Bradley Road and Solano Verde Drive in the Santa Paula area of Ventura County last week, was reported to be at 9,412 acres with 70 percent contained, according to a post by Cal Fire's official Facebook account on Sunday. Those affected are being advised by VC Emergency to follow the Cal Fire website for the latest updates on the Maria Fire.
The Ventura County Office of Education (VCOE) has announced closures for Monday at the following schools within the Ventura Unified School District to allow for "ash clean up", its official website said:
Juanamaria Elementary
Portola Elementary
Citrus Glenn Elementary
Montalvo Arts Academy
ATLAS Academy of Technology and Leadership at Saticoy
Junipero Serra Elementary
Balboa Middle School
Mound Magnet for Science and Global Citizenship
"All other Ventura County K-12 public schools are expected to be operating according to their normal schedules on Monday. If any additional closures are announced, they will be posted here [the VCOE website]," VCOE states.
All evacuations have been lifted as of 2 p.m. (local time) on November 2 and no road closures related to the fire, while all shelters are being demobilized, with overnight evacuation shelter no longer available at this time, the Ventura County Emergency (VC Emergency) website states.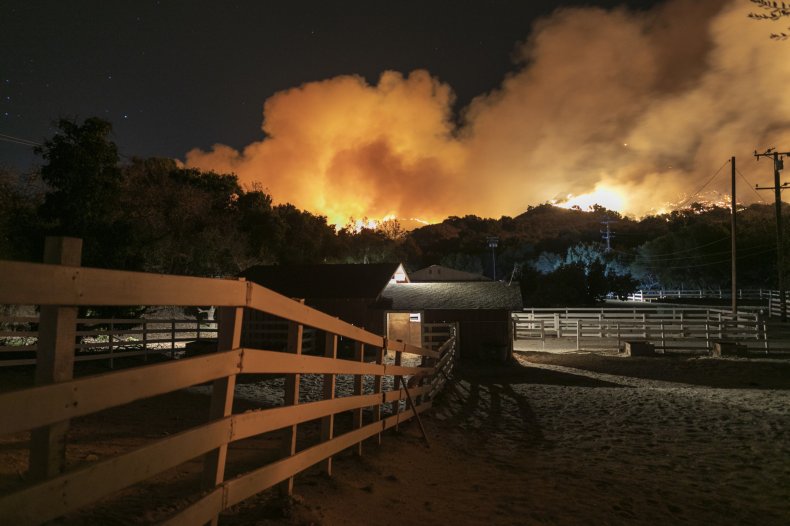 "Due to improved fire weather conditions in fire-prone areas, there are currently no more customers in our service territory under consideration for a Public Safety Power Shutoff," Southern California Edison (SCE) confirmed on is website.
But a few fire-related power outages do remain in Ventura County, VC Emergency notes and advises residents to follow the SCE website for the latest information.
Kincade Fire
The raging Kincade Fire, which first broke on October 23, was reported to be 78 percent contained, as of 7 p.m. (local time) on Sunday, according to a report by Cal Fire on its official Twitter account. The expected full containment date remains at November 7, with 405 structures still under threat.
"Repopulation planning efforts are in the final stages as evacuation warnings are currently in place for portions of Sonoma County. The field damage inspection process is 100% complete. Crews will continue their progress as they mop up and construct more containment lines," the report said.
All evacuation orders have been lifted, the Sonoma County Sheriff's Office confirmed on its official Twitter account on Sunday.
Evacuation warnings are still in effect for Zone 1C, 2, 3C and 5B. Full details on the areas under an evacuation advisory can be seen at the interactive Kincade fire incident map for the Sonoma, Napa and Lake counties.
"The county Human Services Dept is offering assistance to clients impacted by the #Kincadefire including SonomaWORKs, Medi-Cal, Cal Fresh, and Adult and Child Protective Services. More info here- http://bit.ly/322HvPk #KincadeFire #SonomaStrong," the official County of Sonoma Twitter account noted.
Burris, 46, Getty and Easy fires
The Burris Fire in Mendocino County remains at 703 acres, while the 46 Fire in the Jurupa Valley area of Riverside County is at 328 acres, but both fires are reported to be 100 percent contained, Cal Fire reports on Twitter.
The Getty Fire and Easy Fire, which threatened the Getty Museum and Ronald Reagan Presidential Library, respectively, was reported to have been contained over the weekend, according to officials, the Los Angeles Times reports.