New Eagle Fire Breaks Out In California As Ranch Fire Area Grows Sevenfold In One Day
A new California wildfire—the Eagle Fire—was reported Tuesday in the Lake County area. The fire, which broke off Walker Ridge Road and Bartlett Springs Road, northeast of Clearlake, was reported to be covering 75 acres with 50 percent contained, according to the latest post by the official Twitter account of the California Department of Forestry and Fire Protection (Cal Fire).
No further details on the Eagle Fire have been released. Newsweek has contacted the Lake County Fire Protection District for updates.
Meanwhile, the size of the Ranch Fire in Tehama County was reported to have grown by nearly sevenfold in a day, with Cal Fire reporting the fire to currently be at 3,768 acres with 15 percent contained, according to an updated report posted by the official Cal Fire Tehama-Glenn Unit Twitter account. The department reported the Ranch Fire was at 550 acres with 10 percent contained on Monday. More details on the Ranch Fire are below.
Fire weather conditions persist in parts of the Bay Area, Los Angeles and San Diego, according to the National Weather Service (NWS).
In San Francisco "high pressure will dominate the region through the forecast period resulting in above average temperatures. Overnight humidity recoveries will be good in lower elevations but will remain poor in the region's higher elevations. Periods of night/morning coastal clouds and fog will continue through Thursday.
"Winds will remain light through the forecast period with typical diurnal wind patterns," while elevated fire weather conditions are expected across the interior sections of Los Angeles through Thursday, with "elevated to brief critical conditions" from Thursday night through Saturday in the valleys and mountains, the NWS warned on its website.
In the Sacramento area "Continued high pressure over the region will maintain dry conditions with above normal temperatures. Daytime relative humidities remain low, generally running in the teens, with moderate to poor overnight recoveries across the foothills and higher terrain. Outside of locally breezy nighttime conditions in wind prone areas like canyons and ridgetops, winds remain on the lighter side," the NWS said.
San Diego's fire weather outlook reads: "Stronger onshore flow will bring a modest recovery in humidity for inland areas today [Wednesday, November 6]. High pressure aloft will bring a warming trend for Thursday through Saturday with weak offshore flow on Friday bringing locally gusty northeast winds to 25 mph near the coastal slopes of the mountains and below passes and canyons.
"Lowest daytime humidity for inland areas will fall to around 10 percent during the weekend with a slight recovery possible on Monday followed by minor day to day changes into the middle of next week. The combination of decreasing humidity and locally gusty northeast winds near the coastal mountain slopes on Friday could bring elevated fire weather conditions for those areas," the NWS states.
Ranch Fire
As of 7 p.m. (local time) Tuesday, there were no reports of structural damage or destruction, with one reported injury (it has yet to be determined whether the injured is a civilian or firefighter), according to the latest report posted by the Cal Fire Tehama-Glenn Unit. Evacuations are in place for Colyear Springs Road from Red Bank Road to the Mendocino National Forest Boundary, while there are no road closures at this time, according to the report.
"Dry and warm conditions remain forecast which will be a contributing factor influencing fire activity," the report noted.
The Bay Area Air Quality Management District (BAAMD) has extended its air quality advisory through Wednesday due to the smoke from the Ranch Fire. Those affected can monitor real-time air quality readings provided at the official BAAMD website.
"Northerly winds near the Ranch Fire in Tehama County south of Redding will allow some smoke to move toward the Bay Area. The smoke is expected to continue to cause hazy skies and potentially elevated hourly air quality readings for fine particulates today and tomorrow [November 6], but air quality is not expected to exceed the federal health standard," BAAMD warned in a statement.
"If the smell of smoke is present, it
is important that Bay Area residents protect their health by avoiding exposure. If possible, stay inside with windows and doors closed until smoke levels subside. It is also recommended that Bay Area residents set air conditioning units and car vent systems to re-circulate to prevent outside air from moving inside.
"Smoke can irritate the eyes and airways, causing coughing, a dry scratchy throat and irritated sinuses. Elevated particulate matter in the air can trigger wheezing in those who suffer from asthma, emphysema or COPD. Elderly persons, children and individuals with respiratory illnesses are particularly susceptible to elevated air pollution levels and should take extra precautions to avoid exposure," BAAMD said.
Kincade Fire
As of 7 a.m. (local time) Tuesday, the Kincade Fire was reported to be at 77,758 acres with 84 percent contained and the expected full containment date remains at November 7, according to the latest report by Cal Fire posted on its official Twitter account.
All evacuations have been lifted but the Sonoma County Public Health Order is still in place, while the County of Sonoma is working on safe debris removal. Those affected are advised to call 211 for more information on the recovery process, the report said.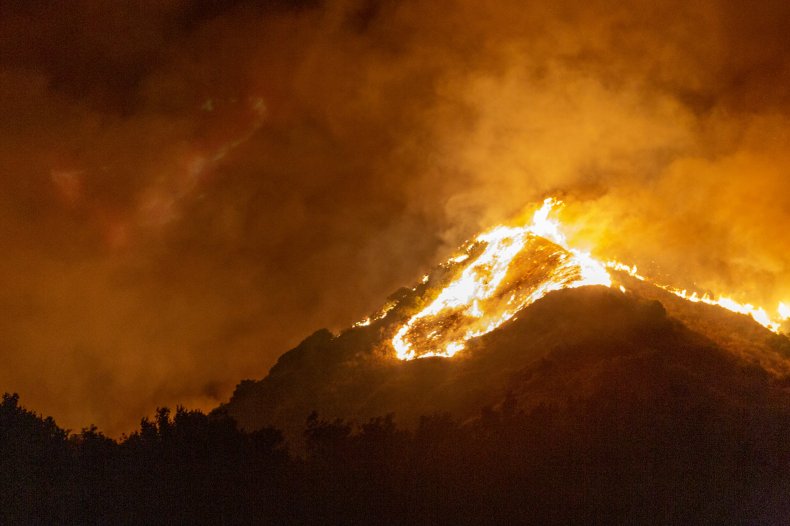 Maria Fire
The Maria Fire in Ventura County was reported to be at 9,999 acres with 95 percent contained, according to a post on Tuesday by Cal Fire's official Twitter account.
As of 7 a.m (local time) Tuesday, damage assessment was said to have been completed, with 4 structures found to be destroyed while fire suppression repair continues, according to the latest report by the Ventura County Fire Department posted on its official Twitter account.