California Fire Updates: Kincade, Maria and Sobrante Fires Remain Threats While Others Are Mostly Contained
More than 72 percent of California's wildfires have been contained, but responders still have tens of thousands of acres to neutralize as of Saturday, according to the California Department of Forestry and Fire Protection ("Cal Fire").
Among the active fires––Kincade Fire, Maria Fire and Sobrante Fire––remain threats; while Burris Fire, 46 Fire and Saddle Ridge Fire are at least 90 percent contained.
The powerful winds fueling the blazes subsided towards the end of last week, which helped responders gain control over most of the outbreaks. Authorities have traced the fires to different causes––including heat from a car's wheels after a police chase––but California's seasonal dry spells make it susceptible to wildfires every year, according to the National Weather Service (NWS).
California Gov. Gavin Newsom declared a state of emergency last week amid widespread evacuation orders, school closures and power outages. On Friday, Newsom called out Pacific Gas and Electric Company (PG&E) for "the overly broad application" of shutoffs, and on October 25 announced the availability of federal funding to fight fires and reimburse locales for damages.
At least three fatalities have been confirmed. More than 200,000 and hundreds of homes have been destroyed.
That destruction pales in comparison to previous seasons, according to reporting by The Guardian, in part due to lessons learned in 2018 when the deadly, record-setting Camp Fire claimed more than 80 lives and destroyed tens of thousands of buildings, according to the Butte County Sheriff's Department.
Readers can visit response.ca.gov for the latest information on power outages, emergency shelters, wildfires, road closures and state resources. Cal Fire's Twitter page also released periodic updates and specifies the lead fire department on every outbreak.
Here's what we know about the remaining active fires.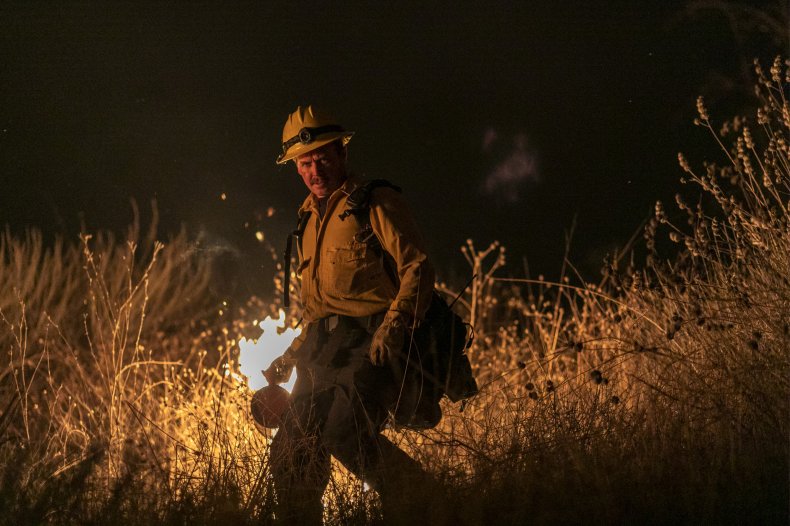 Kincade Fire
The biggest fire of the bunch, Sonoma County's Kincade, is mostly contained. Cal Fire is starting to allow residents near Pine Flat Road and Windsor Town limits to return to their homes, while several areas remain under an evacuation order.
Firefighters made "good headway" over the weekend, according to Cal Fire's Sonoma unit. They completed field damage assessments and halted any progress of the fire, but still have to conquer Kincade's northernmost section that remains challenging due to steep terrain and narrow roads.
Kincade's cause is still under investigation.
Maria Fire
One of the most recent fires, Maria, took responders by surprise when it sprung up on Halloween. It's only 30 percent contained so far and has burned more than 9,000 acres near Bradley Road and Solano Verde Drive, according to Cal Fire.
More than 1,000 firefighters continue to battle Maria, according to a fact sheet provided by the Ventura County Fire Department. Located primarily on Ventura County's South Mountain, the weather continued to push the fire toward the west and downslope on Friday. Firefighters have been successful in keeping the blaze away from orchards, farms and power lines, as no structures have been damaged so far.
Several evacuations are still in place, according to Ventura County's site for wildfire updates.
Viewers can visit www.vcemergency.com or call the Governor's Office of Emergency Services at (805) 465-6650 for up-to-date information, including evacuations, road closures, shelters, public safety power shutdown areas and school closures.
A power line may have sparked the Maria Fire. Utility provider Southern California Edison said that it had re-energized a power line near the outbreak a mere 13 minutes before the blaze broke out, according to the Associated Press.
Sobrante Fire
Even though Sobrante is the most recent, it's also one of the smaller California wildfires. The Riverside County Fire Department said it's been fully contained after claiming just 35 acres near La Sierra Avenue and Tin Mine Road.
There are no evacuations, structures threatened or injuries reported so far, according to the Riverside unit.