California Fires Update: Rain Helps Camp Fire Containment as Death Toll Rises Higher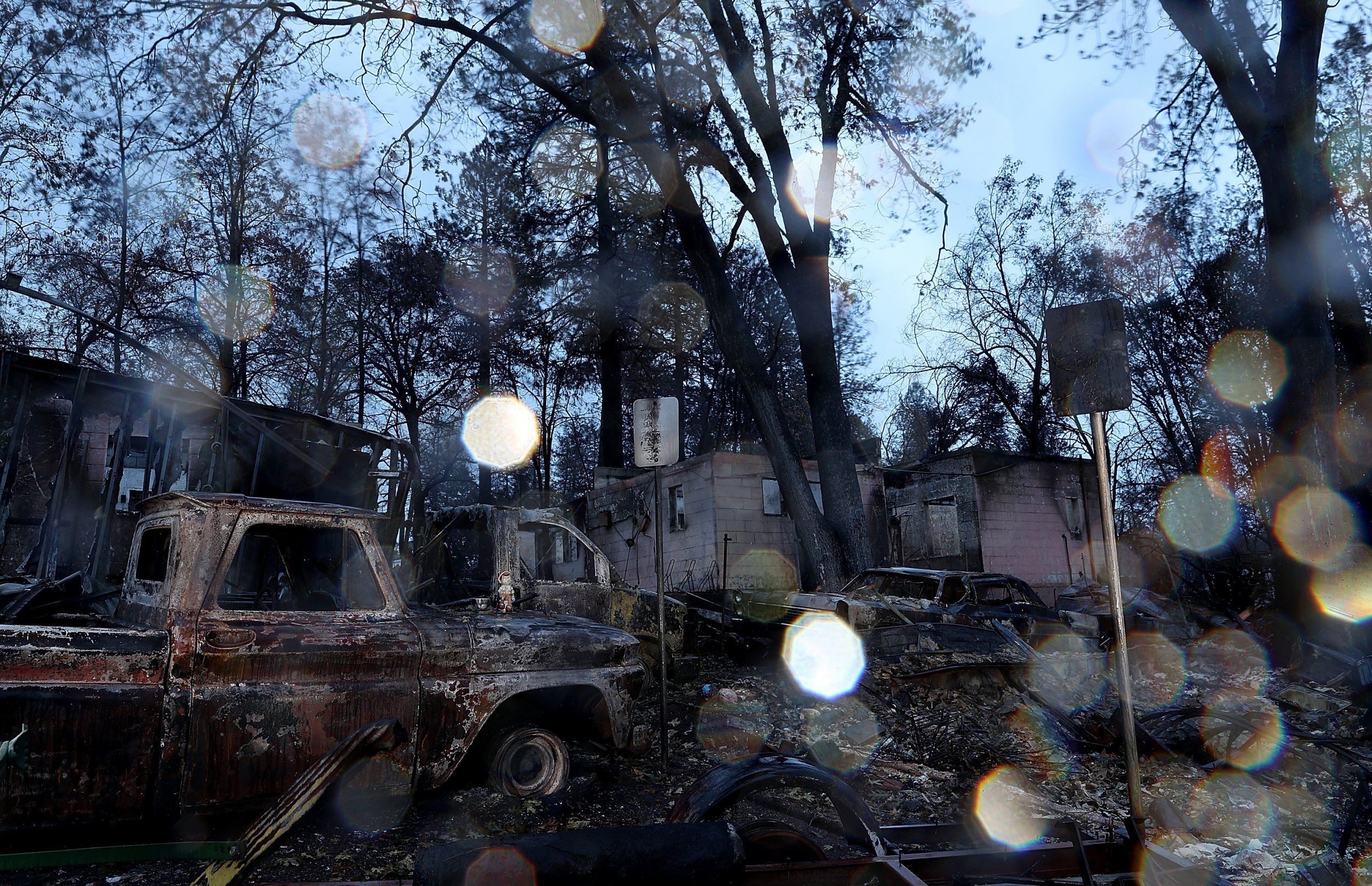 Rain is helping firefighters extinguish what is left of the Camp Fire in Butte County, California, though the death toll continues to rise as hundreds of people remain missing amid the devastation.
According to Cal Fire's latest incident update, the 153,336-acre Camp Fire is now 95 percent contained. Full containment of the fire, which started on November 8, possibly as a result of a faulty power line, is expected by next Friday.
There are now 84 confirmed deaths in the Camp Fire, which has destroyed around 14,000 homes. Smoke from the vast fire has spread across America right to the east coast.
"All containment lines continued to hold throughout the day with the rain assisting in extinguishing hot spots and smoldering fire," Cal Fire said.
"Firefighters continue tactical patrols while responding to calls for service in and around the fire area.
"Fire suppression repair personnel continue to assess areas for rehabilitation and conduct repair where possible. Search and Rescue Crews, US&R [Urban Search & Rescue] Teams and engine companies continue working to methodically search the fire area for missing victims," Cal Fire added.
The rainfall, while aiding in efforts to extinguish the fire, brings with it the risk of mudslides. It also threatens to destroy what is left, including human remains, which will disintegrate into the wet mud, hindering search and recovery efforts.
Sacramento Fire Captain Dave Lauchner told FOX40 that the rain will make the ground "really unstable for firefighters. But we just keep our eyes open, make sure we're in safe areas and watch out for each other."
On Wednesday, Butte County Health Officer Dr. Andy Miller warned evacuees of the Camp Fire against returning to live in destroyed property until they are "declared clear of hazardous waste and structural ash and debris by Butte County Environmental Health," according to a release.
"There is evidence from recent fires in California that homes and property destroyed by fire contain high and concerning levels of heavy metals, lead, mercury, dioxin, arsenic, and other carcinogens," the release said.
Casey Hatcher, Butte County's economic and community development manager, told Newsweek last week that it will take years to recover from the Camp Fire.
"This process will be years in the making, as we have seen in communities in Sonoma County and others across California that have faced destruction from wildfires in recent years," Hatcher said.
"I do not have estimates on the cost of the recovery process yet, but we are tremendously grateful to our state and federal partners for their commitment to assisting the residents of Butte County with rebuilding from the Camp Fire."
"Some property may have the presence of radioactive materials. Exposure to hazardous substances may lead to acute and chronic health effects, and may cause long-term public health and environmental impacts."