California's wildfires cleared nearly 300,000 acres of land last month from the Thomas fire alone (which is technically still burning). That left the ground bare of much vegetation—so when just over 5 inches of rain fell on the burned area, the conditions were ripe for mudslides that, according to the Santa Barbara County Sheriff's Office, have already killed at least 15 people.
Mudslides—yet another natural disaster that has devastated the U.S. in the past several months—can happen without warning and can be deadly. Rain and mud quickly accumulate, causing muddy rivers to form as rocks, trees and other debris tear through communities vulnerable after nearby land has been charred. This is what happened in a Montecito neighborhood and swaths of Ventura and Santa Barbara counties, resulting in a mandatory evacuation for thousands, reported the Los Angeles Times.
Mudslides such as this one cause between 25 and 50 deaths per year in the U.S., according to the Centers for Disease Control and Prevention. Most often people die from the fast-moving water and debris that can cause trauma, injuries from broken electrical, water, gas and sewage lines, and blocked roads that can put drivers in danger and keep people from accessing a hospital if injured.
Santa Barbara County Fire Department spokesman Mike Eliason told the Los Angeles Times that the conditions following the Thomas fire were the "worst-case scenario." In addition to at least 15 deaths, 25 people were injured and 50 people were rescued by officials.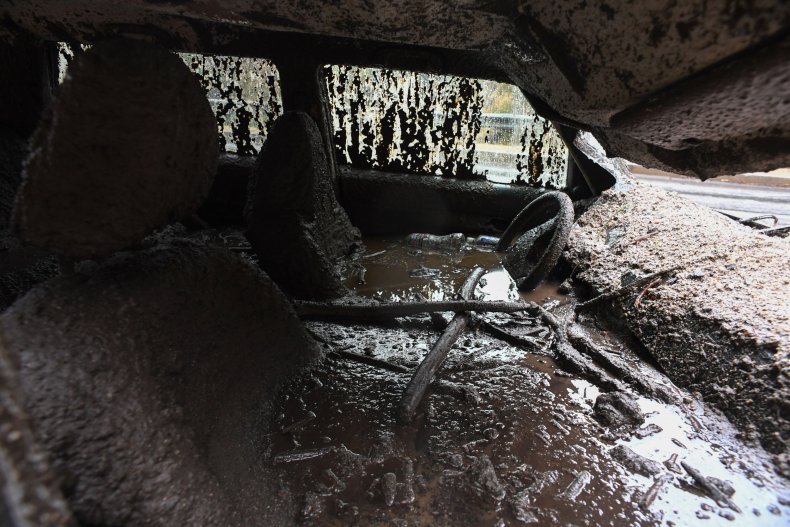 According to the U.S. Geological Survey, wildland fires are inevitable in the western United States, where human development has crept into once-forested areas. After a fire, mudslides can then happen quickly without warning and further destroy vegetation, block drainage ways, damage buildings and endanger humans.
Last August, hundreds of people died in Sierra Leone's mudslides, reported National Geographic. The deadly mudslides caused muddy water and debris to flow through the country's capital Freetown for days. Though they can occur naturally, some experts blame inadequate infrastructure and deforestation. Deforestation, construction and mining can exacerbate mudslides, reported National Geographic, because, without tree roots, soil becomes less stable.
Charred lands from wildfires that have destroyed vegetation were the key trigger for the California mudslides. Mudslides usually start on slopes after a landslide has occurred. The mudslide develops when water accumulates and creates rivers of rocks, mud and other debris.
"Post-fire debris flows," as these mudslides are technically called, are triggered by two different processes: erosion caused by rainfall runoff and landsliding caused by rainfall that can no longer be absorbed by the ground. Rainfall runoff as a trigger for mudslides is more common—as fires reduce soil's ability to soak up water. But sometimes, heavy rains can cause soil to retain so much moisture, the wetted soil can produce landslides.
In Southern California, it doesn't take much rain to set off a mudslide. Just .3 inches of rain in 30 minutes has triggered mudslides. Tuesday night, there were a few lingering storms left in southern California, but the storm system was expected to leave Los Angeles County soon.