California Fisherman in Bloody Shark Attack Saved by Pet Pit Bull Named Darby
James White's pet pit bull Darby jumped right into action when he heard his owner's cries for help as a shark's teeth sank deep into the flesh of the fisherman's leg.
"The first time I told somebody this, they were like, 'You're out of your mind, there's no way that happened,'" White told NBC Bay Area last week. "Then I showed him the pictures and I'm like, 'No it absolutely happened.'"
Three weeks ago, White, who is from Rohnert Park in California, was fishing on the shore of Bodega Bay in California's Sonoma County. He had left Darby, who is about 1-year-old and weighs approximately 100 pounds, in his parked vehicle, as the location was close to traffic.
While fishing, White felt a strong pull on the line and struggled to reel in his catch. He told NBC Bay Area that it took about 10 minutes. "The only way I think I was able to get the line back is because it was swimming towards me," he said.
Inadvertently, White had sunk his line into a 6 feet long sevengill shark. As the fisherman attempted to remove the hook from the massive fish, it flopped and sank its teeth into his leg.
"Immediately there was blood everywhere, the first bite punctured an artery," White said. "The pressure was intense."
Unable to remove the shark from his leg, White screamed for help, hoping some other fisherman a few hundred yards away would respond. But, a faithful friend heard his cries first and immediately jumped into action. Despite being inside the car, Darby found a way to open one of the doors and ran to rescue his friend from the jaws of the shark.
At first, Darby sunk his own teeth into the sharks gills, but that only made it bite down harder on White's leg. Realizing that plan of attack didn't work, the dog then grabbed the giant fish by the tail and pulled it off his master's leg. White was then able to get the creature back into the water, where it quickly swam away.
"If it wasn't for him I would have been a lot worse," White said affectionately of his canine pal.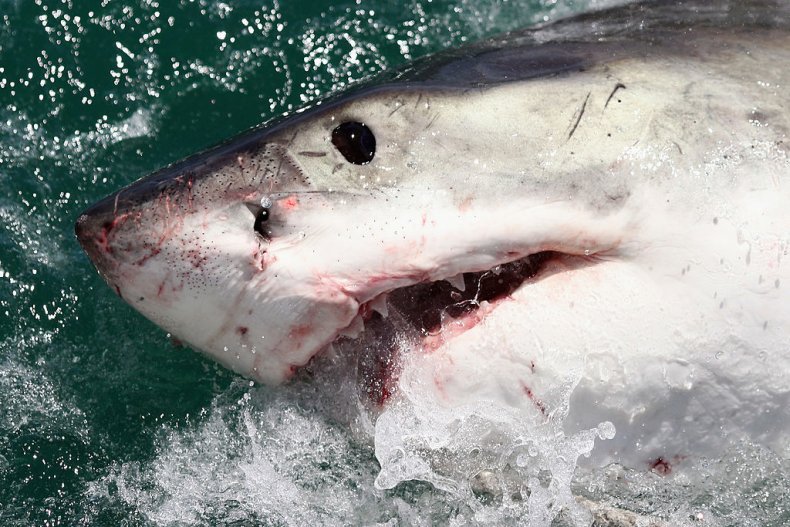 While dogs and sharks seem like unlikely enemies, there have been several reports of canines fearlessly fighting off the aquatic predators.
Earlier this summer, a video went viral showing a shark attempting to attack a lone dog wading in shallow water along the shore. However, as the shark goes in for the kill, a group of the dog's canine buddies rush in from the shore to fight it off.
Back in 2011, CNN reported on a video of two dogs swimming with sharks in Australia. Instead of the sharks going after the canines, one of the dogs actually dives under the water to attack one of the large fish.