Southern California May See Flash Floods After Destructive Wildfires
As California deals with the aftermath of several devastating wildfires, heavy rainfall hitting the charred remains of the terrain could cause floods in the southern part of the state.
Rainfall in Southern California began on Tuesday, flooding some roads, and was forecast to continue through Thursday morning. Some areas of California were expected to see rainfall rates of up to half an inch per hour, prompting the National Weather Service (NWS) to issue a Flash Flood Watch.
The Flash Flood Watch was scheduled to remain in effect through late Wednesday, according to the NWS, and included the counties of San Bernardino, Riverside and San Diego. A Flash Flood Watch indicates that conditions could produce flash flooding and the NWS reported parts of the counties that had steep terrain or were below recently burned areas were the most greatly threatened.
Areas that normally wouldn't be prone to flash floods can find themselves in the midst of a disaster because of a previous fire. Wildfires alter the terrain by leaving the ground charred and barren, so vegetation that normally would be able to absorb rainfall can't do so anymore.
This increased risk of flash flooding remains until vegetation is restored, which can take up to five years according to the Federal Emergency Management Agency.
Between January 1 and November 17, California experienced more than 5,000 fires that scorched over 128,300 acres, according to the California Department of Forestry and Fire Protection.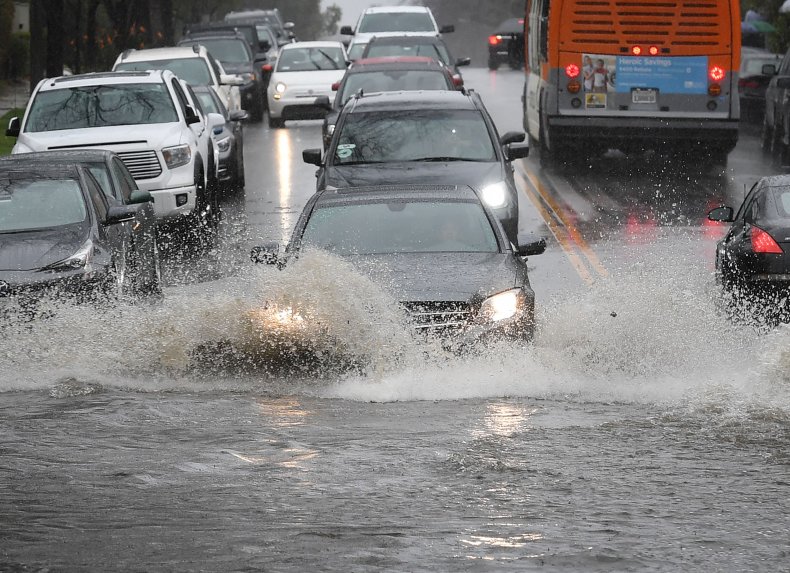 Palmour, Julian and Mt. Laguna were expected to see the heaviest rainfall at three to four inches, according to the NWS San Diego. The surrounding areas, including Ramona, Alpine and Campo, were forecast to receive two to three inches. For most of the impacted area, rainfall totals ranged from 0.5 to 1.5 inches.
In Needles, the area had 1.23 inches of rain, which, according to AccuWeather, was more than the city normally gets in November and December combined.
Rain would provide much-needed relief for the southern part of the state, which the NWS characterized as "abnormally dry." Unfortunately, it wasn't expected to reach the northern part of California, which was under a Red Flag Warning starting Wednesday at 4 a.m. PT, indicating that weather conditions were ripe for wildfires.
Areas of Sacramento, San Francisco and Eureka were slated to experience low relative humidity and strong winds. At a time when the area hasn't had significant rain, wildfires could ignite and spread rapidly.
The storm was forecast to move away from the Southern California area on Thursday morning and bring heavy rain to the areas from Minneapolis to Chicago. After it leaves California, AccuWeather reported dry conditions would return to the area.