California Gas at $6 a Gallon, Rest of U.S. Braces for Another Price Rise
The average price of gasoline in California hit $6 a gallon as prices across the U.S. are expected to rise in the coming weeks.
The average national gas price on Thursday in the U.S. was nearly $4.59 per gallon—the highest on record, according to AAA. California's average price is the highest in the country: $6.06 per gallon, according to AAA.
Analysts at JPMorgan believe it's possible that national average gas price could reach $6 per gallon in the coming months.
"There is a real risk the price could reach $6+ a gallon by August," Natasha Kaneva, who leads global oil and commodities research at JPMorgan, told CNN Tuesday.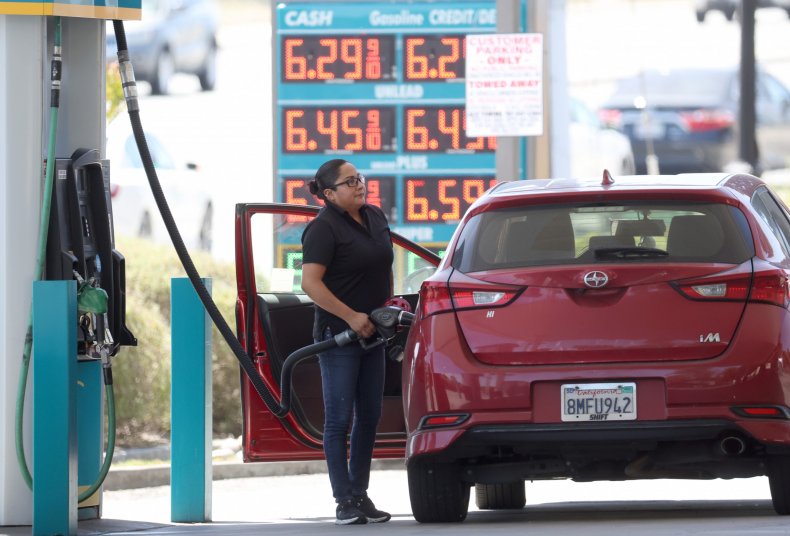 In an email to Newsweek, a spokesperson for AAA said California's current gas price marks a record high for the state.
"As long as gas demand stays hot and the oil price is elevated, we may see these high pump prices throughout the summer," Andrew Gross said.
On Thursday, GasBuddy, which tracks gas prices across the U.S., released the results of a survey that found that 70 percent of Americans say their summer plans have been affected by high gas prices, which are up 24 percent compared to last year.
"Against a backdrop of gas prices that have continued to set new records ahead of Memorial Day, Americans have been resilient in their desire to hit the road, but we're certainly seeing increased hesitancy due to rising prices at the pump. Soaring inflation has led to uncertainty over rising costs," Patrick De Haan, the head of petroleum analysis for GasBuddy, said in a statement.
Other states with the highest gas prices in the U.S. include Oregon, where the average is $5.13 per gallon; Washington, where the average price is $5.13; and Nevada, where it's $5.23. The average price in Illinois is $4.97 per gallon, and in New York state, it's $4.90 per gallon, according to AAA.
Last week, a spokesperson for GasBuddy told Newsweek that the cause of the recent increase in prices is "is similar to that in March, largely due to Russia's war on Ukraine and resulting sanctions on Russian energy, compounded with continuing supply recovery following COVID-19-related imbalances."
In March, following Russia's invasion of Ukraine, the U.S. set several national average gas price records. That month, President Joe Biden announced that he would begin to release 1 million additional barrels of oil from the U.S.'s Strategic Petroleum Reserve onto the market daily for the next six months to help keep prices down.
Last week, Republicans criticized Biden after his administration moved to cancel the sale of an oil and gas drilling lease for an area in Alaska amid the high prices.
Update 5/19/22, 11:17 a.m. ET: This story was updated with comment from AAA.