California Governor Gavin Newsom announced a proposal Wednesday that would give car-owning residents in the state $400 to make up for high gas prices.
Though Russia's invasion of Ukraine has caused gas prices to spike across the country, California's have risen the highest, with the statewide average currently sitting at $5.87 per gallon, the San Francisco Chronicle reported.
The $400 debit cards would go to any registered vehicle owners in the state, with a maximum of $800 for those who own more than one vehicle. For those who do not drive, Newsom also proposed making public transportation services free for three months, according to a press release from Newsom's office.
Earlier this month, the United States hit its highest average gas price since just before the 2008 recession. Though gas prices began to fall again this week for the first time in 12 weeks, they continue to rise on the West Coast, GasBuddy reported Monday.
In a statement, Patrick De Haan, head of petroleum analysis at GasBuddy, said "gasoline demand has shown absolutely no signs of buckling under the pressure of higher prices" even as California's average nears $6 per gallon and as spring break travel is "well underway."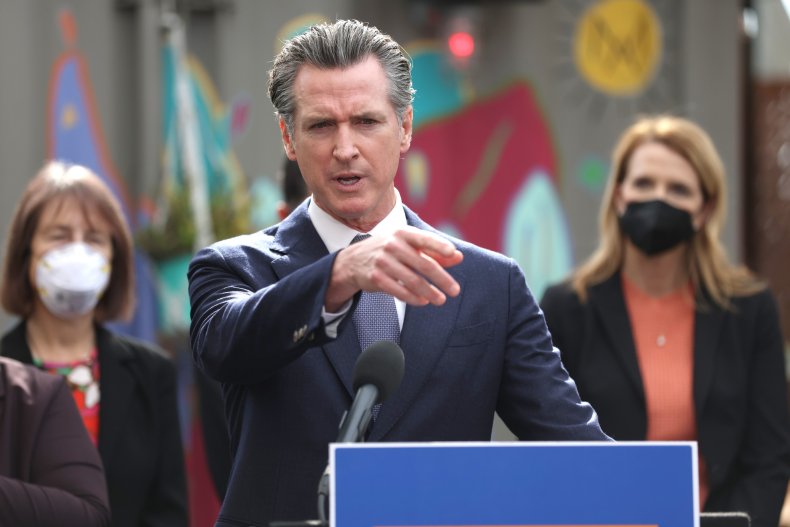 "If the situation does worsen, with more oil being kept away from global markets, it's not impossible that gas prices would still have to climb a considerable amount for Americans to start curbing their insatiable demand for gasoline," he said.
Newsom's proposal is part of an $11 billion spending package, with $9 billion of that figure going specifically to the gas debit cards, the statement said. The payments could begin as soon as July, though Newsom still has to negotiate the details with the state legislature.
Another $500 million of the budget will be dedicated to supporting "active transportation programs, like walking and biking projects," the statement added. $750 million will be dedicated to the three months of free public transportation.
Additionally, $600 million will go toward pausing part of the sales tax rate on diesel fuel for a year and $523 million will be allocated to "pause the inflationary adjustment to gas and diesel excise tax rates," according to the statement.
Though gas prices are highest in California, they have been elevated across the country, with some states like Florida and North Carolina reporting thieves taking hundreds to thousands of gallons of gas amid the widespread anxiety over the price spike.
"We're taking immediate action to get money directly into the pockets of Californians who are facing higher gas prices as a direct result of Putin's invasion of Ukraine," Newsom said in the statement. "But this package is also focused on protecting people from volatile gas prices, and advancing clean transportation."
Update 03/23/22, 6:25 p.m. ET: This article was updated with additional information.
Update 03/23/22, 6:05 p.m. ET: This article was updated with additional information.