Calif. Gov. Newsom's Child Quarantined After Returning to Private School
One of the children of California governor Gavin Newsom has gone into quarantine for 14 days after a school classmate tested positive for the coronavirus.
Without naming either the school or which of Newsom's children it was due to privacy reasons, Politico reported that the child had been exposed at the private school they had attended and been tested twice, five and seven days past their last contact with the COVID-positive student.
"After being alerted by the school that a classmate tested positive for COVID-19, the potentially exposed Newsom child began a 14-day quarantine from the date of exposure in accordance with state public health guidance for schools," Newsom's spokesperson Nathan Click said in a statement.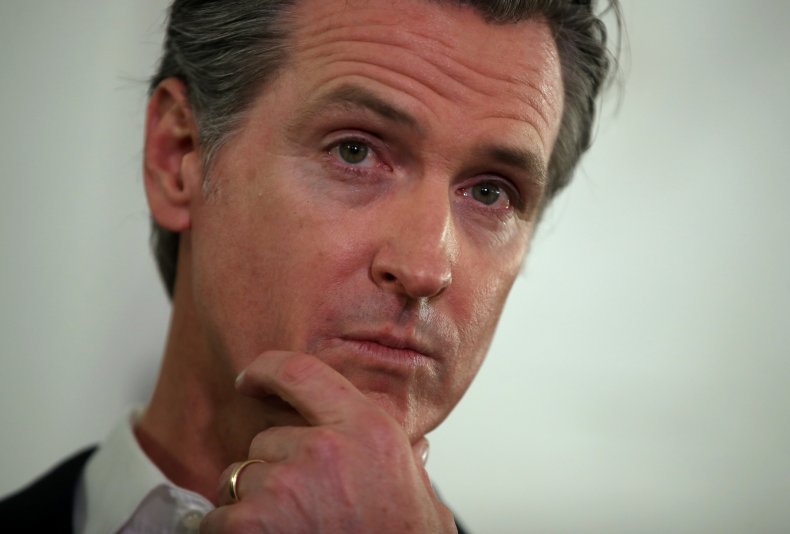 Newsom has four children aged between four and 11, and his whole family has tested negative for the disease. As state health guidelines only require the quarantine of the person directly exposed to an infected person, the rest of the governor's family is not quarantining.
"The family has taken the potential exposure seriously and is following all state protocols," Click said.
Politico reported that the school where Newsom's child was exposed to COVID would move to remote learning after Thanksgiving through to mid-December, due to the increased risks posed by holiday activities.
Newsom is likely to face scrutiny from teachers unions who have urged him to close all campuses due to a spike in cases.
Last month, he said that his children had returned to in-person learning at their private school in Sacramento. But he has faced criticism for allowing private schools to reopen while most of the state's public schoolchildren remain at home to do distance learning .
Patrick O'Donnell (D-Long Beach) described how low income families have had to stay at home, while children from more affluent families could go to school for lessons as "state-sanctioned segregation"
Meanwhile, Newsom was came under fire for attending a dinner with a dozen other people from different households at the French Laundry restaurant in Napa County, in contradiction to state guidelines forbidding gatherings of more than three households.
Accused of hypocrisy for attending the event after urging Californians to avoid traveling for Thanksgiving and limiting their socializing, Newsom apologized for the incident, saying in a statement: "We should have modeled better behavior and not joined the dinner."
The disease is spreading at a rapid rate in California and this week Newsom moved Napa and 40 other counties into the most restrictive coronavirus purple tier.
The graphic below by Statista shows the number of coronavirus cases in the U.S.