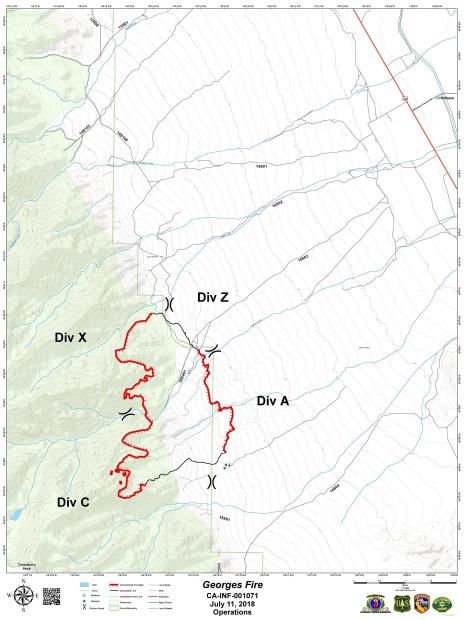 Fire officials announced Thursday that the Georges Fire in Inyo County, California, has grown to 2,883 acres. The lightning-caused fire, which first ignited on Sunday, is 42 percent contained.
The fire is burning north of Lone Pine, west of Manzanar National Historic Site and south of Bairs Creek, KOLO-TV reported. A total of 627 fire personnel, including 19 crews, 31 fire engines, eight helicopters, four dozers and eight water tenders, are working to contain the Georges Fire.
Firefighters were helicoptered to a base at Manzanar National Historic Site, the California Department of Forestry and Fire Protection (Cal Fire) said.
"Helicopters continued to support fire suppression efforts with water drops as needed," the agency's statement added.
The evacuation notice for the Whitney Portal area, which is a popular starting point for hikers heading up Mt. Whitney, was lifted, Cal Fire said Wednesday.
Cal Fire said that the Whitney Portal visitor center began issuing permits for day and overnight hikers with reservations for the Mt. Whitney Trailhead on Wednesday evening. Officials said that permits for hikers who were unable to complete their hike due to the fire will be re-issued.
SoCal Team 3, a Type 2 incident management team assigned to the Inyo National Forest, Cal Fire and the Inyo Sheriff's Department are in Unified Command of the fire.
California has seen a "more aggressive" fire season than in the past, Cal Fire deputy chief Scott McLean told The San Francisco Chronicle on Tuesday. "Statistically we're ahead of last year," McLean said. "Fire behavior this year is more aggressive earlier in the year."
The state has seen 2,964 wildfires since January 1, according to the newspaper.
The County Fire, the state's largest actively burning fire, has burned 90,288 acres and is 89 percent contained, according to Cal Fire. Officials lifted all evacuations in Napa and Yolo Counties.
On Wednesday, Cal Fire law enforcement announced that "an improperly installed electric livestock fence unit" had caused the fire. The person responsible has been cited, a statement said.
Meanwhile, the deadly Klamathon Fire, which killed a civilian and injured three other people, has reached 36,500 acres and is 70 percent contained. More than 2,200 fire personnel are working to contain the fire. Evacuation notices have been issued for residents in California and in Oregon, Cal Fire said Thursday.