California Girl, 3, Mauled in Face, Arms and Stomach by Pitbull
A three-year-old California girl suffered wounds to her face, arms and stomach after being mauled by a pit bull in a vicious attack.
The girl, who was not identified, was rushed to the hospital and needed 180 stitches to her face after the attack in the backyard of a house in Hemet, southern California, last weekend.
She received additional stitches on her hip, but has since been released from the hospital, Fox11 reported.
The two-year-old male pit bull mix was tied up at the time of the attack. Authorities are certain the dog would have killed the toddler had it been loose, Lesley Huennekens of Animal Services told Fox11.
"It's horrible what happened to this girl," Huennekens said.
Authorities are not sure how the girl came to wander in the backyard or whether she was unattended at the time.
Newsweek has contacted the Riverside County Department of Animal Services for comment.
An officer from the Riverside County Sheriff's Department, Mick McGee, told Fox11 the dog was powerful and aggressive. While attending the scene of the incident, McGee used a stick to control the animal, but it still viciously lunged at his legs.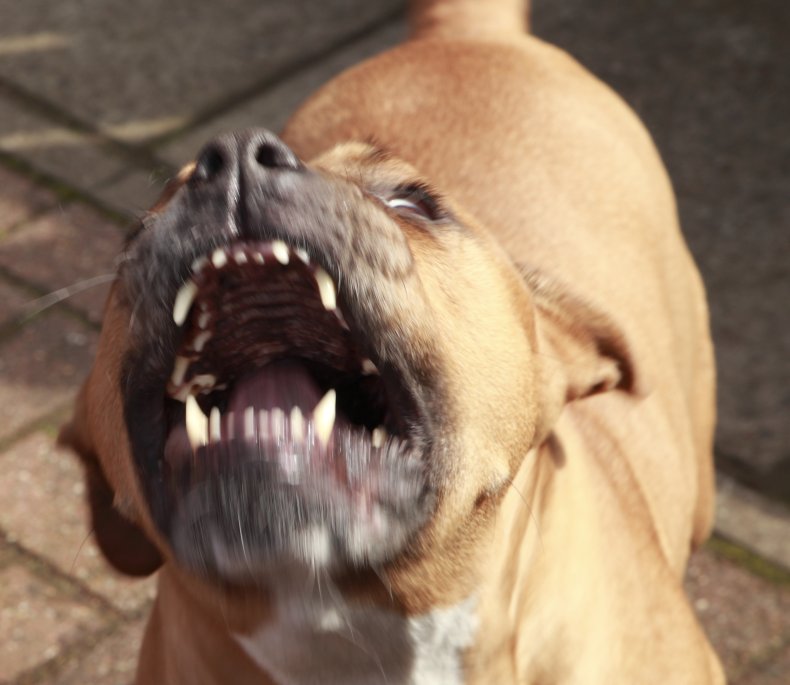 The dog was taken in by Riverside County Animal Services after the incident. American pit bulls are considered one of the most vicious dog breeds. The breed, even mixes, are responsible for most dog deaths and injuries.
According to Fox11, the dog's owner protested against the seizure of the animal. There are no further details as to what will happen to the dog, although The East Bay Times said it could be euthanized.
According to the Centers For Disease Control and Prevention (CDC), dogs bite 4.5 million people in the U.S. each year.
"Its seriousness illustrates the need for all owners of larger dogs to always be extra vigilant in responsible pet ownership when children are present," a spokesman for the Riverside County animal services department, John Welsh, told The East Bay Times.
According to a study published by the BMJ, dog bites are a consistent cause of children's visits to the emergency room -- over half of all dog bite victims are children.
Around 26 percent of all child victims require urgent medical attention for their injuries. Dogs bites are an even worse problem for children than mumps, whooping cough, and measles, according to the CDC. For children, dogs bites occur more regularly than other injuries, such as those sustained through playgrounds or bike accidents.
Treatments for dog bite injuries cost hospitals more than a billion dollars every year. The face, neck and head are the most common areas for children to be attacked.