California GOP Accused of Setting up Unofficial Ballot Drop-off Boxes Across State
The California Republican Party has faced questions over unofficial drop-off boxes set up to collect mail-in ballots across the state.
Reports of such boxes, which claim to be official, have been shared with the California Secretary of State, Alex Padilla—who has suggested they could be illegal.
"Operating unofficial ballot drop boxes—especially those misrepresented as official drop boxes—is not just misleading to voters, it's a violation of state law," he said, in comments reported by The Orange County Register.
In further comments shared with Newsweek he said: "My office is coordinating with local officials to address the multiple reports of unauthorized ballot drop boxes. Californians should only use official ballot drop boxes that have been deployed and secured by their county elections office."
In regards to the use of official boxes, he said: "Official county drop boxes are built with specific security protections, and ballots are retrieved only by designated county personnel. If you do have questions about voting, go to official, reliable sources of information—your county elections office or the Secretary of State's office."
Following a drop-off box being flagged with him, Orange County Registrar Neal Kelley said: "We are looking into this and the CA Secretary of State has also issued guidance confirming unofficial ballot drop boxes are not in compliance with state law. Third party ballot collections are allowed, but a voter must designate someone to return their ballot on their behalf."
The Orange County Register reported that Kelley could not confirm where the box flagged to him was located or who was responsible for it. A regional field director for the California Republican Party had shared a photo of himself posing by a drop-off box said to be official.
In comments to Newsweek Kelley said: "Voters who want to return their ballot at a drop box, should only use official county drop boxes. Official ballot drop boxes are clearly recognizable, designed to meet state standards for security, and bear the official Orange County Elections logo.
"One of my important roles as the chief election official for Orange County is to provide options for voters. It's important for groups, or individuals, to understand that attempting to post or install unofficial ballot drop boxes is prohibited.
"I reacted quickly to this issue and my office has passed along reports of social media posts of unofficial drop boxes to the Secretary of State and our local District Attorney."
He has urged those with any concerns over ballot boxes to contact his office.
Responding in a thread below Kelley's comments on Twitter, the California GOP referred to law which it said made such boxes legal.
"This procedure has been in place since 2016—not sure why people are all of a sudden surprised," it wrote on Twitter. This was shared alongside an article on ballot harvesting.
The group further tweeted: "If a congregation/business or other group provides the option to its parishioners/associates/ or colleagues to drop off their ballot in a safe location, with people they trust, rather than handing it over to a stranger who knocks on their door - what is wrong with that?"
As well as the reports in Orange County, a drop-off box has been flagged to the Los Angeles County Registrar. The box, outside a church, had a sign on it which said "official ballot drop off box." In a Facebook post, the church said the box was "approved and brought by the GOP," The Orange County Register reported.
Responding to a tweet about this, the LA County Registrar wrote: "Thank you for alerting us to this. This is not an 'official vote by mail drop box' and does not comply with CA Elections Regulations for drop boxes. This has been reported and we are following up."
In Fresno, the Fresno County Republican Party released list of ballot drop off locations.
It said in a post on its website: "President Trump is very concerned about the lack of security with mail in ballots. Don't take a chance that your vote will not be counted. Once your ballot arrives in the mail, mark your ballot completely and then walk it in, as soon as possible, to one of the secure locations listed below."
It then gave a list of locations which do not match up with the official list of locations for drop off boxes in Fresno county.
Newsweek has contacted the California GOP for comment.
The situation emerged as President Donald Trump has long suggested that universal mail-in voting could be open to rampant fraud, despite a lack of evidence from prior elections to support this. He doubled down on these claims over the weekend.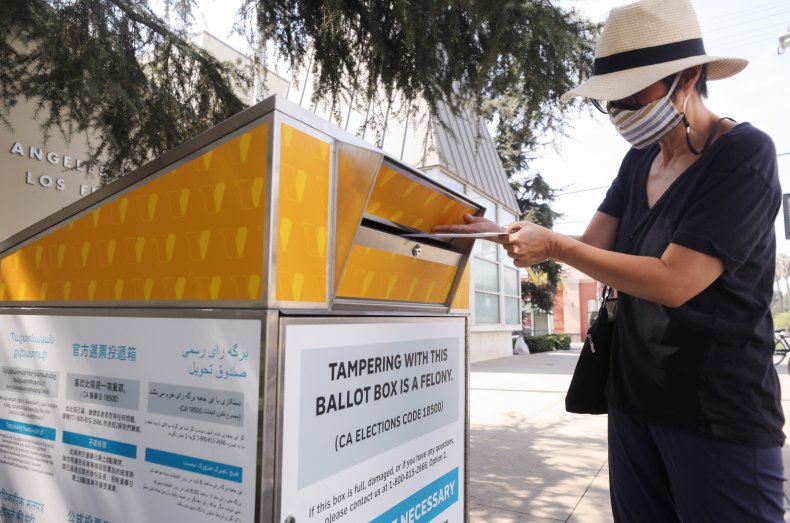 Update 10/12/2020, 12:00 p.m. ET: This article was updated with more comment from the California Secretary of State Alex Padilla.
Update 10/12/2020, 10:50 a.m. ET: This article was updated with further comment from Orange County Registrar of Voters Neal Kelley.
Update 10/12/2020, 9:50 a.m. ET: This article was updated to include more information on the emergence of unofficial ballot box locations and amend the headline language to state "Unofficial Ballot Drop-Off Boxes" instead of "Fake Official Ballot Drop-Off Boxes.