California Gov. Has 'No Patience' for Climate Change Deniers as He Reports on 'Historic' Wildfires
California Governor Gavin Newsom spoke candidly about the consequences of climate change Tuesday afternoon, as the western state confronts a record-breaking heat wave and unprecedented wildfire season.
Newsom used "historic" and "extraordinary" to describe the impacts of this year's wildfires, which have burned through nearly 2.3 million acres of land across California since the beginning of 2020. The figure is 20 times larger than acreage consumed by wildfires at this time last year. Slightly more than 4,900 individual fires were recorded in California over the first eight months of 2019. This year, as the state sees temperatures skyrocket and emergency personnel work to manage more than 20 simultaneous wildfires, the number exceeds 7,600 so far.
"This is a challenging time," Newsom said during a news conference Tuesday afternoon, while addressing California's latest wildfire updates. As he shared statistics related to the fires' ramifications, including thousands of destroyed structures and at least eight fatalities, the governor acknowledged a clear connection to climate change.
California has experienced harsh effects of changing weather patterns, like extended droughts, over the past decade and launched initiatives to conserve energy as a result. Newsom pledged to "accelerate" those efforts as the effects become more prominent in the present.
"We are actively engaged in not only the moment, but actively engaged in medium and long-term solutions, fundamental solutions to address these extreme events that are now becoming almost normalized out here in the west coast of the United States, impacting disproportionately the state of California," Newsom said.
"I have no patience, and I say this lovingly, not as an ideologue but as someone who prides himself on being open to argument, interested in evidence...but I quite literally have no patience for climate change deniers," the governor continued. He said skeptics' point of view is "completely inconsistent...with the reality on the ground."
Temperatures in Los Angeles County climbed to 121 degrees over Labor Day weekend, the highest ever recorded, Newsom added. In Death Valley, a northern patch of the Mojave Desert known to harbor some of the hottest weather conditions on Earth, temperatures reached 122 degrees. Areas of Death Valley hit 130 degrees in August, approaching its 1913 record of 134 degrees, which some believe is a world record.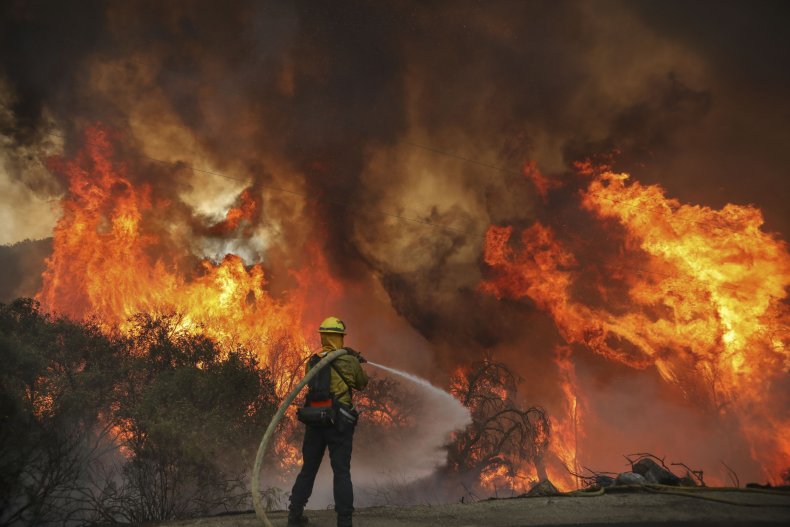 Aggressive winds, forecasted to persist at speeds as high as 50 mph through Wednesday, threaten to exacerbate wildfires still mostly active in California, as well as those now largely contained. More than 170,000 PG&E customers lost power on Monday as the state's largest power provider initiated a public safety shutoff, which aimed to prevent equipment from sparking fires during the weekend's heat wave. Census data indicated 500,000 people were potentially affected by the blackout, according to a Wall Street Journal report.
Newsweek reached out to Governor Newsom's office for additional comments but did not receive a reply in time for publication.