California Gov. Joins Counterparts In Handful of States To Say Money to Fulfill Unemployment Bonus Order Doesn't Exist
California Governor Gavin Newsom said Monday the money needed to fulfill the state's portion of a new expansion to existing unemployment benefits "simply doesn't exist."
The Democratic governor spoke to California residents during a news briefing Monday to address questions about a series of executive actions President Donald Trump took over the weekend to address the coronavirus pandemic. One memorandum Trump announced Saturday said American workers who are unemployed as a result of the pandemic can receive an extra $400 each week on top of the unemployment benefits they typically receive through their state. While Trump said the federal government would contribute $300 of that new weekly bonus, each state or U.S. territory must make up the remaining 25 percent using existing financial resources within their unemployment departments or remaining funds they received through the Coronavirus Aid, Relief, and Economic Security (CARES) Act signed into law in March.
"There is no money sitting in the piggy bank of the previous CARES Act to be reprioritized or reconstituted for this purpose," Newsom said. "The rest of the money simply does not exist."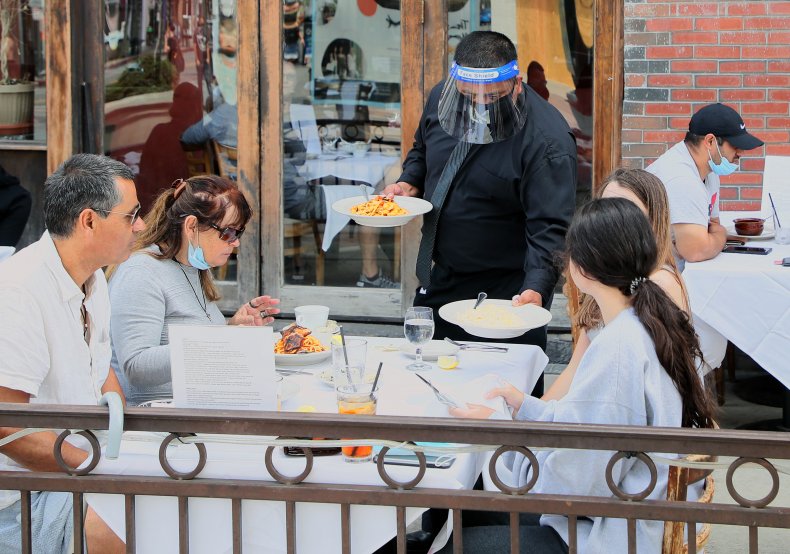 According to a recent analysis by the California Policy Lab, nearly one in three California workers have filed for unemployment since Newsom became the first governor to issue a statewide lockdown in response to the pandemic in March. Newsom said it would cost the state an estimated $700 million or more each week to fulfill its portion of that $400 weekly bonus and $2.8 billion per week to continue the bonus after federal funds run dry.
Trump's executive action said the Federal Emergency Management Agency (FEMA) will contribute existing funds from the Department of Homeland Security's Disaster Relief Fund (DRF), which he said currently has more than $70 billion, to states for the unemployment benefit expansion until December 6 or until the amount in the DRF depletes to $25 billion.
The leader of each state and U.S. territory must apply to FEMA to participate in the unemployment benefit expansion, Trump's memorandum said. In the two days since the president's announcement, a handful of Democratic governors—including those of Connecticut, Michigan and New York—said the price tag associated with the bonus was difficult or improbable for each state to handle.
"States can't afford it," New York Governor Andrew Cuomo said in a tweet on Monday. "It will be challenged in court. No American in need will get anything." An earlier tweet the governor posted on Sunday said it was "simply impossible" for each state to handle 25 percent of the costs involved in the bonus.
Other state legislators said they need to look into the program further before deciding whether or not they can to participate. Speaking with CNN's State of the Union on Sunday, Ohio Governor Mike DeWine, a Republican, said his office was reviewing the program and added, "I don't know yet" when asked if it was feasible for Ohio to contribute the 25 percent required.
During a White House news briefing on Monday, Press Secretary Kayleigh McEnany said she "can't pinpoint a timeline" for when unemployed Americans can expect to begin receiving the bonuses. "A lot of this will depend on states and them applying," she told reporters.
A FEMA spokesperson told Newsweek on Monday that the agency was working on creating guidelines for state leaders to assist them with the application process. The spokesperson said the $400 weekly payments will be awarded retroactively for eligible workers starting with the week that ended on August 1, which was the first week after an earlier $600 weekly unemployment bonus that congressional legislators included in the CARES Act expired.
"States cannot shoulder this burden without cutting important services or further burdening businesses and individuals," a slide included in Newsom's address to Californians on Monday read.
"The state does not have an identified resource of $700 million per week that we haven't already obliged," Newsom added.
Newsweek reached out to the White House for comment but did not receive a response in time for publication.