California Gov. Newsom Announces Late Night Curfew After Controversial Dinner Photo Surfaces
After receiving criticism over photos showing him dining out with a large group amid the COVID-19 pandemic, California Governor Gavin Newsom announced that the state's list of public health restrictions for most residents would soon include a new stay-at-home order.
Newsom said Thursday that the "limited" order would go into effect on Saturday and last until December 21, applying to more than 94 percent of California residents who live in 41 counties under the strictest "purple tier" of COVID-19 restrictions. The order includes a 10 p.m. to 5 a.m. curfew, although essential workers are exempted.
"The virus is spreading at a pace we haven't seen since the start of this pandemic and the next several days and weeks will be critical to stop the surge. We are sounding the alarm," Newsom said in a statement obtained by Newsweek. "It is crucial that we act to decrease transmission and slow hospitalizations before the death count surges. We've done it before and we must do it again."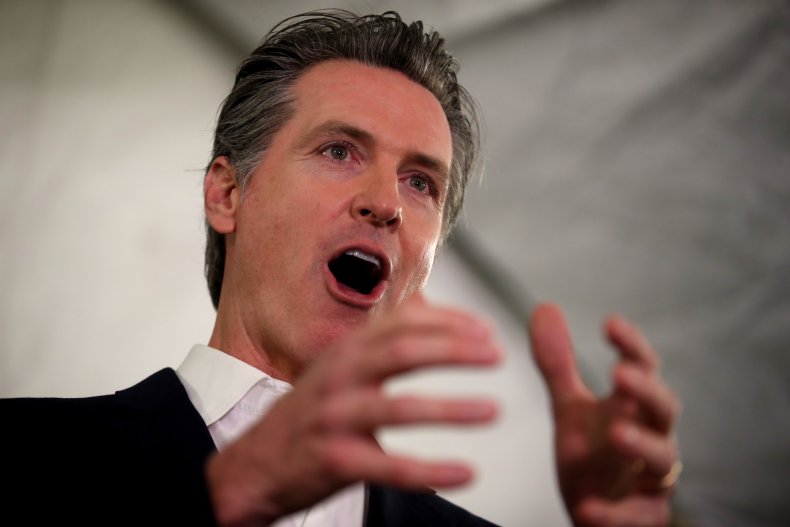 California reported more than 11,000 new cases of COVID-19 on Thursday, bringing the state's total number of cases to 1,059,257. Over 100 new deaths were also reported, with a total of 18,466 deaths caused by the virus since the pandemic began. Only 10 countries in the world, including the United States as a whole, have reported more cases of COVID-19 than the state of California.
"Reducing the movement and mixing of individuals dramatically decreases COVID-19 spread, hospitalizations, and deaths," California Health and Human Services Secretary Dr. Mark Ghaly said. "We may need to take more stringent actions if we are unable to flatten the curve quickly. Taking these hard, temporary actions now could help prevent future shutdowns."
On Monday, Newsom announced that he was pulling an "emergency brake" by moving a majority of state's counties into the purple tier, with restrictions that include a prohibition on restaurants offering dine-in services and the closing of gyms, entertainment venues and houses of worship. He also hinted that he had been discussing "the notion of a curfew" with state officials.
Thursday's order comes two days after photos emerged of Newsom dining with at least 10 other people at the French Laundry fine-dining restaurant in Napa Valley on November 6, prompting criticism that the governor appeared was flaunting state guidelines against private meetings happening in groups from more than three households.
Although Newsom and other attendees insisted the event did not technically violate restrictions on restaurant dining at the time, during the governor's Monday news briefing he admitted that "the spirit of what I'm preaching all the time was contradicted" by attending the gathering.
"I made a bad mistake," Newsom said. "I should have stood up and walked back, got in my car and drove back to my house. Instead, I chose to sit there with my wife and a number of other couples that were outside the household."