California Gov. Newsom Apologizes for Flouting Own COVID Guidelines to Attend Party As State Cases Surpass 1 Million
California Governor Gavin Newsom apologized on Friday for his attendance at a birthday party which appeared to violate coronavirus safety protocols he had enacted. Meanwhile, California reported more than 1 million positive cases of COVID-19, indicating a coronavirus surge in the state.
The dinner, held at the outdoor area of The French Laundry restaurant in Napa County, had at least 12 individuals from different households in attendance. California's coronavirus guidelines say mass gatherings that involve more than 3 households are not allowed. California is experiencing a surge in coronavirus cases, hitting over 1 million positive cases on Friday. Newsom has encouraged Californians to avoid large gatherings.
"While our family followed the restaurant's health protocols and took safety precautions, we should have modeled better behavior and not joined the dinner," Newsom's office said in a statement emailed to Newsweek on Friday.
According to the California Department of Public Health (CDPH), outdoor gatherings are "significantly safer" than indoor events. The recommendations also state that gatherings of more than 3 households are prohibited. "Remember, the smaller the number of people," the CDPH website says, "the safer."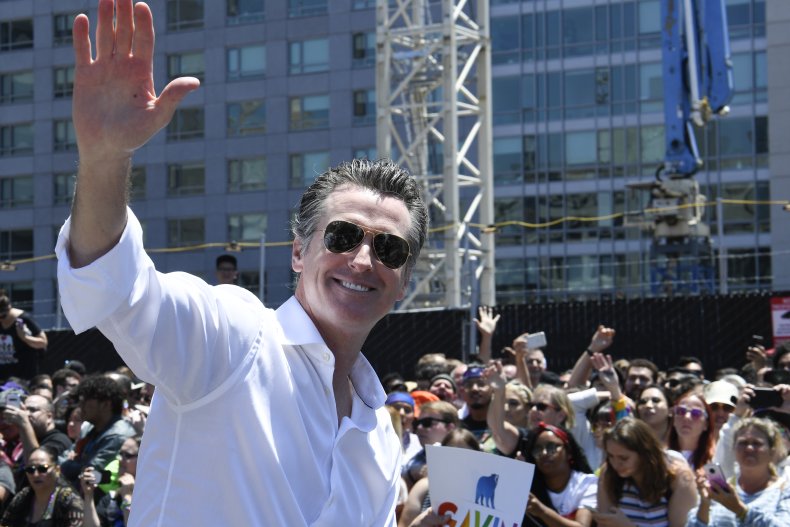 California's Republican Party juxtaposed Newsom's coronavirus recommendations with his attendance at the birthday party in a Friday tweet which said that Newsom "seems to be talking out of both sides of his mouth."
On Friday, California reported that virus test positivity rates had increased from 3 percent to 4 percent. Hospitalization rates because of COVID-19 rose over 30 percent in a span of 14 days. Because of the rise in coronavirus cases, Newsom announced a non-essential travel advisory.
"Increased cases are adding pressure on our hospital systems and threatening the lives of seniors, essential workers and vulnerable Californians," Newsom's office said in a Friday statement. "Travel increases the risk of spreading COVID-19, and we must all collectively increase our efforts at this time to keep the virus at bay and save lives."
Non-essential travel advisories issued by the CDPH on Friday call for all individuals arriving in California, nationally and internationally, to self-quarantine for 14 days. California residents returning to the state are included in the advisories, but individuals who must cross state or country borders for essential travel are exempt.
California's stringent coronavirus mitigation guidelines are expected to say in place through the holidays. On Friday, California Health Secretary Dr. Mark Ghaly recommended small gatherings for Thanksgiving that only included immediate family members.
"The safest gatherings remain those that happen at home with members of your own household," Ghaly said during a Friday briefing. "We encourage Californians to gather virtually whenever possible." Ghaly also recommended shortening the time individuals spend together.
Recent data showed a total of 1,017,123 positive cases of COVID-19 in California with 18,221 fatalities attributable to the coronavirus.