California Governor Gavin Newsom blasted Amazon on Twitter Tuesday for allowing overpriced hand sanitizer products to be sold on their website in the midst of the COVID-19 coronavirus crisis.
Coronavirus has led to panicked shoppers and unscrupulous price gougers buying out stocks of items like face masks, disinfectants and hand sanitizers. Online retailers and many brick-and-mortar stores around the U.S. are sold out of the products, but people attempting to profit off pandemic fears are offering the products at outrageously inflated prices. Newsom tweeted his disdain at Amazon, sharing a picture showing a case of two-ounce Purell brand sanitizers listed on the site for $400.
"Keeping your hands clean will help prevent the spread of coronavirus. Seriously, @amazon? These prices are absurd," Newsom tweeted.
A check of the website on Tuesday evening revealed several listings averaging around $40 for an eight-ounce bottle of Purell, over ten times the typical price. One listing offered a case of 12 one-ounce bottles for $3,892.84, which equals just over $324 per ounce.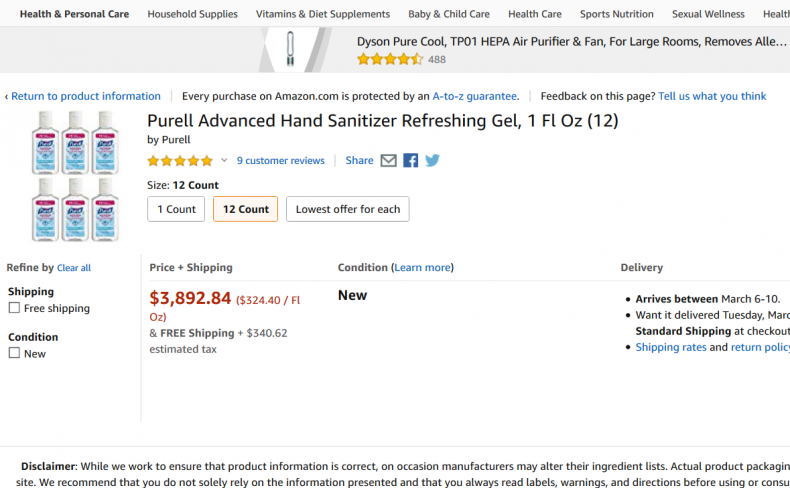 Hand sanitizers may be an effective way to guard against some viruses when soap and water are not available. Coronavirus can be killed by hand sanitizers containing at least 60 percent ethyl or isopropyl alcohol.
However, health experts say that the best way to guard against catching or spreading any disease is by using soap and water and vigorously washing your hands for at least 20 seconds. They also recommend avoiding touching your mouth, nose and eyes if you can't be certain your hands are clean, along with cleaning frequently touched items like cell phones after being in public.
Amazon is not directly offering the marked-up hand sanitizer products, which are instead being sold by third-party sellers on the company's marketplace platform. The company maintains a "fair pricing policy" for sellers, which includes a provision that prohibits selling items for amounts "significantly higher than recent prices offered on or off Amazon."
The company said they removed over a million listings last week that attempted to mislead people over the virus, including tens of thousands of offers that were attempting to profit by price gouging, according to a report from Reuters.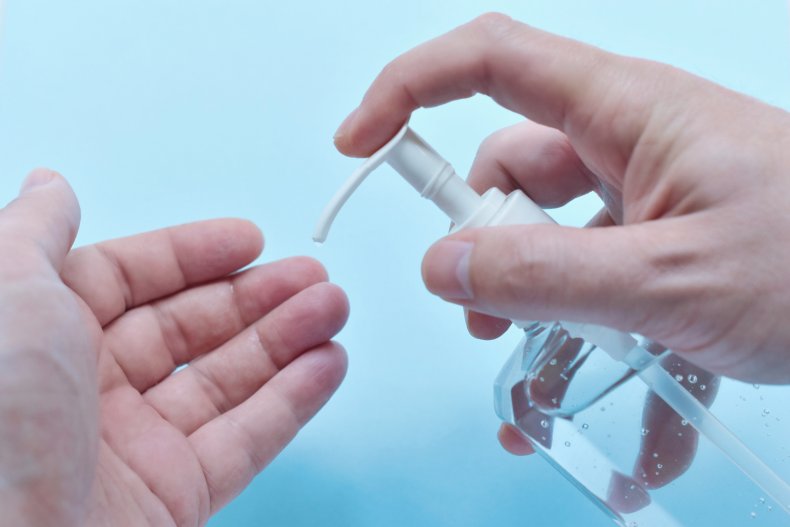 An Amazon spokesperson told Newsweek that the company is still removing the listings, although several overpriced items were still available at the time of writing, suggesting that new listings continue to be added.
"There is no place for price gouging on Amazon," the spokesperson said in a statement. "We are disappointed that bad actors are attempting to artificially raise prices on basic need products during a global health crisis and, in line with our long-standing policy, have recently blocked or removed tens of thousands of offers. We continue to actively monitor our store and remove offers that violate our policies."
Attempts to take advantage by profiting off fears of the coronavirus could continue online and elsewhere, especially as the virus continues to spread.
There were over 92,000 cases of COVID-19 worldwide, with over 3,000 deaths as of Tuesday. Cases in the U.S. had risen to 109 with nine deaths, although experts expect the numbers will quickly rise as testing becomes more widely available this week.