California Governor Newsom Scolds Beachgoers Flouting Coronavirus Social Distancing Rules
California Governor Gavin Newsom on Monday condemned the tens of thousands of people that congregated at southern beaches in the state over the weekend amid a heat wave and pandemic.
After Orange County's Board of Supervisors voted last week to open some beaches and outdoor areas, tens of thousands of people flocked to the Huntington Beach coast and Newport Beach over the weekend to weather the first heat wave of 2020. While officials urged people to adhere to social distancing measures, various photos shared online showed that many beachgoers were less than six feet apart and not wearing face masks or coverings.
"This virus doesn't go home because it's a beautiful, sunny day around our coasts," Newsom said during his coronavirus press conference today, before adding that viral photos of crowded beaches in Orange County is "an example of what not to see."
"The virus is as transmittable as it's ever been ... It is ubiquitous, it is invisible, and it remains deadly. Ask the 45 families who lost a loved one in the last 48 hours," the governor said. "This virus doesn't take the weekends off."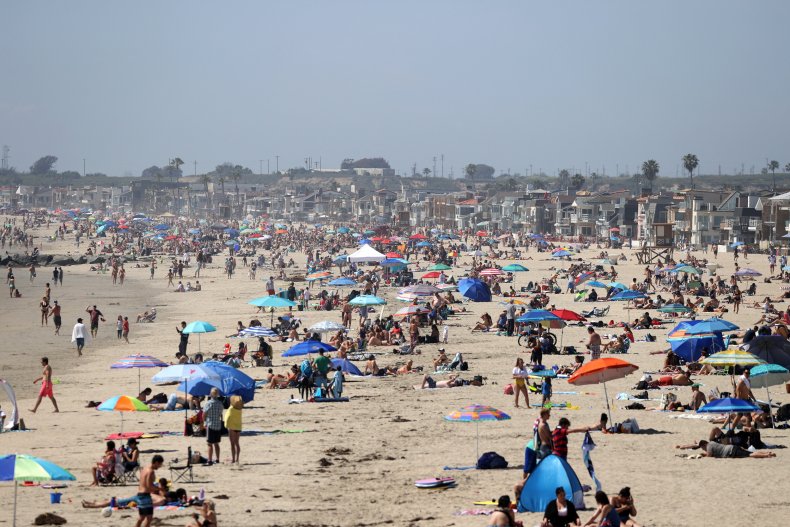 Newport Beach lifeguards estimated that around 40,000 people arrived on Friday and roughly the same on Saturday. "It's crowded out," Newport Beach lifeguard battalion chief Brian O'Rourke told NBC News, "we've had dozens of ocean rescues and hundreds of preventative actions." He noted that he hadn't encountered issues with social distancing as the life guards have been primarily focused on watching the water.
Ventura County also opened its beaches to locals for the first time since the state went into lockdown to combat the novel disease's spread. But unlike in Orange County, beachgoers cannot sunbathe or lounge on the sand, they are only permitted to move through the area.
Los Angeles County's beaches are still off limits and local officials have asked their citizens to refrain from driving to other counties with eased stay-at-home restrictions for beach time.
"There is a direct correlation between what you do this weekend and how long this will take and how many lives we will lose," Los Angeles Mayor Eric Garcetti said on Friday. "If you stay home this weekend, our case numbers will drop, and we will stop the spread of this virus."
California was the first state in the country to implement a stay-at-home order. During his Monday press conference, Newsom said officials are merely weeks away from "making measurable and meaningful changes" to relax the order. "That's driven by data," the governor added. "That's driven by behavior. And as we change our behavior, we can impact the science, the health and the data."
Newsom declined Newsweek's request for further comment.
As of April 27, more than 44,900 individuals had tested positive for coronavirus in California, with roughly 1,770 deaths caused by the new disease. Overall, the U.S. currently has a total of more than 1,008,000 cases of Covid-19, with 56,600 deaths and 137,700 recoveries.