Can This Latino Lawmaker Help Stop Trump's White House?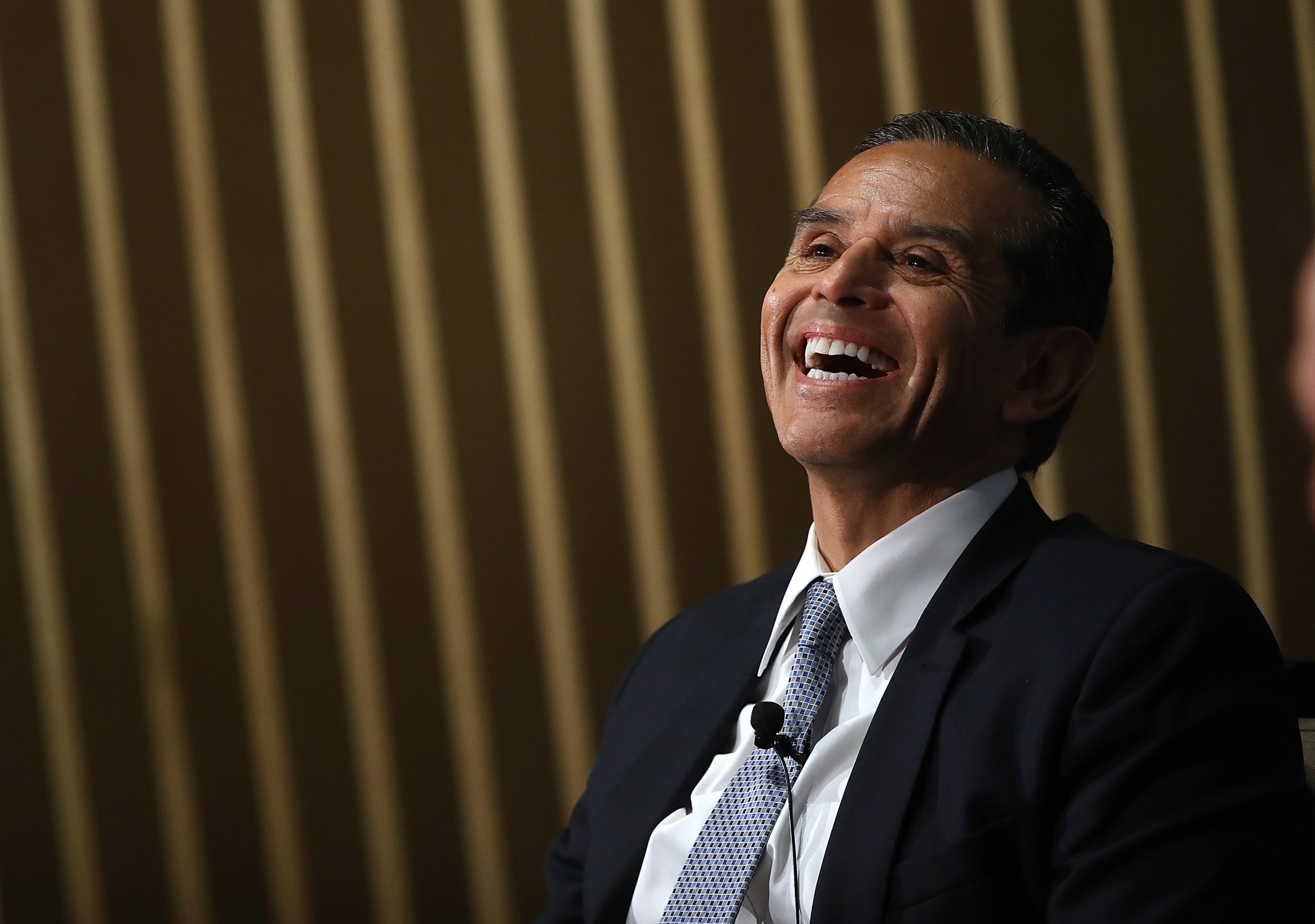 Antonio Villaraigosa has a shot at becoming California's first Latino governor since 1875. But he doesn't want to hear that.
"I'm an American, not only a Latino," Villaraigosa said in a recent interview with Newsweek. "I love this country."
With the election still a year away, Villaraigosa, who appeared on the cover of Newsweek after becoming Los Angeles' first Latino mayor in 2005, already faces a long road to Sacramento. His chief opponent, former mayor of San Francisco and current Lieutenant Governor Gavin Newsom, a so-called "golden boy of California politics," is out-polling and out-fundraising him.
Villaraigosa's tenure as mayor also left a negative impression in the minds of many voters, with profiles depicting him as self-interested and single-minded. His life after public service hasn't helped scrape this image: It was revealed this week that Villaraigosa made $4 million in consulting and speaking fees for Herbalife, Banc of California and other corporations since leaving office in 2013. Villaraigosa has also made enemies on the left, particularly the powerful California Teachers Union for his positive stance on charter schools.
But Villaraigosa is doing his best to change that. Last month, his campaign released a 12-minute video created by Mark Putnam, the director behind one of Barack Obama's famous 30-minute campaign video during the 2008 presidential election. In the video, Villaraigosa celebrates his working-class and Latino background while blasting the Trump administration's onslaught of anti-immigration policies. The video also goes into detail on the domestic abuse Villaraigosa's mother suffered at the hands of his father when he was a child. It features interviews with Villaraigosa's two daughters, who vouch for their father as a "good man" despite his missteps. (In 2007, it was revealed that Villaraigosa had extramarital affairs with a broadcaster from Telemundo, ultimately leading to a divorce.)
"My passion comes from my life story," Villaraigosa said. "I have a passion for helping people. I want to make life less arduous for those most in need."
Villaraigosa's stance on President Donald Trump is clear: He doesn't like Trump and he wants to use California's governor post to shut the White House down. "The best way to challenge Trump is not by screaming or shouting but by going to work and doing what we have to do," he said.
The video is part of a larger strategy aimed at increasing the state's Latino voter turnout—the only demographic he's winning in the polls so far—by portraying Villaraigosa as a neighborhood hero, dedicated to fighting for those at the bottom, and pigeonholing Newsom as a member of the liberal elite.
"He's going to paint Newsom as a Tesla-driving, elite ex-mayor of a wealthy city with fewer problems than Villaraigosa had to deal with during his eight years as head of a virtual city-state," Joe Garofoli of the San Francisco Chronicle wrote in a recent analysis. "Villaraigosa will draw the contrast between Newsom, the privileged friend of the wealthy Getty family, and his own upbringing in east Los Angeles, where his mother raised him after his abusive, alcoholic father abandoned the family. He will be talking about 'the other California,' away from the wealthy coast, the one where 20 percent of people live in poverty."
Villaraigosa is also looking to stand on his track record as mayor of Los Angeles: From 2005 to 2013, violent crime dropped by 50 percent, high school graduation rates went from 44 percent to 72 percent and Los Angeles became a model for immigrant-friendly local policies and services.
Villaraigosa's campaign hopes these local successes will make the case for him being the best candidate to fill Governor Jerry Brown's job; Brown, now the longest-serving governor in California history, is ineligible to run for re-election due to term-limits.
Earlier this month, Brown was in Europe striking deals with international leaders to cut greenhouse gas emissions and fight climate change. He also reaffirmed California's commitment to the goals set forth in the Paris climate accords in 2016, regardless of whatever the federal government decides to do.
Villaraigosa said he is ready to lead the state into the future in the same direction.
"California's going to chart a different path, and I think I can help take the state to where it needs to go," he said.