California Grandmother Threatened with Eviction For Chatting With Granddaughter from Balcony
Klara Kharkats, a 95-year-old grandmother, was threatened with eviction for having socially distanced talks with her granddaughter from her balcony.
Rozanna Handrich reportedly visited her grandmother every other week around noon. She would stand on the sidewalk and look up to Kharkats balcony at her apartment complex located in Redondo Beach, California.
Prior to the coronavirus pandemic, Handrich would often visit and bring her children to Kharkats apartment. As the rising COVID-19 cases and deaths across the nation caused concern, Handrich and her family members decided it was too risky to meet with their grandmother indoors.
"We are just really scared to get her sick," Handrich told KCAL-TV. "None of us want to be the reason anything happens to her."
Their sidewalk chats are often the only social interaction Kharkats has now that she choose to stay inside as much as possible to protect herself from the virus.
Kharkats, however, received a notice from her apartment manager last week warning that continued visits from Handrich could lead to her eviction.
"We have received complaints regarding excessive noise coming from your unit... Please have your guest come and visit inside your unit," the note read. "Continued violation of your lease rules and regulations will result in further action which may include eviction."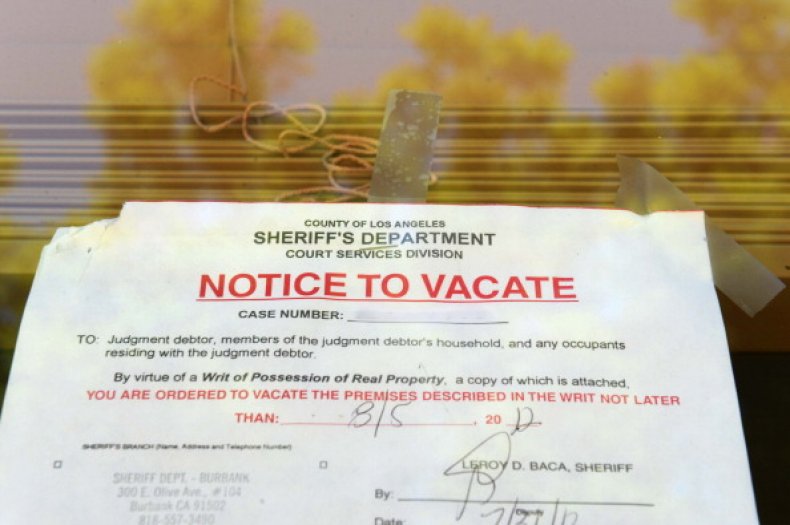 Kharkats, who fled her home in Ukraine during World War II, has lived in the apartment for nearly 20 years.
"She's concerned because she's lived there for so long. She doesn't want to be evicted," said Handrich. "She came from communism, so she is afraid of any type of disruption like that."
Sarah Furchtenicht, the executive vice president of Goldenrich Kest Management, the apartment management company overseeing Kharkats's complex, said the notice, which was prompted by complaints from other tenants, should have been more sensitive in a statement released to KCAL.
"We recognize the importance of families maintaining contact with their loved ones, particularly during this unprecedented time of COVID. We regret the tone of the notice our manager sent to Ms. Kharkats, which was taken from a form letter we send to tenants with chronic noise issues."
Furchtenicht added that Goldenrich Kest Management had since sent Kharkats a rescission notice apologizing for the misunderstanding.
"We encourage family members to continue visiting their grandmother while maintaining CDC guidelines of wearing masks and maintaining social distancing," Furchtenicht continued. "Her health and theirs will be preserved by following those recommendations.
The executive vice president, however, encouraged the family to use their cell phones instead of yelling from the sidewalk.
Due to the pandemic, over one-third of American adults could face eviction or home foreclosure in the next two months, according to data from a U.S. Census Bureau survey.
The latest data from the Census Bureau's Household Pulse Survey, taken between November 25 and December 7, found that 35.3 percent of U.S. adults are "living in households not current on rent or mortgage where eviction or foreclosure in the next two months is either very likely or somewhat likely."
Newsweek reached out to Goldenrich Kest Management but didn't hear back in time for publication.