Gray Wolf Returns to California for the First Time Since 1924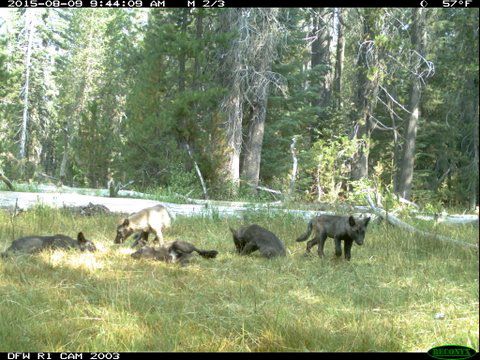 Once hunted to near-extinction in most of the U.S., the gray wolf is now showing signs of a comeback in northern California. A pack of wolves, including two adults and five pups, has been spotted near Mount Shasta, close to the Oregon border. It's the first full pack to enter the state since 1924, according to a report from the AP.
Wolves have expanded their range to Washington and Oregon in the last several years, after a reintroduction effort in the Rocky Mountains that began in 1995. Initially, they were reintroduced into the mountains of Yellowstone National Park and Idaho, and they have since spread out, becoming a symbol of success for conservationists.
California declared gray wolves an endangered species last year. Under the Endangered Species Act (ESA), it is illegal to hunt or harass wolves in states where they are listed as endangered. Anticipating that wolves would enter the state, the California Department of Fish and Wildlife was eager to list wolves, in order to stay one step ahead of hunters and poachers.
"We knew wolves would eventually return home to the state and it appears now is the time," said Charlton Bonham, the director of the California Department of Fish and Wildlife, in a post published to the agency's website.
Fish and Wildlife spotted an individual wolf back in May. Using cameras hidden on forest trails, they were able to capture photos and video of the full wolf family. In spite of the fact that only a tiny population has been observed to date, wolves continue to provoke the ire of ranchers and livestock farmers. According to the AP, the California Stockmen's Association is already concerned about the possibility of a new wolf population, and its implications for livestock. But only one pack has been confirmed to date, and there have been no reports of livestock attacks.
Since the reintroduction of the wolf, several states have engaged in efforts to "delist" the species, which would remove it from the protections of the ESA.