California's Gun Rush: Buying Frenzy for High-Capacity Magazines After Judge Lifts 'Unconstitutional' Law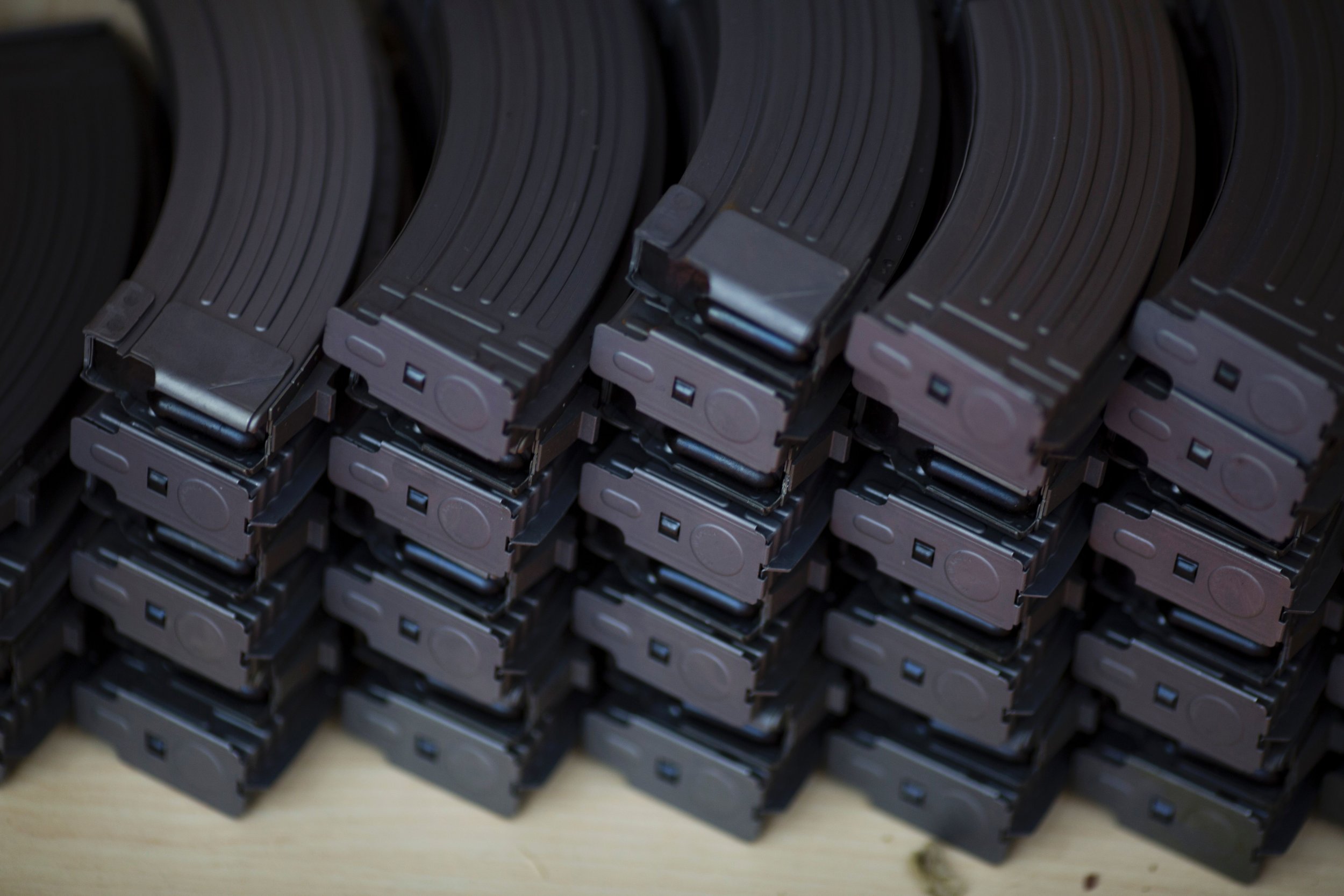 "California, Game on!!"
Gun supplier and outfitter Target Sports USA didn't restrain its jubilation on Tuesday in an email confirming it was joining scores of shops and sellers to ship high-capacity ammunition magazines, now contraband-free, to California.
The move essentially busts open the firearm floodgates.
Cheerleading on the site continued above images of an assortment of 17-round Glock magazines selling for $20, and 30-round PMAG—a military grade, polymer-based magazine for the AR-15 platform rifle—fetching $12.30 apiece with the missive: "Due to the reversal of California Penal Code 32310, Target Sports USA is pleased to announce California customers may purchase large capacity magazines!"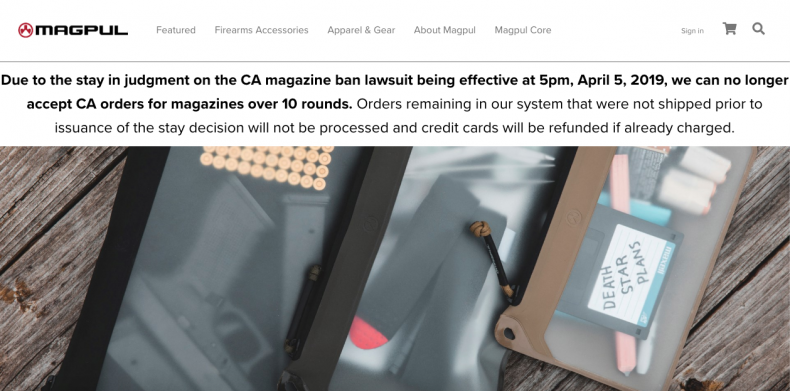 Since Friday afternoon, arms dealers and wholesalers nationwide have been shipping "freedom" to California consumers after its nearly 20-year state law banning high-capacity gun magazines—those exceeding 10 rounds of ammunition—was struck down by U.S. District Judge Roger Benitez's 86-page decision in San Diego's federal court.
The joy is set to be short-lived.
On Thursday, the judge acquiesced to California Attorney General Xavier Becerra and granted a stay of judgment that will restore the California Penal Code 32310 ban that he lifted by close of business on Friday. That gave vendors and consumers a ticking clock to buy and sell the magazines before they once again become illicit items.
Magazines holding more than 10 rounds are "arms," Benitez concluded in his original ruling, citing the ban from 2000 (and subsequent Proposition 63 passed in 2016) as unconstitutional as it "burdens the core of the Second Amendment."
He claimed that 32310 criminalizes "the acquisition and possession of these magazines that are commonly held by law-abiding citizens for defense of self, home, and state…. Criminalizes the otherwise lawful acquisition and possession of common magazines holding more than 10 rounds—magazines that law-abiding responsible citizens would choose for self-defense at home."
Benitez even compared the infringement on the Second Amendment right to bear arms to the rippling infringements of Great Britain's rule waning in America centuries ago.
"This decision is a freedom calculus decided long ago by Colonists who cherished individual freedom more than the subservient security of a British ruler," Benitez wrote. "The freedom they fought for was not free of cost then, and it is not free now."
Once the green light was official, inventory of long- or high-capacity magazines has been vanishing the shelves, both brick-and-mortar and online.
Some of the online business owners Newsweek interviewed said the lion's share of high-capacity magazines were being purchased and shipped to the Golden State.
"There has been significant uptick and interest across all of California since Friday," said Eric Ward, owner of Houston-based 4Ward Defense and Training, which runs HoustonGunsOnline.com.
He believes California's "purchasing power" as one of the largest economies in the world is already massive and has the potential to change all kinds of industries, the gun industry being "no exception."
"California is a very stringent and draconian gun law state where there are arbitrary limitations that are put on the capacity that firearms are able to hold at any given time," Ward said.
At Impact Guns in Ogden, Utah, an employee who gave only his first name, Samuel, told Newsweek that the magazines for the AR-15 style rifles were "definitely being increased" to California, but added that "there's also been orders for all sorts of different mags."
As of 2017, California was one of the top three states in terms of firearms numbers, with 344,622 guns, according to National Firearms Act Registered Weapons stats issued by the Bureau of Alcohol, Tobacco, Firearms and Explosives (ATF).

Hours after the initial order was filed on March 29, William McNeil appeared in a YouTube video brandishing a 40 round PMAG magazine. The 42-year-old had just returned from a Las Vegas family trip where he dangled a plastic bag holding $500 worth of gun goodies bought at Bass Pro Shops.
"I took it out of the package a little early," McNeil said. "And while I know this is not a big deal to the majority of the country, it's a big deal to us here in California.
"Being able to buy this, own this, possess this, and show this here on YouTube without fear of something happening—you know it's fantastic. The timing of this video is 100 percent perfectly legal."
In an interview with Newsweek, McNeil proudly defended his right to be able to take advantage of Benitez's order.
"I rely on the Second Amendment," he said. "Until you actually get squeezed on what's supposed to be a right, and feel that squeeze for decades—it's hard to comprehend."
The Christmas-in-April feeling wasn't lost on his viewers. One of them shared in the gun giddiness.
A commenter known as "jlac" lauded the judge as a kind of saint who gave the country some early cheer.
"God bless Judge Benitez ! Got pmags and hi cap glock mags on the way! Feels like Christmas! Haha," the commenter wrote.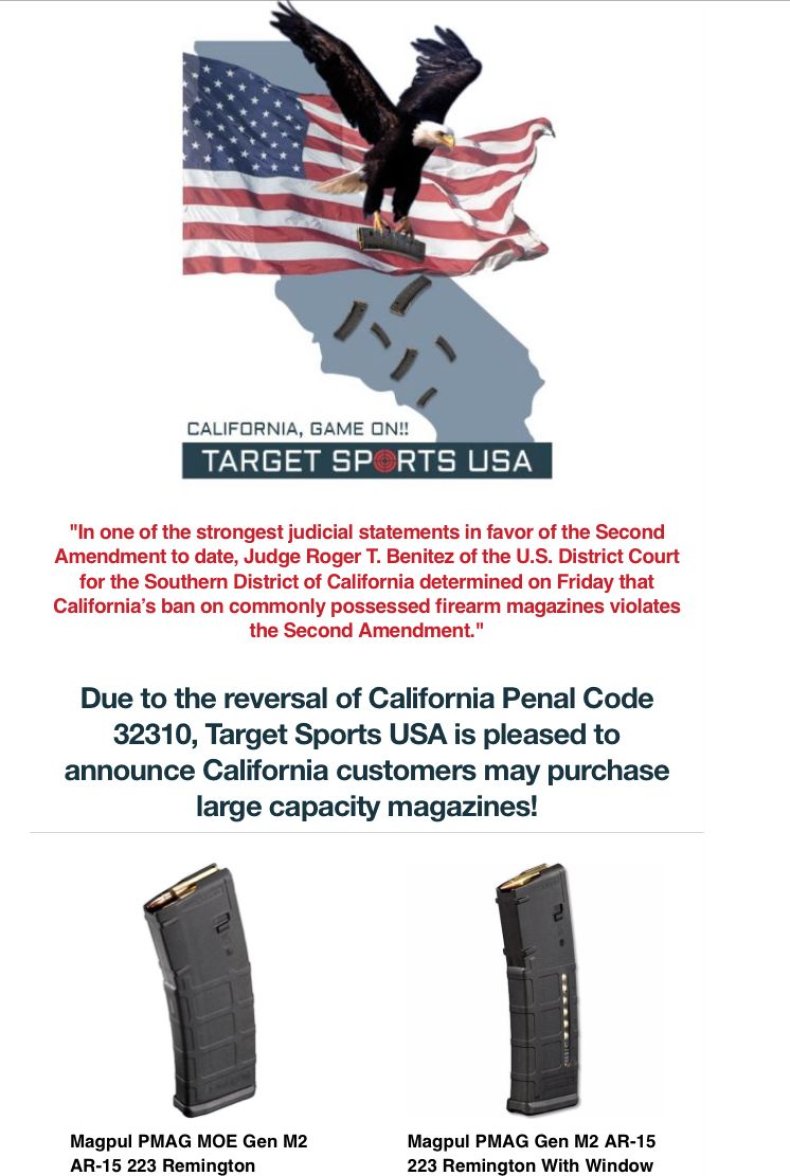 Civil Rights attorney Chuck Michel, who is leading the battle lodged by the California Rifle & Pistol Association (CRPA) in the Duncan v. Becerra case that brought about Friday's ruling, marveled at the level of demand in a state that has been loaded with restrictions on its arms.
"There is a huge, pent-up demand for these magazines, because people recognize their value as self-defense tools," Michel told Newsweek.
He reflected on California's pivotal 2000 law mandating that gun manufacturers "revise their California packages" and switch from so-called "standard-capacity magazines," which are actually the high-capacity magazines that hold 15, 17, 21 rounds, with ones that those in gun circles liken to "low-" or "small-" capacity 10-round magazines.
The ban's lifting put California on par with many other states who are already using extended- or high-capacity magazines.
"Magazines that are 10 rounds or less are actually an anomaly across the greater gun market," Ward explained. "If you are required to have a restricted small-capacity magazine, you are the outlier."
The industry standard, he said, goes from 15 rounds to 20-, 30- or 40-round magazines.
Roger, an Ohio-based arms outfitter who requested that only his first name be used, echoed Ward. "The "high-capacity" mags are the standard," he said. "This is what comes with every gun out there.
"It's freedom. People want their freedom. That's what it is."
And freedom since Friday is in short supply.
"We're out of PMAGs," Roger said. "We sell them nonstop to retailers in California."
Specifically, dealers and wholesalers are seeing the Magpul-manufactured PMAGS or D-50 and D-60 drums (that hold 50 or 60 rounds) polymer-based magazines that fly off the shelves.
Magpul's magazines have earned a following by law enforcement and gun owners because they are favored by U.S. soldiers.
"They got a military contract, and everybody wants what the military's got," Roger said.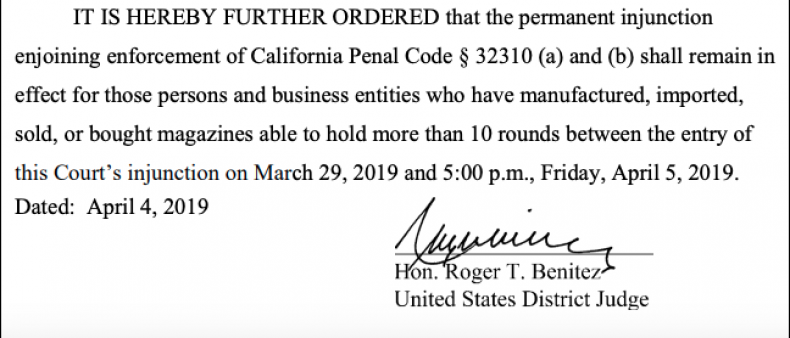 Ward of 4Ward Defense and Training, like other industry experts Newsweek spoke to, confirmed there was a run on this manufacturer's magazines. After news hit of the lifted ban, one prominent wholesaler was flush with 11,000 AR-15 style 30-round magazines, Ward said.
However, as of Sunday evening, "they were sold out."
The California demand has also led to a swift hike in prices.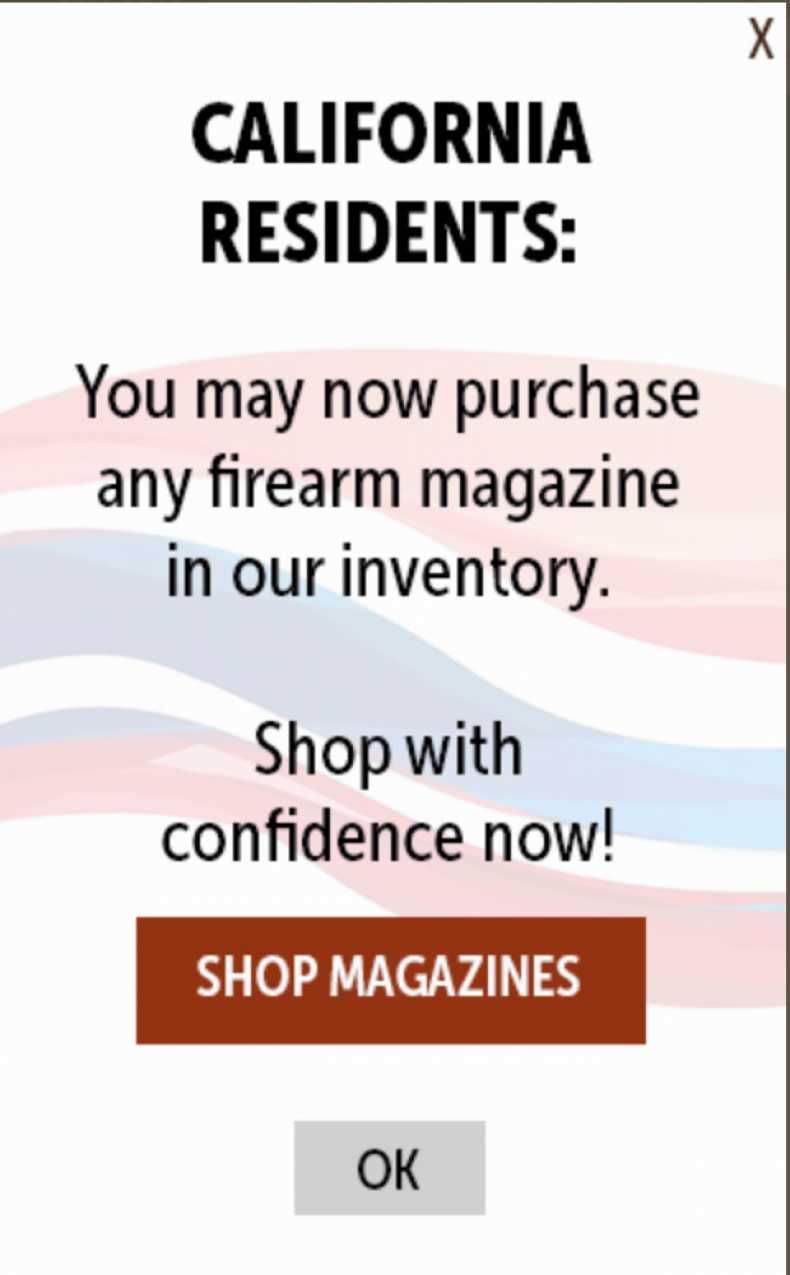 The Grinnell, Iowa–based outfitter Brownells, which is one of the most popular vendors of firearm wares, added a red, white and blue banner on its site that read: "SENDING FREEDOM BACK TO CALIFORNIA," and, below it, "Residents can purchase any firearm magazine in our inventory."
That inventory has rapidly dwindled.
Take the D-60 drum magazine. On Sunday night it cost $104. The next day, the price was upped to $123.00.
By Wednesday, all of them had been sold, according to the website. (Newsweek's calls to Brownells were not immediately returned by time of publication.)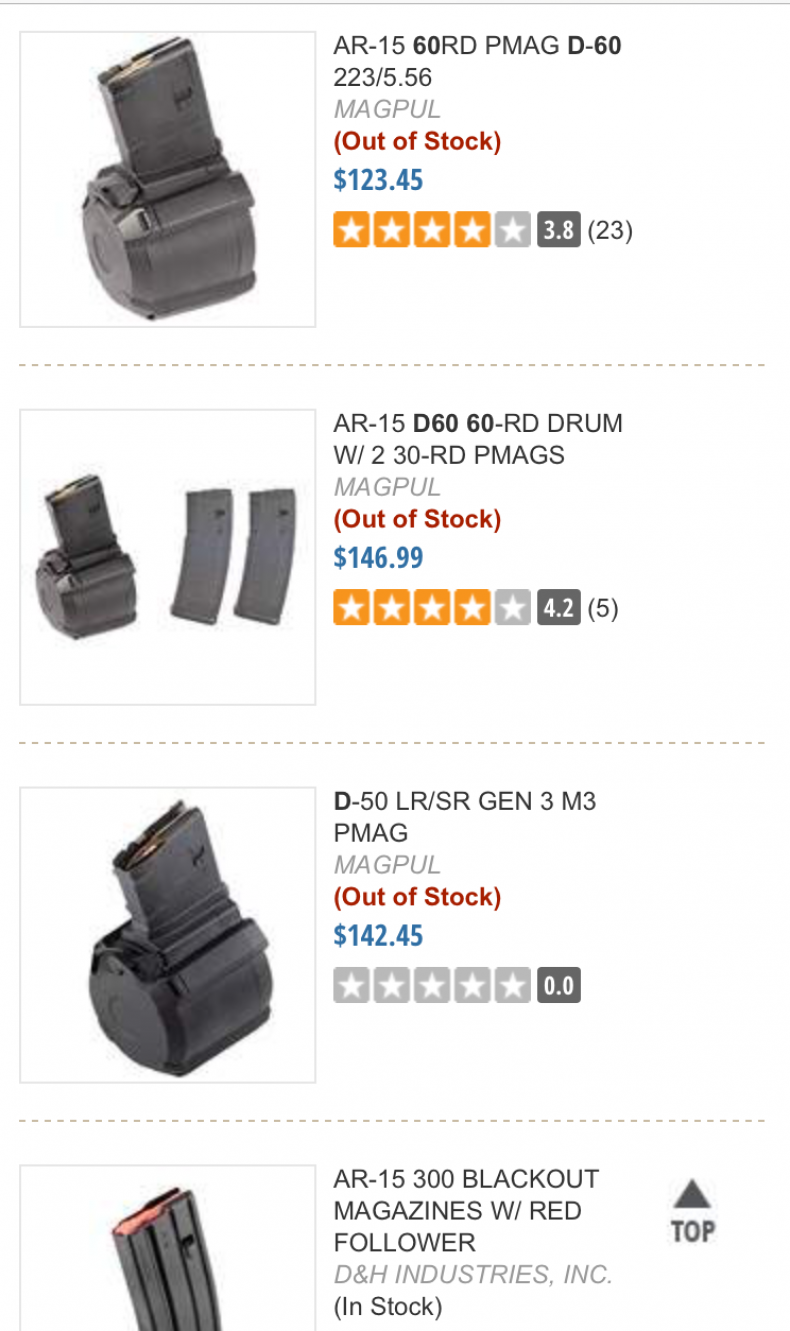 At GlockStore in San Diego (the same city where the judge tossed out the ban on the magazines), a customer service representative who gave his name as Jon N., 31, confirmed that all of their stock of "anything over 15 round" magazines were just back-ordered.
"It's been hectic," he said. "The sales have been off the charts."
He said that people have been buying "five at a time" of the Glock 17s (17-round magazines) for $30, and 33-round extended magazines (he referred to them by the shorthand "big sticks") for $49.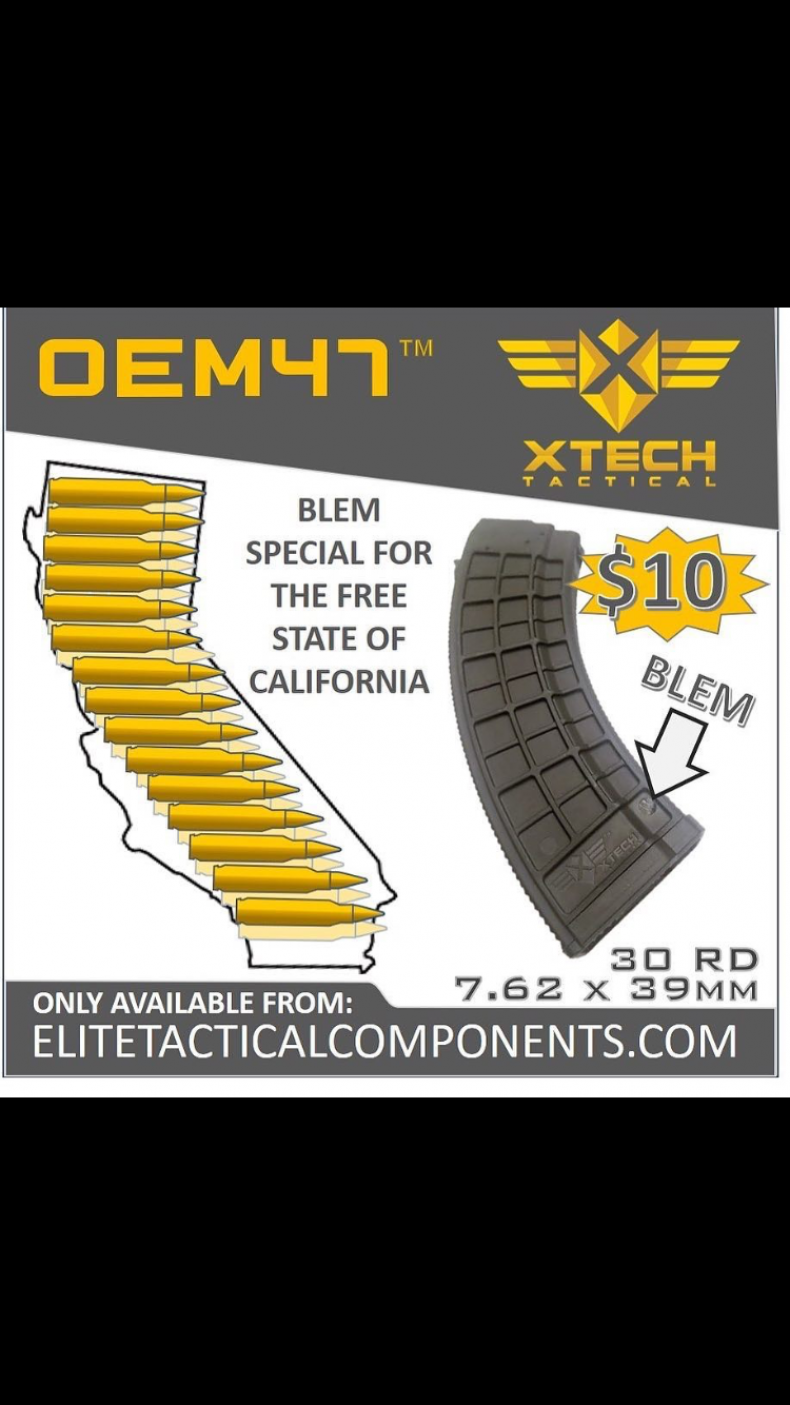 For many, the motivation for buying in bulk was the widespread prediction that the lift on the ban would not last.
"I heard about the stay might be coming, and so really this is just a window of opportunity," he'd said before Benitez imposed it.
Indeed, the fireworks from Friday are now headed for a hangover.
"CA leads the nation when it comes to gun safety," California's Attorney General Becerra tweeted on Tuesday. "Yesterday, we sought a stay of a court ruling that jeopardizes our state's firearm law prohibiting individuals from acquiring new large-capacity magazines."
He continued: "We intend to protect our people and our gun safety laws from senseless attacks. We refuse to go backwards."
Before the stay was official, Michel acknowledged that the buying spree would likely peter out once the opposition found a way in court to temporarily reinstate the ban.
"With the injunction in place acquiring these magazines is legal, but a stay has been requested and if the injunction is stayed then the acquisition won't be legal anymore," Michel confirmed at the time.
He recognized that Calfornia's AG, Governor Gavin Newsom, and other gun advocacy groups had a "whole lot of smart lawyers" who were "trying to figure out how to defeat this ruling and take recently acquired magazines away from folks who acquire them."
Ari Freilich, a staff attorney at the anti-gun violence advocacy nonprofit group Giffords Law Center, called Judge Benitez's order an "extreme outlier decision, which dismisses the considered judgment of California's voters," and seeks to allow large-capacity magazines—essentially doing away with decades of time that made it forbidden to manufacture and sell them in California.
"Quite simply, this decision would allow more people to access weapons that are most suitable for mass-killing instead of self-defense," he said. "No other federal court has ever found that limitations on this type of weaponry impair Americans' right or ability to defend themselves.
"Every other relevant court has instead emphasized the unique dangers large-capacity magazines pose to the public by enabling shooters to continuously fire at large numbers of human targets without pause. "
The judge explained his order by invoking various women who over the years faced violent armed encounters. He also contended that they had the right to more ammo.
After firing, "she had no place to carry an extra magazine and no way to reload because her left hand held the phone with which she was still trying to call 911," his decision noted of a woman named Zhu Chen, who fought off three armed intruders with a gun.
Benitez also appeared to suggest that mass-shootings are given too much concern versus incidents like these where the body count is significantly less.
"Are the lives of these victims worth any less than those lost in a mass shooting?" Benitez asked in the decision. "Would their deaths be any less tragic? Unless there are a lot of individual victims together, the tragedy goes largely unnoticed."
But when the stay kicks in, California's ammo rush will likely end, or at least pause.
Hours after the stay on Benitez's order was confirmed, Las Vegas–based Arms Unlimited blasted out an email informing customers: "ALERT: California Last Chance for Magazines...NO MORE ORDERS AFTER APRIL 5th 4:59pm."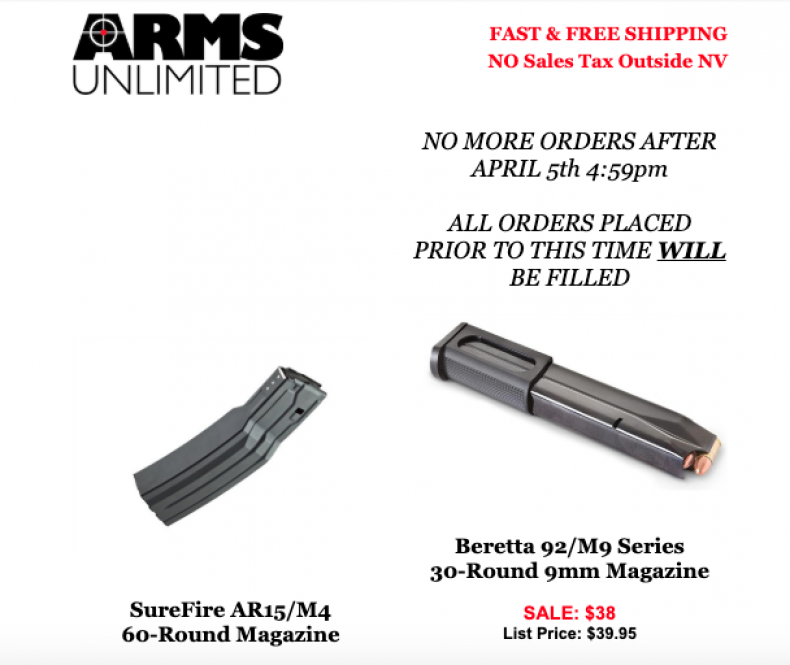 For now, the stay on the court order will likely inhibit future shipping or purchases of high-capacity magazines into California after 5 p.m. on Friday and likely lead to more hearings.
But the purchasers and the sellers would be in violation of California law if they chose to disregard, or even if their purchases were in transit, it beyond the Friday deadline, the National Rifle Association (NRA) has warned.
"Should an individual order 'large capacity' magazines from an online distributor, and during the shipping process a subsequent order from a court stays the enforcement of the injunction, (the section of the penal code prohibiting high-capacity magazines) will once again be in effect," according to the NRA.
Stay or no stay, Michel was steadfast that the government could not come to repossess or force Californians to forfeit them.
"They were acquired legally, so unless a possession ban goes into effect, they are legal to possess," he said.

McNeil, who has already been trying out the new purchases from the Las Vegas Bass Pro Shops, is resolute to keep what he bought since the ban was lifted.
"Now that I've legally acquired these, you can't take these without either compensation or legal due process."
And should the letters or doork-nocks come demanding them, he won't cave.
"I'm not going to give my legally acquired stuff. Period."