California Health Officer Warns State Reopening Too Quickly as Coronavirus Cases Top 100,000
A health official in California who was a key architect of one of the country's first lockdowns has cautioned that her state is moving too rapidly to reopen as confirmed cases of the new coronavirus there have surpassed 100,000.
"We believe that our social and economic well-being are best served by a more phased approach that allows activities to resume in a manner that allows people to actually be relatively safe while engaging in the newly open activity," Dr. Sara Cody, health officer for Santa Clara County—home to Silicon Valley, said during a County Board of Supervisors meeting on Tuesday. The Los Angeles Times first reported Cody's remarks.
California's Governor Gavin Newsom, a Democrat, has issued guidance to allow religious services, limited to up to 100 people, to reopen along with other eased restrictions. Cody raised particular concern over the governor's guidance regarding religious gatherings.
"This announcement to authorize county health officers to allow religious, cultural and political gatherings of 100 people poses a very serious risk of the spread of COVID-19," she said.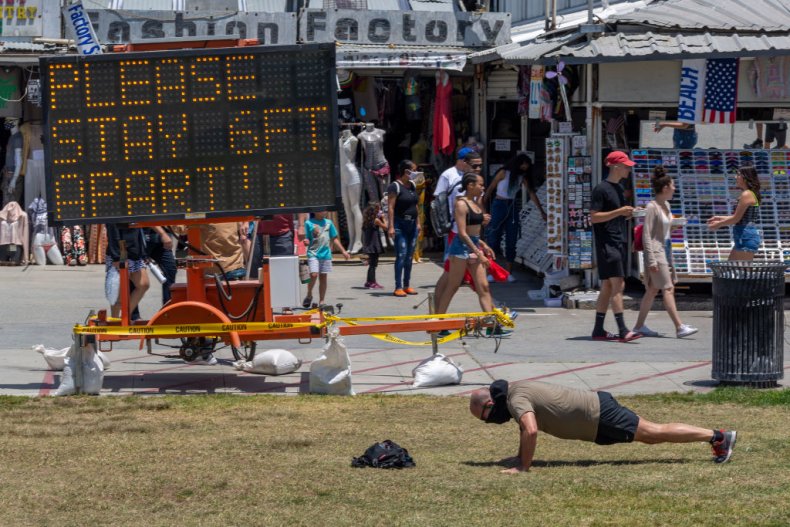 Dr. Mark Ghaly, secretary of the California Health and Human Services Agency, told Newsweek in a statement that the administration has "deep respect" for Cody.
"Our administration has deep respect for the Santa Clara public health officer and all the public health officers across our state. Protecting public health and well-being of all Californians will continue to do drive our administration's actions, and we fully support local health officers moving at their own pace based on conditions in their communities," Ghaly said.
A representative from Newsom's office stressed to Newsweek that Newsom's guidance allows for a county-by-county approach. Local officials must decide how much or how little they wish to reopen, depending on the situation on the ground. Those wishing to reopen more widely must show that they have the number of COVID-19 cases under control, as well as that they have adequate hospital capacity and enough vital medical supplies.
A Monday press release from California's Department of Public Health explains that "places of worship can hold religious services and funerals that limit attendance to 25 percent of a building's capacity—or up to 100 attendees, whichever is lower—upon approval by the county department of public health."
On Tuesday, the governor addressed concerns that he was allowing for the state to reopen too rapidly.
"I know some people think that's too much too fast too soon. Others think, frankly, that it didn't go far enough," Newsom said. "But suffice it to say, at a statewide level, we now are affording this opportunity again with a deep realization of the fact that people will start to mix…and that is incumbent upon us to practice that physical distancing within these places of worship."
Dr. Sonia Angell, state public Health officer and director of the California Department of Public Health, has also urged state residents to remain cautious as the state reopens.
"As more of us may be leaving our homes, keeping physical distance, wearing face coverings in public, and washing your hands frequently are more important than ever to help protect yourself and those around you," Angell said on Monday.
Even as California emerges from lockdown, the number of new confirmed coronavirus cases is on the rise. On Tuesday, the state recorded its highest daily total yet, with a reported 2,908 cases. That's up from 1,928 on Monday and 2,274 on Tuesday. At the same time, new deaths appear to be declining overall. The state recorded just 51 deaths on Tuesday, less than half of the 110 deaths recorded last Thursday, and about a third of the state's peak of 153 daily deaths on May 15.
Overall, California has reported 100,022 cases of the new coronavirus. Of those infected, 3,887 have died.