California Health Official Warns of COVID Strain on Hospitals, Says 'Cancel Your Holiday Plans'
A health officer with Santa Clara County Public Health in northern California warned residents against traveling for the Thanksgiving holiday, as the county reported its highest single-day increase in new COVID-19 cases since the pandemic began.
If infection rates continue rising at the current rate, Public Health Officer Dr. Sara Cody said county hospitals could be overwhelmed in just three weeks.
"We are indeed at a critical juncture in this pandemic," Cody said during a virtual news conference on Friday. "The choices that each of us make in the next few weeks may mean the difference between enough hospital capacity to care for all of us and our families and friends, and not enough."
Cody said county health officials reported a record 407 new COVID-19 cases on Friday, while the number of hospitalizations in the area increased by about 50 percent in the last week.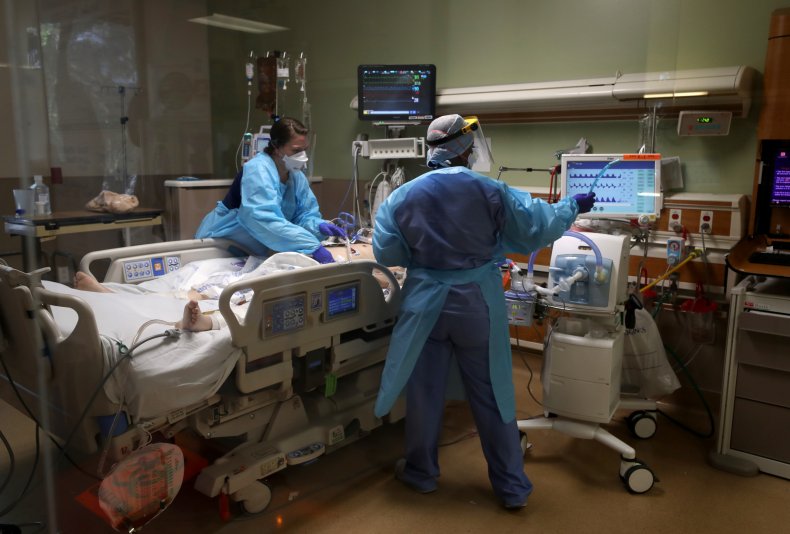 Santa Clara is one of several California counties that recently moved into the state's most restrictive purple tier as a result of its rising infection rate. Approximately 94 percent of the state's population lived in counties under purple tier restrictions by November 16, while the statewide testing positivity rate was about 5.2 percent by that same date, according to the state's data.
California exceeded 1 million total cases last week, becoming the second state to do so. In response to the high case count and rising infection rate throughout the state, Governor Gavin Newsom announced a travel advisory on November 13 and a limited stay-at-home order on Thursday.
"We are sounding the alarm," Newsom said in a news conference announcing the limited order. "It is crucial that we act to decrease transmission and slow hospitalizations before the death count surges. We've done it before and we must do it again."
Cody on Friday identified two ways in which Santa Clara County residents can help slow the spread of the virus in their community.
"Number one, cancel your holiday plans," Cody said. "Don't travel. Celebrate the holiday at home with your loved ones from your household. If you're going to have people from outside your household, limit it to two other households, have it outside, wear your face covering and keep your distance."
The other step Cody said residents can take is to leave testing resources for essential workers and individuals who know that they have been exposed to the virus.
"Right now, the demand for testing is extraordinarily high," Cody said, acknowledging that some people who do plan to travel or gather with friends and family may be requesting COVID-19 tests in anticipation of those activities.
"Simply postpone your travel, postpone your gathering until we're out of this critical phase in this pandemic and ensure that those who really need to get tested have that capacity. Because there are plenty, plenty, plenty of people in essential work who may have had exposures that really, really do need to test," Cody said.
Dr. Ahmad Kamal, the director for the Health Care Preparedness Branch at Santa Clara County Public Health, told Newsweek that health officials have been working with area hospitals over the last nine months on their surge plans. When hospitals become overwhelmed, those plans may include converting nonclinical areas for clinical work, shifting staff assignments and potentially transferring patients from one hospital to another.
"That only works for so long," Kamal said, adding that the COVID-19 spike was not solely a Santa Clara County issue. Kamal said tightened restrictions could protect hospitals from getting overwhelmed—but the situation will largely depend on how people behave during the Thanksgiving holiday.
"We are hopeful, but I think that it's a very tenuous situation," Kamal told Newsweek. "I think the purple tier will help, but the real question is to what extent are people going to curtail their activities around the holidays."
Kamal said one "silver lining" to the county's current pandemic predicament was that officials gained experience handling the virus since the pandemic first struck the area earlier this year.
"One of my concerns is that, this time around, it's not going to be so much an ICU-type surge as it's going to be an emergency room volume," he said. County health officials have been working with area hospitals to help them strategize how to handle potential surges in their emergency rooms, he added.
In light of Cody's earlier warnings about hospitals facing the possibility of going into overdrive, Kamal reiterated that behavior during the upcoming holiday will directly impact its pandemic experience in the weeks ahead. "What we need is for private gatherings to be reconsidered," he said. "A lot of transmission happens in private gatherings."
Update (11/20/2020, 7:01 p.m. ET): This article has been updated to include comments from Dr. Ahmad Kamal with Santa Clara County Public Health's Health Care Preparedness Branch.